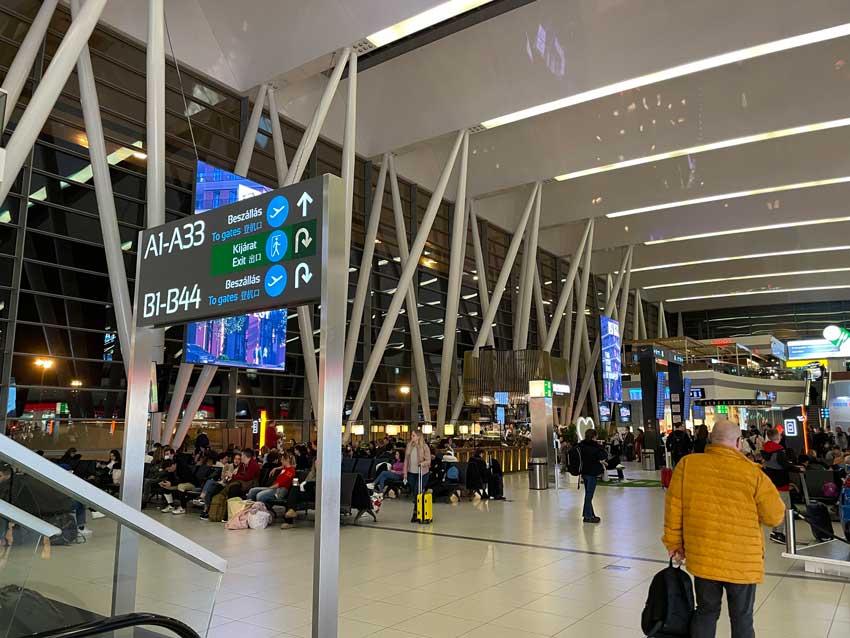 Budapest airport: a gateway to Eastern Europe
In recent years, Budapest has become more popular and easier to visit for Americans. The city is a mix of fascinating history, culture, beautiful buildings, exciting nightlife, and affordable prices. 
Budapest's unique charm includes the iconic Danube River, historic landmarks like Buda Castle and the Hungarian Parliament Building, and the famous thermal baths. Moreover, Budapest's location in the middle of Europe makes it a handy place to begin your journey if you want to visit other countries nearby, especially in Eastern Europe.
Introduction to Budapest Airport
Budapest Ferenc Liszt International Airport (BUD), which was previously and is still often called Budapest Ferihegy International Airport, is the biggest airport in Hungary. It is located just 16 km away from the city centre and easily accessible by public transport.
The airport's former name, Ferihegy, derived from the neighborhood where it is situated and is also associated with Budapest's largest train station. However, in 2011, the Hungarian government made the decision to rename the airport Ferenc Liszt, paying homage to the renowned Hungarian composer.
Did you have a

delayed

flight in the last

3 years

?
Check your
compensation

for delayed flights for free!

---
A Gateway to Eastern Europe
In 2022, Budapest Airport faced significant challenges, but it also achieved remarkable success. Despite the impact of the COVID-19 pandemic, the airport managed to recover 75% of its pre-COVID passenger traffic, adding up to over 12 million passengers. 
The airport also expanded its route network by introducing new destinations, rounding up to a total of 140. The airport offered long haul flights to North America before the COVID pandemic, and these will possibly be restored in the coming years.
Apart from those, travelers can take advantage of direct flights to China and most Eastern European capitals and big cities like Sarajevo (Bosnia and Herzegovina), Sofia (Bulgaria), Tirana (Albania), Larnaca (Cyprus), Athens (Greece) and many Greek islands, Podgorica (Montenegro), Istanbul (Türkiye), and Skopje (North Macedonia).
Airlines
Budapest airport is primarily the main hub for Wizz Air, a Hungarian low-cost company that offers numerous connections with European, Near/Middle East and African cities. 
Apart from Wizz Air, here is a list of some of the airlines operating from Budapest Airport:
Infrastructure and Facilities
Currently, the airport has two terminals: 2A and 2B, but in 2022 the airport operator made significant progress in preparing for the reopening of Terminal 1 (expected to be ready by 2025 at the latest) and the construction of Terminal 3. 
Both terminals, 2A and 2B, are in the same building and are connected by a 5-level transit hall called Sky Court. This is where you go through security checks but also a place for shopping. Sky Court offers a wide variety of stores for duty-free items, clothes, jewelry, gifts, and souvenirs. What's more, Sky Court houses the first Mastercard lounge in Europe, which is a special area for Mastercard customers to relax and wait for their flights.
Terminal 2A has 30 places where you can check in for your flight and 7 gates where you board the plane; terminal 2A is used by airlines like Air France, Iberia, LOT, and Lufthansa. Terminal 2B has 40 check-in counters and 19 gates and airlines like Air Cairo, Air China, Turkish Airlines, and Qatar Airways operate from it.
U.S. passengers can also take advantage of the available customs and immigration services at the airport. If you would like to claim your VAT refund after your trip in Europe, you can also sort that out at Budapest Airport. 
A smooth travel experience
Budapest Airport is quite well connected to the Hungarian capital. To reach the city center conveniently, the recommended mode of transportation is the airport express bus (100E), which offers connections to key locations in Budapest. A special ticket is required for this bus service, and the price for a single ride is 1,500 HUF (€3.90/$4.21). 
Alternatively, you can get on the 200E bus, a regular public transport line that connects the airport with Ferihegy vasútállomás (the main railway station), Köbánya - Kispest metro station, and the Határ út metro station. The airport's website provides comprehensive information on ticket fares and timetables. 
If you prefer a taxi, Főtaxi is a reputable company with vehicles available at the Arrivals level. The approximate cost for a taxi ride to the Budapest city center is around €30 ($32). Additionally, car rental services are offered by Avis, Europcar, Hertz, Sixt, and other companies with service desks located at the airport.
If you experience a flight delay or cancellation at this airport, you might be eligible for compensation of up to $700 (€600). File your claim with SkyRefund and we will help you get your rightful reimbursement.  
Did you have a

delayed

flight in the last

3 years

?
Check your
compensation

for delayed flights for free!