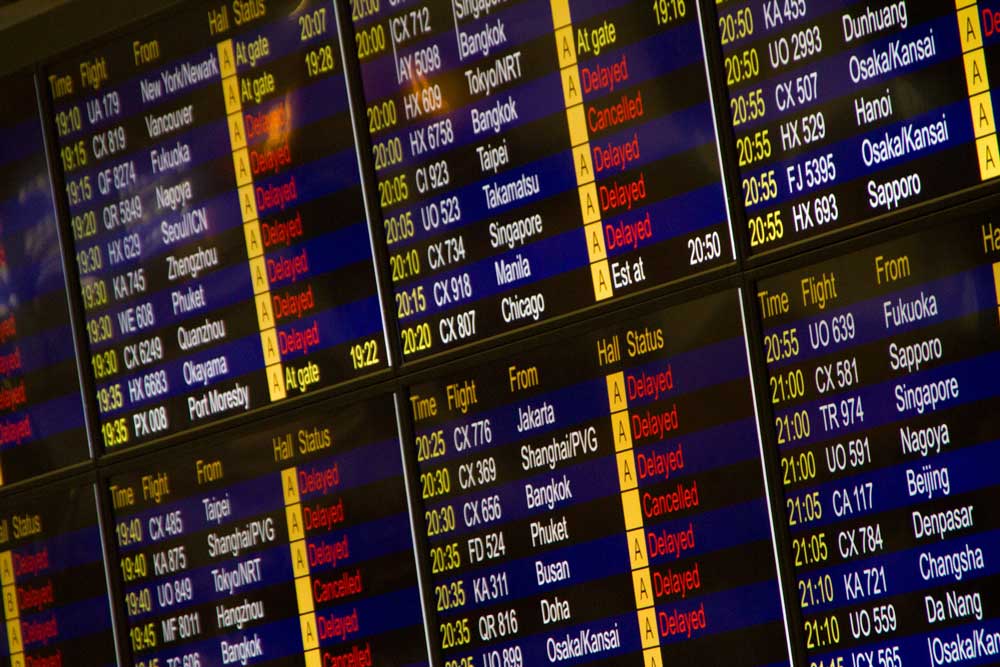 Sometimes, our travel plans have to change due to unforeseen situations like a sudden change in schedule, a surprising life event, or simply a change of heart. In such cases, canceling ypur flight booking can become inevitable.
In other cases, your trip might suddenly get disrupted due to unexpected flight cancellations (or flight delays) and that can be a very frustrating experience. From missed connections to hotel bookings, а canceled flight can be a real hassle. 
No matter if it is your own decision or it is the airline/airport that cancels your flight, there is a silver lining in the form of flight cancellation refunds and in some cases, even flight cancellation compensation. Understanding what you're entitled to and how to claim it is of utmost importance in these situations. In this article, we'll break down the conditions of getting a refund and compensation for a canceled flight.
We help you get compensation for
delayed and cancelled flights

in the last

3 years.
Check your flight now. Get up to
€ 600

per passenger.
Flight cancellation refund if you cancel your booking
Keep in mind that you are not entitled to a refund if you cancel your own booking. Each airline has its own terms and conditions and you need to acquaint yourself with them to make sure your rights are respected. 
Most airlines have a 24-hour cancellation policy, meaning you have to cancel your flight within 24 hours of booking so that you can get a full refund. Additionally, according to the official Department of transportation regulations, this rule is valid if you purchased your airline ticket at least 7 days prior to the scheduled departure. The reimbursement is usually processed to your original payment method and you would not have to pay any fees.  
If you did not buy a refundable ticket, airlines are not obliged to give you your money back, but they might offer you a travel voucher which you can use for your next trip.
Flight cancellation refund if the airline cancels your flight 
If the airline cancels your flight, they are required to offer you a replacement flight as soon as possible. If the alternative flight offered is not at a convenient time for you or the airline is unable to offer one, you are entitled to a flight cancellation refund. This rule is valid in all countries, not just the United States. 
As per European law, you should be reimbursed within 7 business days if you paid for your ticket by credit card and within 20 days if you paid by cash or check. The airline should also propose a return flight to your initial point of departure at the earliest convenience.
Flight cancellation compensation

As we mentioned in the beginning, in some cases of flight disruptions you may also get financial compensation. EU Regulation No 261/2004 protects air passenger rights and could secure you a reimbursement of up to $700 (€600) in the event of a delayed or canceled flight.

There are three key conditions for eligibility:
The airline notified you of the cancellation less than 14 days prior to the flight's scheduled departure and couldn't offer an alternative flight within a suitable time frame.

The flight should either depart from a European country or be operated by an airline registered in Europe.

The airline is accountable for the disruption, meaning the flight cancelation (or delay) was not the result of

extraordinary circumstances. 

Here are some common examples:

Air traffic control restrictions

Bad weather (extreme conditions like heavy rain or a severe snowstorm)

Bird strikes

Civil or political unrest

Medical emergencies

Security threats (sabotage or terrorist acts)
The compensation amount for a canceled flight mostly depends on the distance of the journey and the timing of the replacement flight (if such is provided). It's important to note the exact arrival time at your final destination. If the overall delay is less than 4 hours, the compensation amount may be significantly reduced.
The reimbursement ranges from $275 (€250) to $700 (€600), and you can find the specific conditions determining the compensation amount in the table below.


Between 

3 - 4 hours

More than 4 hours

/ Never arrived

Distance

€ 250 

€ 250 

All flights up to 1500 km

€ 400 

€ 400 

ECAA flights of more than 1,500 km and

/all others between 1,500 and 3,500 km

€ 300

€ 600 

All other flights of more than 3,500 km
What to do in case of flight cancellation 
If your flight gets canceled, here's what you should do:
Keep important documents:

Make sure to keep your boarding pass, reservation confirmation, and any proof of when the airline notified you about the cancellation. This evidence, such as an email, text message, or airport announcement, could be crucial when making a compensation claim.

Contact the airline's customer service

: Reach out to the airline's customer service to get more information about the cancellation and ask about possible alternative flights. They can provide you with options and assistance.

Note replacement flight details:

If you are offered a replacement flight, make sure to note down the new departure and arrival times. 

Keep receipts for expenses

: If you need to wait at the airport or stay overnight, keep all receipts for food, drinks, and hotels. This will make it easier to seek reimbursement for these costs later on.
Remember that according to EC261, you may be entitled to compensation not only for flight cancellations but also in cases of a significantly delayed flight (over 3 hours) or if you are denied boarding due to overbooking.
If you want to claim your flight cancellation refund and compensation, SkyRefund's experienced legal team can support you throughout the process. We operate on a "No win, no fee" principle and will help you fight for your rights. Simply enter your flight details in our free compensation calculator to check if your flight qualifies for compensation and let us handle the rest.
---
---