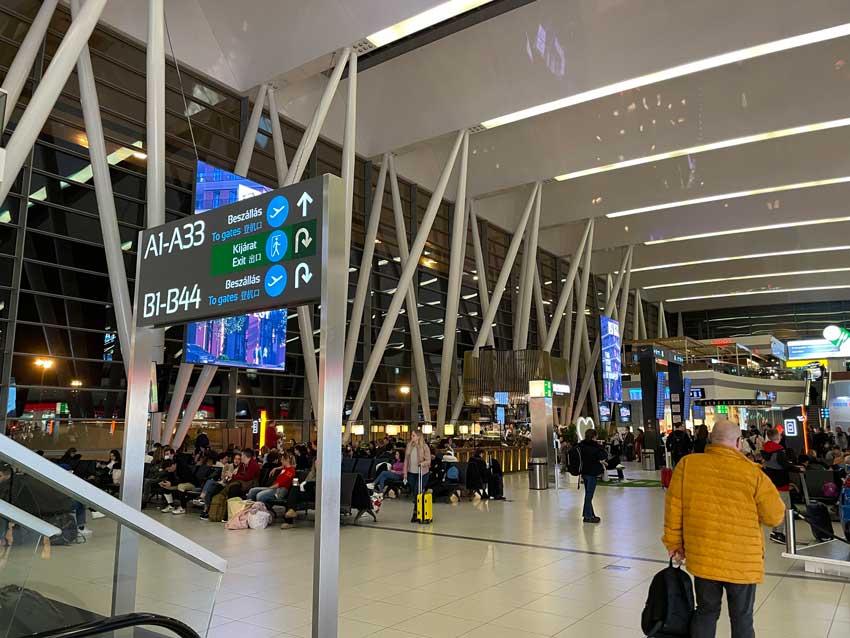 Budapest airport: location, destinations, and services
Name and location

Budapest Ferenc Liszt International Airport (BUD: IATA code), previously and still commonly known as Budapest Ferihegy international airport, is the largest airport in Hungary. 
The airport's old name, Ferihegy, came from the name of the neighbourhood where it is located and is also the name of the biggest train station in Budapest. In 2011, the Hungarian government decided to change the airport's name to Ferenc Liszt, in honour of the famous Hungarian composer.
The airport is located 16 km away from the Hungarian capital's centre and serves as headquarters and main hub for Wizz Air and a base for Ryanair. LOT Polish Airlines also uses the Budapest airport as a hub, their first outside Poland.
Did you have a

delayed

flight in the last

3 years

?
Check your
compensation

for delayed flights for free!

---
Terminals
Budapest Ferenc Liszt Airport has two passenger terminals: Terminal 2A and Terminal 2B. 2A is used for non-Schengen flights, and 2B serves Schengen flights. The transfer between the two terminals can be done in a matter of a few minutes. 
Terminal 2A was initially intended to be an exclusive terminal for the former flag carrier Malév Hungarian Airlines, however the company went bankrupt in 2012 and the terminal was redesigned accordingly. 
Both terminals are located in the same building and are connected by Sky Court, a 5-level transit hall. Sky Court houses passenger safety checks, numerous modern shopping facilities, and the first Mastercard lounge in Europe.
Terminal 2A has 30 check-in counters and 7 gates, and is used by airlines such as Emirates, Aeroflot, and Qatar Airways. Terminal 2B has 40 check-in counters and 19 gates, and is used by airlines such as Ryanair, Wizz Air, and Lufthansa.
Transport
Travelling to and from the Budapest airport is fairly easy. You can choose from several transport options, including public transport, taxi, or a car rental. 
The most convenient way to get to the city centre is to take the airport express bus (100E). You can take this line and travel to and from several key locations in the Budapest city center. Passengers are required to have a special ticket for this bus, which costs 1,500 HUF (3.90 EUR/3.46 GBP).
Another bus service you can take advantage of is bus 200E, a regular public transport line connecting the airport with Ferihegy vasútállomás (the main railway station), Köbánya - Kispest metro station and the Határ út metro station. You can find detailed information about ticket fares and timetables on the airport's website.
Another option for transportation is taking a taxi, and the trusted company you should use is called Főtaxi. Their cars usually wait at the Arrivals level and a cab ride to the city center should cost around 30 EUR. 
If you would like to rent a car, several companies have service desks at the airport, among which Avis, Europcar, Hertz, and Sixt.
Airlines and destinations
Budapest airport is a busy international airport serving as the main hub for Wizz Air and a major base for Ryanair. Wizz Air alone offers more than 60 different destinations and Ryanair does not fall far behind. 
In 2022 more than 12 million passengers travelled through Ferenz Liszt airport from and to various destinations all over Europe, several destinations in Asia (like Seoul with Korean Air or LOT) and North Africa (like Cairo and Hurghada with EgyptAir). 
Many companies offer seasonal flights to popular vacation spots like Arkia to Tel Aviv, Pegasus Airlines to Antalya, and SunExpress to Izmir. 
Notice Given
Arrival at Final Destination

14 Days or More

No compensation

7-13 Days

A delay of more than

4

hours

Less than 7 Days

A delay of more than

2

hours
Services
Both terminals 2A and 2B offer passengers a range of facilities, including shops, restaurants, and cafes, as well as currency exchange, ATMs, and car rental services. There are also several airport hotels so if you have an early morning flight, you can arrive at Budapest airport quickly and without any hassle.
The airport in Budapest is being expanded and renovated at the moment. The airport management has plans to improve the facilities and increase the capacity to better serve its growing passenger traffic.
Now that you learned all about Budapest airport, we wish you safe and happy travels. But, if it so happens that you experience a flight disruption when flying from or to Ferenc Liszt International Airport, we at SkyRefund can help you. In the case of a flight delay, cancellation, or denied boarding, European Regulation No.261/2004 protects passenger rights and can get you financial compensation of up to 600 EUR. 
However, the process of claiming your reimbursement can be long and tedious. That is why having a company like SkyRefund by your side can save you much time and trouble. We will do all the paperwork on your behalf and charge you a fee of 35% only if we successfully get your compensation. File your claim with us now and we will gladly handle the rest.
Did you have a

delayed

flight in the last

3 years

?
Check your
compensation

for delayed flights for free!