Fast and Furious fans, are you ready to fly?
More than 70 years after the first supersonic flight of 24-year old Chuck Yeager on his Glamorous Glennis, American and French aircraft makers are setting new records in the skies.
There is a range of super fast jets on the market that can help executives cut down on those precious time-is-money hours spent flying. Busy travellers who seek time efficiency are now provided with the opportunity to hold multiple meetings in different cities within the same day! On top of it all, the mind-blowing speed is paired with great safety, extra comfort, luxurious seating and the latest tech (think James Bond movies).
To maximize privacy and comfort, these super-fast aircraft take off and land at private terminals, which also means less time spent at security and check in.
---
We help you get compensation for
delayed and cancelled flights

in the last

3 years.
Check your flight now. Get up to
€ 600

per passenger.
---
Dassault Falcon 900 (Mach 0.84)
This elegant French aircraft can reach a maximum speed of Mach 0.84 and a cruise speed of 950 km/h.Thanks to its impressive range of 4000 nautical miles (7400 km) the Falcon 900 can take you places its competitors cannot. The Dassault Aviation aircraft boasts three jet engines and enhanced fuselage materials, like Kevlar, carbon fiber and titanium. Being much lighter than other trijets in its class, Falcon 900 has superior fuel economy.
Passengers can enjoy direct Satellite TV, cabin internet so they can work or relax, they can enjoy a fine meal and then retire to sleep. 
The price tag of this fuel efficient business jet is $45m.

Bombardier Challenger 650 (Mach 0.85)
The Challenger has a top speed of Mach 0.85 (about 890 km/h). It can fly for 8 hours and 45 minute non-stop and cover a range of 4000 nautical miles (just like the Falcon 900).
This aircraft has the lowest direct operating cost. It can seat 12 passengers who feel absolutely comfortable even at full capacity as the wider cabin secures enough room and comfort.
The Challenger has Ka-band high-speed internet, touch screen cabin controls, Wi-Fi and Bluetooth, plus On Demand inflight entertainment.
Thanks to its steep approach capabilities, the Challenger can land you directly in the London City! And its improved wing design delivers an ultra-smooth ride.
No wonder the Challenger ranked #1 in deliveries - more than a thousand of this large business aircraft have been sold so far!

Gulfstream G550 (Mach 0.885)
The Gulfstream G550 ranks among the fastest private jets in the world thanks to a maximum speed of Mach 0.885 or 941 km/h. This business jet produced by General Dynamics' Gulfstream Aerospace unit has a much longer range than the previous two (on top of the higher speed). It can take you halfway across the globe in one go with its maximum range of 6750 nmi or 12,500 km.
The aircraft has set 40 city-pair records for time. It has a cruise speed of 850 km/h and is a great choice for destination pair like Tokyo - Paris, Lodnon - Hong Kong and Washington - Dubai.
The jet features up to 4 distinct areas, vast multimedia resources and entertainment centre.
The G550 can seat up to 16 passengers (or can sleep 8) and if you would like to buy it for your business adventures, its price is S$61.5 m.

Bombardier Global 6000 (Mach 0.89)
The Global 6000 business jet has a top speed of Mach 0.89 (944 km/h) and a maximum range of 6000 nautical miles (hence the number in the name).
Passengers can enjoy a smooth ride due to the aircraft's advanced wing design. The bombardier aircraft is equipped with two Rolls-Royce engines and has already set speed records from London City Airport to New York.
The enhanced sound proof materials guarantee that you can get a good night's sleep or watch a movie while travelling almost at the speed of sound.
The Global 6000 boasts the fastest in-flight internet connectivity worldwide, plus a media centre. You can use the screens to either watch a movie or display documents during your executive business meetings in the air.
The Global 6000 is advertised as the best combination of speed, range and field performance and its unit cost is $45m. A proud owner of a Global 6000 is Russian billionaire businessman Alexei Mordashov.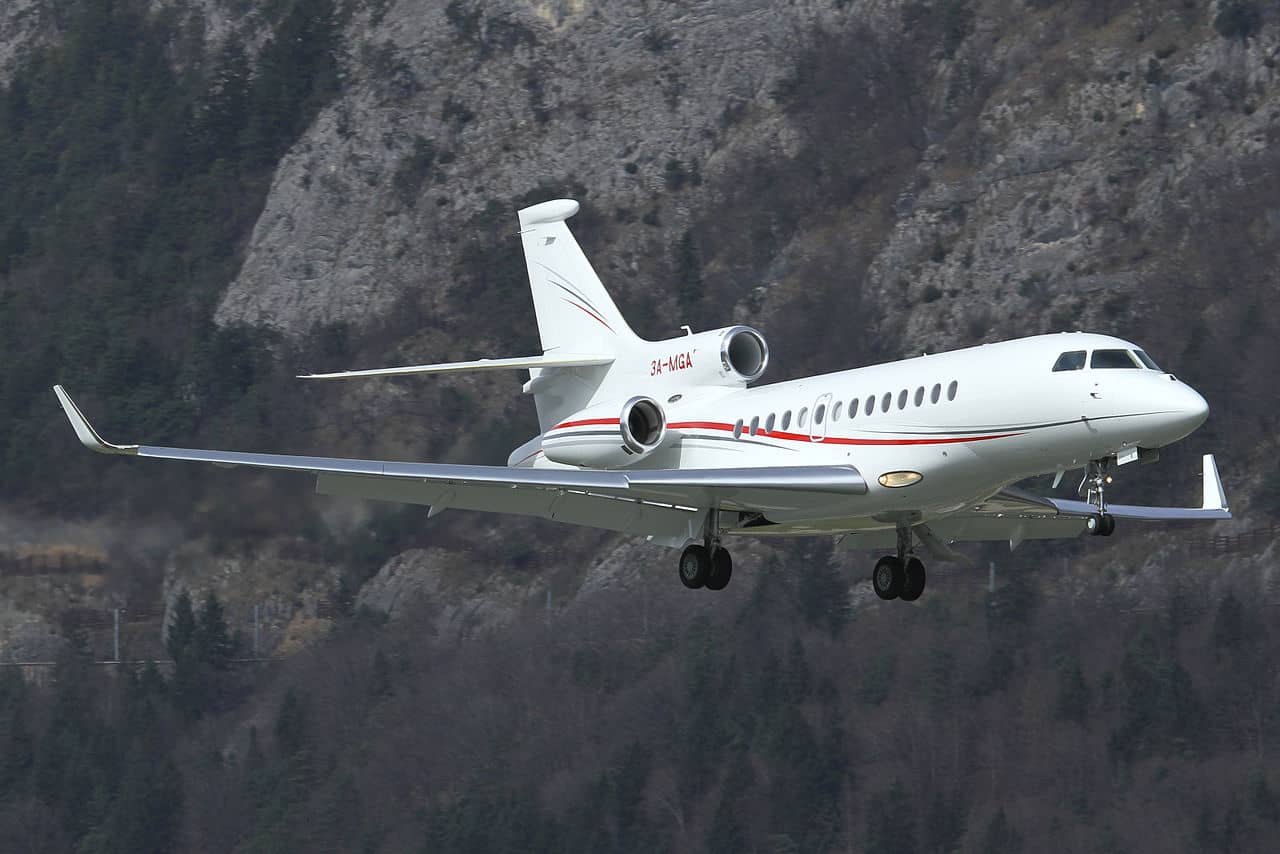 Dassault Falcon 7x (Mach 0.90)
This aircraft has a maximum speed of Mach 0.90 (953 km/h) and is one of the very few trijet charter aircraft. Due to its impressive range of 6000 nmi (about 11,000 km) it can compete directly with Gulfstream and Bombardier long-range aircraft. So if you're looking for a jet to travel between Los Angeles and Paris, London and Singapore or New York and Dubai, go for Falcon 7x!
The Falcon 7x can seat between 12 and 16 passengers. It can travel with a crew of 3 - so apart from the 2 pilots, you can count on the assistance of a flight attendant. The jet features an innovative digital flight control system and a wide selection of floor plans.
Dassault boasts luxurious interiors, two lavatories and even an on-board shower!
This French jewel, reportedly owned by Bill Gates, will set you back $47.4m.
---
We help you get compensation for
delayed and cancelled flights

in the last

3 years.
Check your flight now. Get up to
€ 600

per passenger.
---
Bombardier Global 7500 (Mach 0.925)
With its top speed at Mach 0.925 (982 km/h) Bombardier Global 7500 ranks among the fastest private jets available on the market today. It can fly from coast to coast, i.e. Los Angeles to New York, in less than 4 hours.
The aircraft is powered by General Electric Passport engines and has an impressive range of 7700 nmi or 14,300 km. Flying from New York to Hong Kong or from Singapore to San Francisco? This is the jet that can offer a non-stop smooth ride and the best combination of range, speed and field performance.
What is more, you will be travelling in luxury and comfort. The Global 7500 can seat up to 19 passengers who will not only have enough space but can also have the luxury of their own private space. 
The aircraft has 4 distinct suites and a special Crew suite to maximize privacy. The Master suite features a permanent bed and a stand up shower. The Club suite is equipped with HDTVs, whereas the Conference suite, which can seat a team of 6, has a table and a large wall-mounted TV. And if you'd like to rest after all the hard work, the Entertainment suite boasts an HDTV, an audio system and an entertainment cabinet with media storage.
Bombardier's newest and largest ultra-long-range aircraft sells for $73 million.
A famous owner of one of these fast flying machines is former Formula 1 driver Niki Lauda (an impressive speedy upgrade!).

Gulfstream G500 (Mach 0.925)
Gulfstream G500 is a twin jet with the same top speed of Mach 0.925 yet a more modest range of 5200 nmi or about 9600 km. Its larger version G600 was recently certified by the FAA and the first jets are already being delivered to their customers.
The Gulfstream G500 got the 2019 Flying Innovation Award - a recognition of its new safety enhancements and its innovative technology. The jet features fly-by-wire flight controls and an innovative cockpit equipped with 10 touchscreen flight displays.
A maximum of 13 passengers can enjoy state-of-the-art communications systems, up to 3 living areas, a whisper-quiet cabin and panoramic windows.
The unit price for the G500 is $43.5 million while the G600 will sell for $54.5 million.

Gulfstream G650 /650 ER (Mach 0.925)
G650ER is the speed record-holder for the farthest flight in business aviation history - it flew non-stop from Singapore to Tucson, Arizona, in 15 hours and 23 minutes at an average speed of 960 km/h.
The Gulfstream G650 has a top speed of Mach 0.925 and an impressive range of 7500 nm or almost 13,900 km.The jet is powered by two Rolls-Royce BR725 engines, each producing a maximum thrust of 17,000 pounds-force.
The craft to be configured to carry between 11 and 18 passengers. The G650 features large oval windows that suffuse the cabin with natural light. The living spaces include a fill kitchen and a bar. It can be equipped with an array of entertainment features including satellite telephones and wireless Internet.
The unit cost for a Gulfstream G650 is $69.5m and for the G650ER - $71.5 m.

Cessna Citation X+ (Mach 0.935)
This is currently the world's fastest private jet - it was certified by the FAA at Mach 0.935 or  993 km/h. This American aircraft produced by Cessna has a maximum range of 3,460 nmi (6,410 km). The Citation X is powered by two Rolls-Royce engines, the jet also features a glass cockpit equipped with a Honeywell avionics system.
The jet can seat up to 12 passengers and a crew of 2.The craft features extra-large, extra comfortable seats, a fully equipped galley and a large bathroom.
This jet boasting unmatched speed, efficiency and reliability has a relatively modest price -  $23.3m.
---
Wishing all fast and furious fans the opportunity to fly in one of these super-speedy jets and safe travels!
Have a safe journey!
---
---