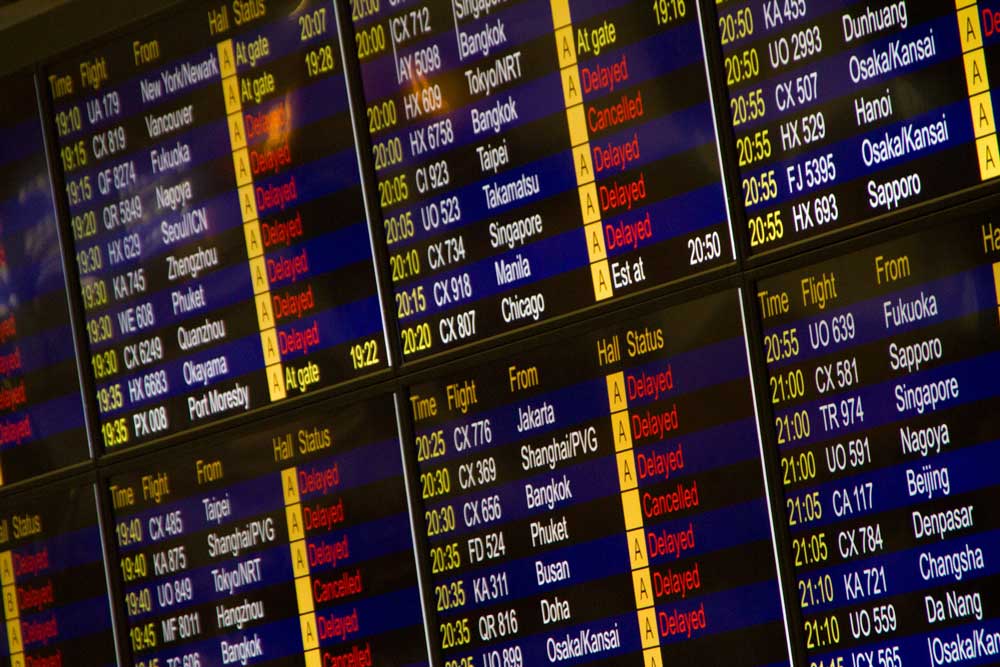 (Photo by frank2016wang on Pixabay)
Once we have booked our flight tickets and everything else, we can relax and count the days until our trip. Unfortunately, that's not always true. Many travellers have been unpleasantly surprised by a cancelled flight - sometimes even in the last moment.
If something similar happens to you, you might be able to receive a flight cancellation refund. In this article, we will discuss how to get money back for cancelled flights and what the rest of your passenger rights are if the airline cancels your flight.
We always aim to provide useful information to our clients. SkyRefund is a leader in protecting air passenger rights.
Have you experienced any problems with your flights in the last 3 years, such as delay, cancellation, denied boarding or downgrading? You could be eligible for compensation - check your flight now.
Now, read on to find out everything regarding flight ticket cancellation and flight refund rules.
---
We help you get compensation for
delayed and cancelled flights

in the last

3 years.
Check your flight now. Get up to
€ 600

per passenger.
---
Airline cancelled flight refund
Many passengers ask, "If my flight is cancelled, can i get a refund?" and the answer is yes, you can, under the following conditions:
Your flight is cancelled less than 14 days before the flight departs, and you won't take the replacement flight that is offered;

OR you are denied boarding but don't want to take the alternative flight offered;

OR your flight wasn't cancelled but is delayed by more than 5 hours, and you no longer want to take it.
EU Regulation 261 states that you have the right to a flight cancellation refund if your flight is cancelled. The airline has to offer you an alternative flight, and you can request a different one if you prefer. If none of the available flights work for you, you have the right to request a full flight cancellation refund.
The same applies in case of flight delays. If your flight is delayed by more than 5 hours, you can decide not to take it and request a refund instead.
Flight cancellation compensation
Apart from the flight cancellation refund, you are also entitled to compensation if all of the following conditions are met:
Your flight was to depart from the EU or was with an EU airline arriving in the EU.

You had a confirmed flight reservation.

The flight wasn't delayed or cancelled due to extraordinary circumstances.

The flight disruption occurred in the past 3 years.
AND if:
Your flight was cancelled less than 14 days before the departure date, OR

Your flight was delayed for at least 3 hours, OR

You were denied boarding because of overbooking.
Your flight compensation can be up to €600 depending on the distance and length of your journey - learn more in our detailed article.
As you noticed, one of the conditions for you to claim compensation successfully is for the flight not to have been cancelled or delayed due to events outside of the airline's control. Such extraordinary conditions include:
Bad weather;

Security risks;

Political unrest;

Airport staff strikes;

Medical emergencies;

Air traffic control restrictions.
However, you should know that whatever happens, you have certain passenger rights.
---
Your passenger rights in case of a cancelled flight
Under EC261, in the event of a cancelled flight less than 14 days before departure, you have a choice between the following:
Full or partial flight cancellation refund of your ticket, with a return flight to your original point of departure when needed;

Earliest possible alternative flight/transport to your final destination;

A new flight ticket to your final destination at another date of your choosing.
The rule is that if you opt for reimbursement, the air carrier needs to send it to you within one week. It can be paid in cash, as an electronic bank transfer, bank orders or checks.
Note that airlines might offer you vouchers or other services. However, it is important to always check what documents you are signing because in some cases accepting this kind of compensation might annul your right to receiving a flight cancellation refund in cash.
Your rights in case of a cancelled connecting flight
What happens when you have taken your original flight but when you land, you learn that your connecting flight is cancelled?
If the air carrier isn't able to offer you an alternative connecting flight to take you to your original destination within a reasonable timeframe, you have the right to demand a full flight cancellation refund. You will get refunded for the used portion of your ticket, as well as the one you could not use.
If necessary, the air carrier must provide you with a return flight to your first point of departure as soon as possible.
The right to care in case of cancelled flights
In the event of delayed and cancelled flights, passengers have the right to everything necessary, such as:
Food and drinks;

Access to phone calls and emails;

Hotel accommodation if you are delayed overnight, and transport between the airport and the hotel.
The airline should give you vouchers but even if you don't receive ones or if they are not enough, simply keep your receipts so that you can ask them to cover your expenses later.
Claim compensation for a cancelled flight
As you now know, apart from a flight cancellation refund, you might be eligible for a flight cancellation compensation. If the cancellation was the airline's fault and either:
the replacement flight delayed your arrival by 2 or more hours,

OR your flight was cancelled less than 14 days before departure,
you are entitled to compensation.
The amount you can get depends on:
when the flight was cancelled;

the distance of the flight;

the departure and arrival times of the rescheduled flight.
If you have had any disrupted flights in the last 3 years, check your flight cancellation compensation. We will help you claim it.
---
---