It has been more than two years since the UK voted to leave the European Union. Brexit, the term given to this political event, is set to occur on January 31, 2020. Nevertheless, there remains a significant lack of clarity about the future shape of the relationship between the UK and the EU.

Since Brexit will affect the freedom of movement of people, it will also change the way in which passenger rights are interpreted. Britain will have to decide whether to keep the current rules set forth by EU Regulation 261 or come up with new ones.


What have the passenger rights of Britons been before Brexit?
The rights of British travelers before Brexit are established by EU Regulation 261. They are the same as for other air passengers traveling within the EU.

The regulation establishes a level playing field for all EU airlines and all carriers departing from the EU. It also creates the framework for compensation and assistance for passengers who have experienced delayed flights, cancellations or denied boarding.
According to current rules, UK airlines are required to pay passengers financial compensation for any significant flight delays or cancellations or any instances of denied boarding. The amount of compensation can range from €250 to €600 depending on the distance covered.

There are three conditions that need to hold in order for the passenger to be eligible for compensation:
-         The passenger must reach her final destination with a delay of over 3 hours. This holds in cases of delay, cancellation or overbooking.
-         The airline must be responsible for the delay. In other words, the disruption did not result from any extraordinary circumstances such as prohibitive weather, security risks, airport strikes or medical emergencies.
-         The flight was operated by an EU-registered airline or departed from an airport within the EU.

Read more about your right to compensation in case of a flight delay or a cancelled flight.
Passenger rights after Brexit will remain unchanged when traveling within the remaining EU 27 countries.

What will happen to my rights as a traveler after Brexit?
The most likely scenario for air passenger rights after the UK leaves the EU is that EU Regulation 261 will be passed into UK law.
Until Brexit, and under the European Communities Act, European law takes precedence over domestic UK laws. After Britain leaves the EU, a repeal bill is expected to come into effect. It will establish domestic law as the highest in the country. The bill would also remove the jurisdiction of the European Court of Justice in the UK.
Such a repeal bill is meant to guarantee a steady transition for all legislature including any laws on passenger rights after Britain leaves the EU. This bill is expected to become "one of the largest legislative projects ever undertaken in the UK".
After Brexit, passenger rights legislation will pass into the hands of the UK parliament. Parliament will then have the power to "amend, repeal and improve" the articles of the incorporated regulation.
If the current regulation is modified, passengers may lose their right to compensation for delayed and canceled flights altogether. Alternatively, they may see a significant decrease in the compensation amounts they are eligible for.
If Regulation 261 is integrated into domestic British law, the conditions for eligibility of passengers are not expected to change significantly.

If your disrupted flight departed from the UK on a British carrier, your right to compensation would be covered by the UK's version of Regulation 261. And if the flight was operated by an EU airline, you could claim compensation according to both UK and EU law.

If you depart from any of the remaining 27 EU states, your right to compensation will be covered by Regulation 261, regardless of the airline's origin or your nationality.

If your flight arrives in the UK from outside the EU, you would have to be flying with a British carrier to be eligible for compensation. Similarly, if you arrive in the EU your eligibility will depend on whether you flew with an EU airline.

 

Could British passengers lose their right to compensation after Brexit
Unfortunately, it remains a possibility that the UK parliament may amend or repeal the articles of Regulation 261. In some scenarios this may mean that air travelers will lose their right to compensation.

The post-Brexit period will be a sensitive one. The UK parliament will have to make many important decisions as to what is kept in the domestic legislature. It is also likely that lobbyism will have a big role to play. Therefore, there is a lot of uncertainty about whether passenger rights after Brexit will give travelers the same protection.

It is possible that there might be a reduction in the compensation amount passengers will be able to claim in the case of a delay, cancellation or denied boarding.

Travelers can currently claim €250 if the length of the disrupted flight was under 1500 km. This amount rises to €400 for flights between 1500 and 3500 km. When the distance covered by the flight is over 3500 km, passengers can claim €600 for their problem flight.

It is unclear at this point if these will be kept at their current values after Britain leaves the EU.
The worst possible case would arise if UK legislators make the decision to repeal EU Regulation 261 after Brexit. If this happens, it would dramatically limit the cases in which British passengers would be entitled to compensation.

The only cases in which they would have the right to claim a refund would be when their flight departed from the EU and when they flew to the EU on an EU carrier.


Could the UK somehow remain within EU Regulation 261?
Yes, and this will probably be the best development for all passengers.
Non-EU countries such as Iceland, Norway and Switzerland have opted into the regulation and are part of the European common airspace.

The United Kingdom could decide to replicate this. Doing so will likely mean that all current court decisions which interpret Regulation 261 will also be binding in the UK.
 
Hard Brexit and Cinderella Flights
Passengers will face problems if the EU and the UK do not come to an agreement on their future relationship. This development is known as no-deal Brexit. According to many legislators and policy-makers, this scenario would present the most palpable changes to travelers' experiences.
Even in the case of a no-deal Brexit, EU Regulation 261 can still be unilaterally adopted into domestic UK law. Therefore, UK passengers may still be able enjoy the rights we discussed above.
However, there are many other concerns. It remains a possibility that flights between the UK and the EU could be hurt. As long as the UK is part of the Union, it remains a member of the European common airspace. Without an agreement between the EU and UK governments on the future relationship, British airlines may not be granted airspace over EU territory and vice-versa.
There are further complications to this. Flight schedules for 2020 have already been released. Among them are flights which depart in the evening of January 30, just before Britain officially leaves the EU and are scheduled to land in the EU on January 31 when it will no longer be an EU member-state.
These flights are given the deceptively catchy label "Cinderella flights". However, if there is no deal, these flights (and their passengers) might be denied landing.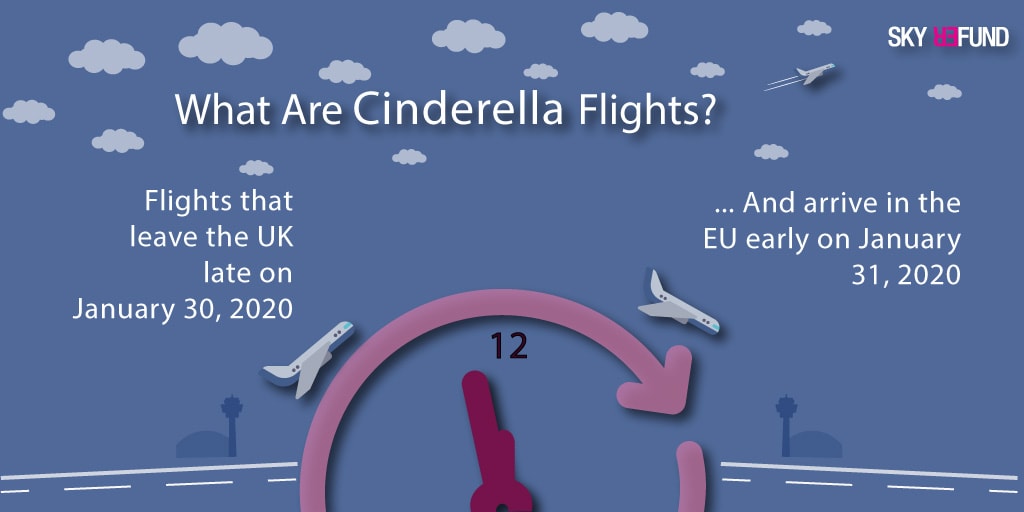 This turn of events will prove particularly costly to any British citizens who have booked holidays for 2019. Britons would be considered "third-party nationals" and therefore could face the risk of denied entry into EU member countries.
According to the UK Department for Transport, this is scenario is highly unlikely. The shared consequences would be too great for both the EU and the UK for them accept a no-deal Brexit.


How have airlines responded to Brexit fears?
easyJet, however, is preparing for the worst outcome possible. It is expected that the carrier's UK pilots will earn Austrian licenses in order to continue flying after Brexit.
Moreover, in 2017 easyJet registered a new airline "easyJet Europe". The newly-created carrier is expected to take control of EU-based operations in anticipation of the event in which easyJet is denied clearance to do so. This makes easyJet a "pan-European airline group" with headquarters in Austria, Switzerland and the UK. The group will be owned by an EU-based company.
Meanwhile Ryanair CEO Michael O'Leary has expressed serious concerns that a no-deal Brexit could ground airplanes at least for a short period in the spring of 2019.
How to enforce your passenger rights after Brexit?
There is still much uncertainty about what would happen to air travelers' rights after Brexit. This is why it is difficult to give concrete advice to passengers.
SkyRefund will continue to monitor the situation closely. We will provide you with updates every time there are new developments.
As ever, it is important to stay on top of new legislation in order to know your rights. We will update our articles claiming compensation for flight delays and cancellations to stay up-to-date with any new rules.
Currently, all UK and EU passengers can submit their claim for compensation in case of a delay, denied boarding or cancellation. Our legal experts will take all of the required steps to ensure that you receive your rightful compensation. And since we work according to a "No Win- No Fee" policy, we would only receive our fee if we successfully claim your compensation on your behalf.
---
---