You are at the airport, looking up at the departures board and preparing for the race when your gate gets announced. You want to be among the first to board because you need to go over your presentation again - after all your boss is counting on you. And then the unfortunate news comes: your flight is delayed and your business trip is now meaningless.
The news is equally bad for your employer  - they made the reservation, paid for the ticket and are about to miss a great business opportunity.
The only good thing about a flight disruption - cancellation, denied boarding or a flight delay on a business trip, is that you are eligible for up to €600 in compensation.
---
---
Which law protects business travellers?
All passengers travelling from the EU or to the EU on a European airline, are protected by EU regulation 261/2004 if their flight is delayed, cancelled or they are denied boarding.
Can you claim compensation for a flight delay on a business trip?
If you are travelling on a business trip and you arrive at your final destination with more than 3 hours flight delay, you may be entitled to flight compensation for the inconvenience. Feel free to file a compensation claim if the reason for the delay lies within the responsibilities of the air carrier - for example a technical issue or staff strike.
Alternatively, if the delay was caused by bad weather or political unrest, you are not entitled to compensation as these are considered extraordinary circumstances.
Remember that if your flight is delayed for some reason and you have to spend long hours at the airport waiting, you have the right to care and assistance. You should either be offered food and drink or be reimbursed for the ones you have bought while waiting. Do not go overboard ordering whiskey and caviar, though, as the expenses you have incurred should be reasonable.
Note that air passengers are also entitled to compensation in case of flight cancellations and denied boarding. If such flight disruptions occur, the air carrier is also required to offer you an alternate flight to your destination or a refund.
And last but not least, the air carrier is required to compensate you if you have missed your connecting flight due to a flight delay.
Who gets the compensation?
This is an important point, as business trips are typically booked and paid for by the employer. However, you (being the air passenger) are entitled to compensation according to the law as you are the one who suffers the inconvenience. Remember EU Regulation 261/2004 was created to protect the rights of air travellers - your rights.
Note that you may have to hand this over to your company depending on the conditions of your employer contract. Businesses have different agreements with their staff regarding their business trips, especially concerning flight delay compensations.
As the law dictates that the passenger is entitled to compensation for the inconvenience suffered, you should file the claim for compensation.
This is the case even if your employer has booked the flight and paid for the plane ticket for your business trip (which is the usual procedure). After all you are the one who is travelling (or was supposed to travel) and who experiences all the fuss and disruption.
How much compensation can you get for a flight delay on a business trip?
According to EC261 the compensation amount depends on the distance of the flight and ranges between €250 and €600.
Remember that the first thing you need to confirm is that your flight:
departed from an European airport or arrived at an EU airport on an EU registered airline

was delayed by more than 3 hours at arrival

and

was not delayed due to extraordinary circumstances.
In case you are eligible, the amount of your compensation depends on the flight distance as follows:
If your flight was shorter than 1500 km, you may be eligible for €250 delayed flight compensation

For flights between 1500 km and 3500 km, the amount rises to €400,

In case the distance exceeds 3500 km, the flight delay compensation can reach €600.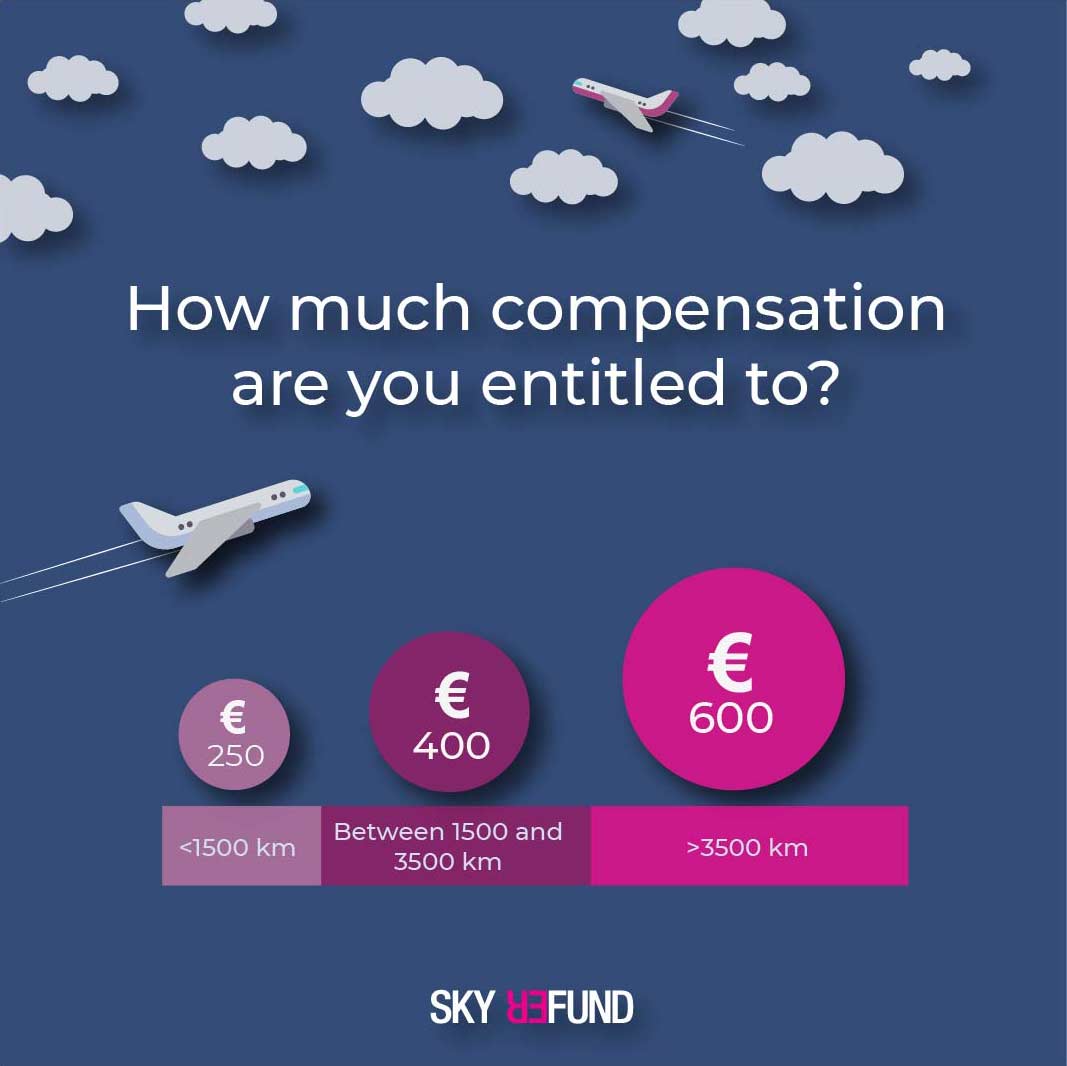 How can you claim compensation?
If you have experienced a flight disruption, you should first try to find out the reason for the disruption. Access to information is your first right under EC261 so all air carriers are required to provide the necessary details - reasons for the flight delay and regular updates.
Unfortunately, only 1 in 8 passengers is aware of their rights and even fewer manage to successfully claim compensation.
In case you are not sure if you are eligible, you can easily check by entering your flight details in our free compensation calculator.
It is important to stand up for yourself and enforce your rights and we are here to support you. SkyRefund's mission is to protect air passenger rights and ensure that travellers receive their owed delayed flight compensation.
What is the difference between compensation and refund?
If your flight is delayed by more than 5 hours, under EC261 you have the right to abandon your journey and ask for a refund. For delays exceeding 5 hours, the air carrier has to offer you a replacement flight at the earliest possible opportunity or a reimbursement of the full ticket cost.
Now, if you decide the rerouting is not a suitable solution and your business trip is rendered pointless at this stage, you may opt for a refund. In this case, you can file a claim for both:
the refund of the ticket cost (which may rightfully be claimed by your employer who paid for the ticket) and

the compensation (which usually goes to you for the inconvenience you have suffered).
Can you claim compensation if your flight is not eligible under EC261?
As already mentioned, EU Regulation 261/2004 covers all flights:
departing from airports in the European Union, or

arriving to the EU and operated by airlines headquartered in Europe (example: New York (JFK) - London (Heathrow) flight on British Airways) .
Note that if you have suffered a flight delay on a business trip between New York (JFK) and London (Heathrow) on American Airlines, you are not eligible under EC 261. This is also the case for a flight travelling between Singapore and Moscow, for example, as none of them is within the EU.
In case you have experienced a flight disruption in a business trip not covered by EC261, you should look into the Montreal Convention. This treaty signed in 1999 has been ratified by 133 parties and it establishes passenger rights in case of delayed or lost luggage, flight delays and cancellations, as well as injuries. Note that it covers international flights only, which means that if you have experienced a flight disruption on a domestic flight, you will have to consult local laws.
Under the Montreal Convention, if you are forced to incur additional expenses as a result of a flight delay, the air carrier will have to cover these. Imagine your flight gets delayed to the next morning and you have to pay for your accommodation. In this case you are advised to keep all relevant documentation (boarding pass, receipts, etc.) so that you can be reimbursed.
Flight delay on a business trip: How far back can you claim under EC 261?
EU Regulation 261/2004 does not provide an EU-wide limitation period so the time-limit varies according to the country. Depending on the air carrier's origin, you may be able to claim flight delay compensation for flights that happened 10 years ago - this is the case in Luxemburg, for example.
However, In the UK and Ireland the limitation period is 6 years, and in countries like Switzerland, the Netherlands and Slovenia - only 2 years.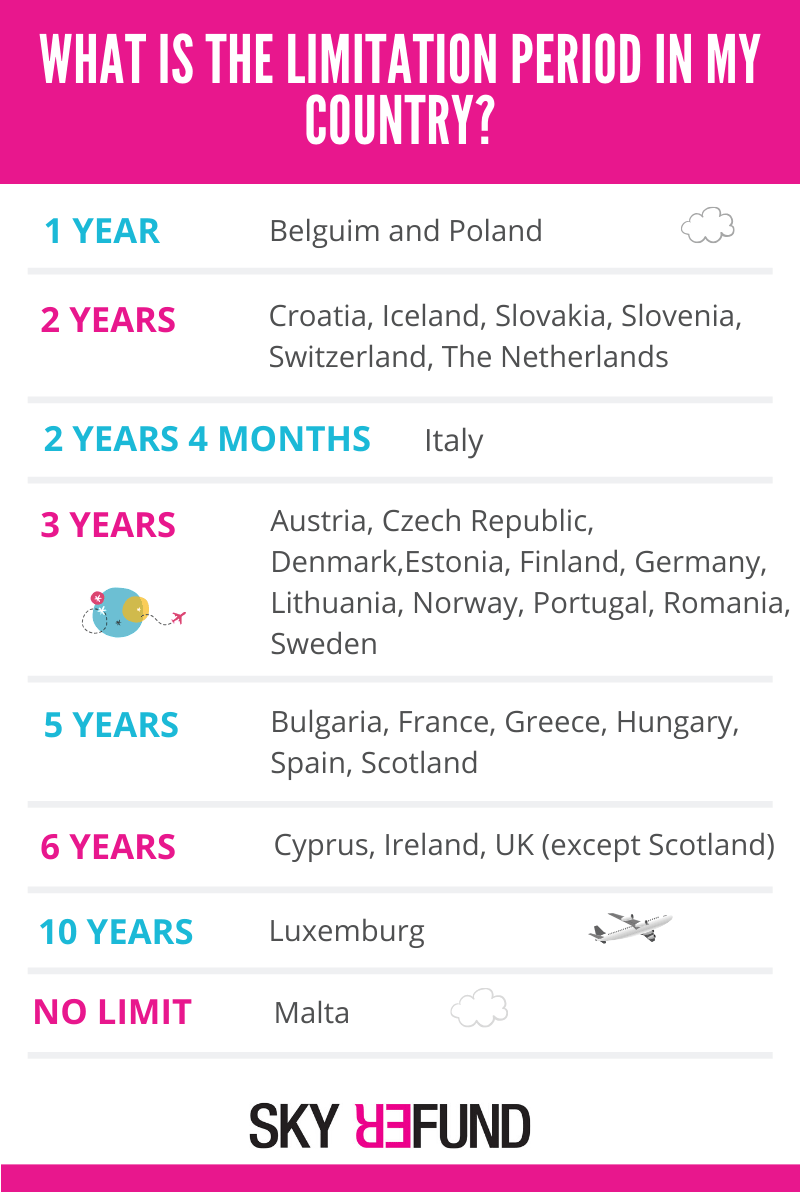 When is the best time to submit your delay compensation claim and how much does it cost?
It is best to submit your claim as soon as possible. Remember to hold on to your boarding pass and your booking confirmation. Your boarding pass is especially important as it contains all the information required to file a compensation claim.
In addition, if you have incurred any additional expenses at the airport (for example, paid for your accommodation or food and drink during the long wait), make sure you keep the receipts. The airline is required to reimburse you for such extra expenses, but in order to prove you paid for your purchases, you will need to hold on to the receipts.
Remember: Claiming your cancelled or delayed flight compensation is quick, easy and free!
Our team of experts here at SkyRefund will take care of all the hassle and help you assert your rights. We will submit your claim, conduct an in-depth investigation into the reasons for the disruption and take all of the necessary legal steps. We will even take your case to court if the airline groundlessly rejects your claim.
What is more, we work under a No Win No Fee policy, which means we have no upfront fees or legal costs. We will earn our fee (35% of the compensation amount) only when you successfully get your flight reimbursement.
Keep calm, rest assured that your rights will be protected, and Bon Voyage!
---
---