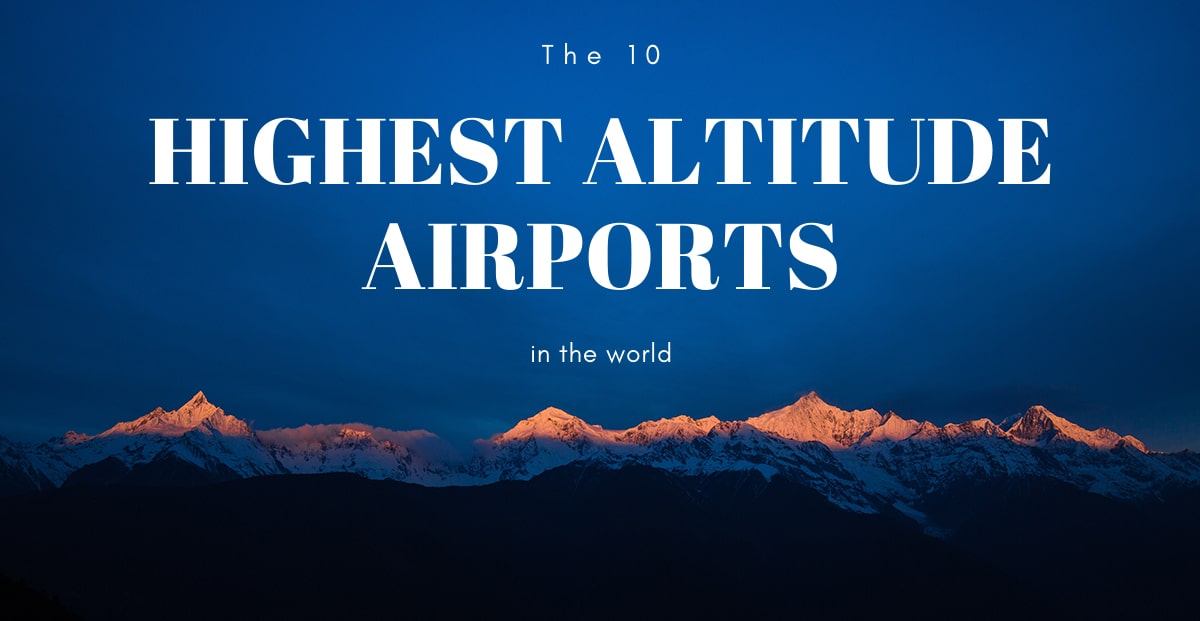 Have you ever wondered where the highest airports in the world are?
China is the proud winner in this ranking - it hosts seven out of the top ten and the highest of them all - Daocheng Yading.
Building an airport at an altitude of over or around 4,000 meters is a genuinely impressive and expensive feat. In the last 15 years the prosperous Middle Kingdom has invested hundreds of millions in erecting airports and connecting isolated communities.
Where are these high altitude airports located and how expensive are they?
---
---
Daocheng Yading Airport (IATA code DCY)
Elevated at 4,411 meters (14,472 feet) above sea level, Daocheng is the world's highest altitude airport.
It started operations in September 2013 and the project cost $225 million. Located in Daocheng County in Garzi Tibetan Autonomous Prefecture this airport connects communities in the Sichuan province, serving flights to Guangzhou, Shanghai and Xi'an. Its inauguration flight served 118 travellers.
The new commercial airport cut the travel time to Chengdu, the busy and beautiful capital of Sichuan province, from 2 days by bus to 1 hour today. 
The world's highest airport is served by three airlines: Air China, China Southern Airlines, and Sichuan Airlines.
Daocheng has a capacity of 280,000 passengers a year. And although it doesn't rank among the busiest airports in the world, it boasts an impressively long runway - 4,200 meters!
---
Qamdo, Bamda Airport (IATA code BPX)
This airport, also known as Changdu Bangda Airport, serves Qamdo in the estern part of Tibet Autonomous Region, China. It is located at 4334 meters above sea level and boasts the longest runway in the world – 5,500 m!
Long runways are typical and necessary feature of high altitude airports. The low atmospheric pressure and the thin air make taking off and landing a real challenge for the pilots and the aircraft. Faster speed is required for lift off and a longer runway so that the plane can take to the skies. Landing in thin air conditions demands great skill from the pilots.
An expansion of Qamdo airport was completed in 2015 and cost $45m. The same year the country started the construction of a second 4,000-meters long runway.
The second highest airport has the capacity to serve 180,000 passengers.
You can visit Qamdo Bamda airport on flights operated by Air China, China Southern Airlines and of course, Tibet Airlines.
---
Kangding Airport (IATA code KGT)
Kangding Airport started serving commercial flights at the end of 2008 after a development project that cost the staggering $120m. It is located at an altitude of 4,280 meters and has a runway of 4,000 meters.
The third highest airport in the world is located in Sichuan Province, China again. It has an annual capacity of 330,00 passengers and 1,980 tonnes of cargo.
Flights from Kangding to Chengdu reduced travel time between the two destinations 35 times!
Flights on Lucky Air and Sichuan Airlines will take you to the third highest airport in the world.
Kangding has some dark stories to tell related to the staggeringly high altitude of the airport. In 2016 a co-pilot and an assistant captain decided to land a plane in spite of the unfavourable weather conditions. The aircraft hit the ground outside the runway at high speed, which lead to damage to the tail and the landing gear. Landing a plane at this altitude requires two experienced captains.
---
Ngari Gunsa Airport (IATA code NGO)
Ngari Gunsa Airport is located just a few meters lower than Kangding – at 4,274 meters above sea level.
It is located in Tibet near the Indian border. Due to its location close to the Lake Manasarovar and the Indus river, it is very popular among Hindus, Buddhists, Bonpa and Jains travelling to these sacred places. By 2020 the airport is expected to handle 120,000 passengers.
The Runway at Ngari Gunsa is 4,500 meters long and the development project cost over $241m.
This airport serves both military and civil flights. Airlines that fly here are: China Eastern, Tibetan Airlines and Lucky Air.
---
Garze Gesar Airport (IATA code GZG)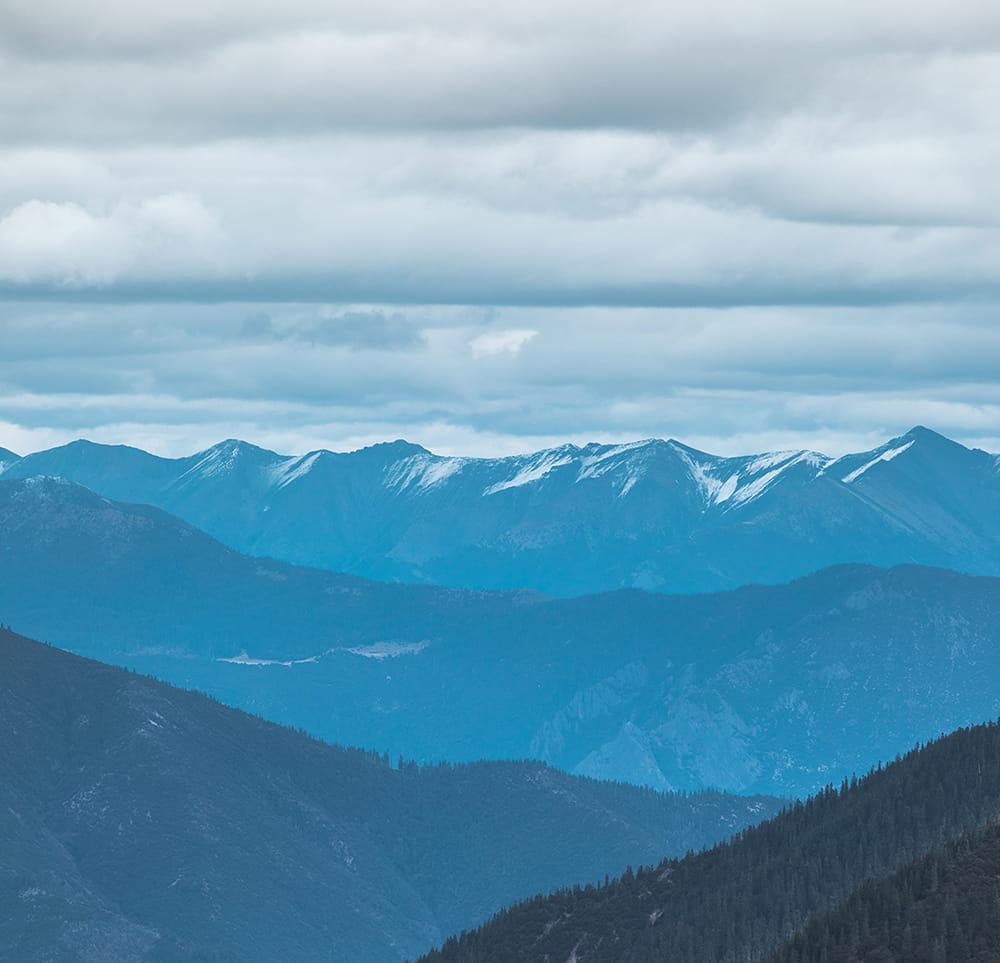 Garze Gesar is the newest airport on our list.
Construction started in 2017 and the airport opened on 16 September 2019. The country invested more than $321m in the project, which makes it the most expensive airport on this ranking! It is also the fifth airport in China that is above 4,000 meters and the third in Garze Prefecture, after Daocheng and Kangding.
At an elevation of at an altitude of 4,068 meters the airport serves Garze Tibetan Autonomous Prefecture, Sichuan, China.
Garze Gesar has a 4,000-meter-long runway and is designed to handle 150,000 passengers a year.
---
El Alto International Airport (IAA code LBP)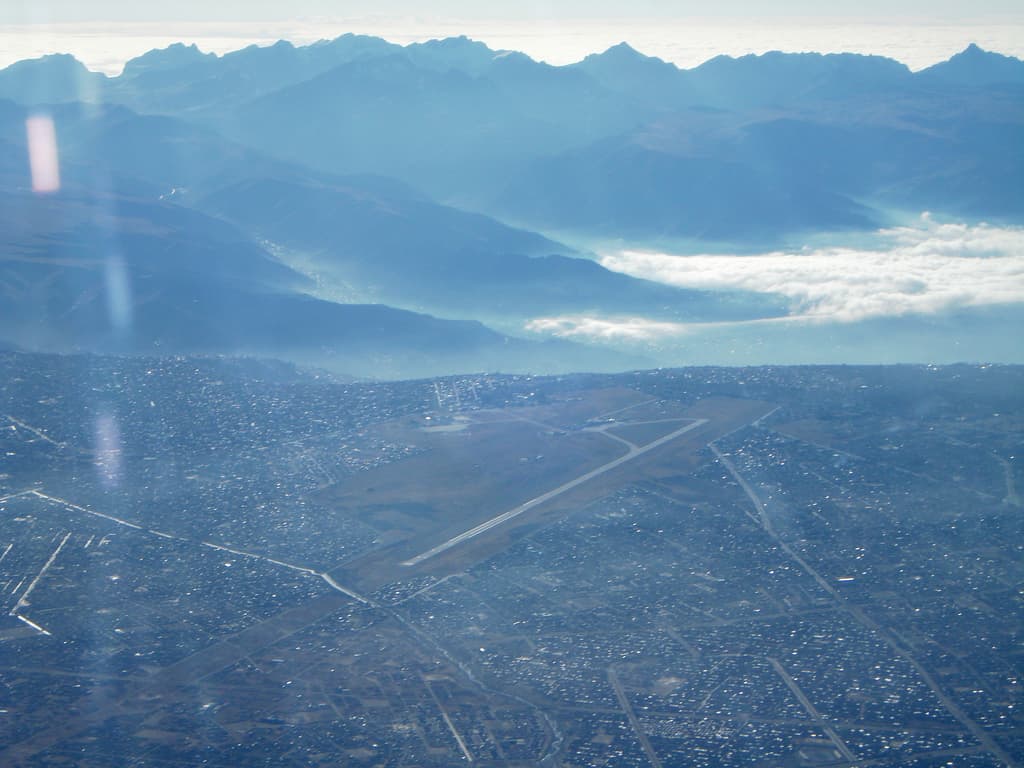 El Alto International Airport is the oldest and the first international on our list (also the first outside of China). It is located at 4,061.5 meters above sea level in Bolivia.
The varied terrain – rugged mountains, low valleys and tropical forests – in Bolivia creates isolated communities and a tough task for national transport. How can these communities be connected over such tough topography? The solution was to build an airport in the city of El Alto, 13 km west of La Paz.
The hub for linea Aerea Amaszonas has a 4,000-meter-long asphalt runway and a 2,050 grass runway.
It has been in service since the first half of the 20th century and was modernized in 2006 after an investment of $2.3m.
El Alto is used by Boeing and Airbus manufacturers for the testing of aircraft. Heavy aircraft like Boeing 747 and Airbus 330 cannot operate at El Alto due to the thin air at this altitude.
El Alto has a black history of its own. In accident in 1985 killed all 29 passengers on board a Boeing 727-225 during descent.
---
Uyuni Airport (IATA code UYU)
Uyuni is the second Bolivian airport in our ranking. It is located close to the world's largest salt flat - Salar de Uyuni.
You may have seen pictures of this impressive landscape while browsing famous destinations in Bolivia. The photos usually depict this prehistoric lake that went dry, leaving behind a desertlike, nearly 11,000 square kilometers expanse of bright-white salt.
If you want to experience a high-altitude airport and see this genuinely breathtaking salt flat with your own eyes, hop on a flight of Amaszonas Airline or Boliviana de Aviación.
The airport located at an altitude of 3,954 meters opened in July 2011 and features a 4,000-meters runway.
Uyuni Airport has 2 different platforms: a military and a commercial one.
---
Captain Nicolas Rojas Airport (IATA code POI)
Captain Nicolas Rojas serves the city of Potosi – capital of Potosi Department in Bolivia. It is located at 3,936 meters above sea level. Its runway is 4,000 meters long and is built in a shallow valley 4 kilometers northeast of the city.
Captain Nicolas Rojas Airport has no hotel inside its area so you can find lodging in Potosi city.
Due to its rural location Captain Nicolas Rojas Airport exploits special technology using the curvature of the earth for guidance.
---
Yushu Batang Airport (IATA code YUS)
Yushu Batang takes us back to China – Qinghai Province. The airport that serves Yushu city is located at 3,890 meters above sea level.
The airport opened in August 2009 and features a 3,800-meter-long runway. Yushu can handle 80,000 passengers a year and cut the travel time from Jiegu (Yushu) to Xining (the capital of Qinghai) from 15 hours to only 70 minutes!
Fly to Yushu Batang on Beijing Capital Airlines, China Eastern and Tibet Airlines.
The highest airport in Qinghai province played a very important role after the earthquake in Yushu in 2010. The 6.9Mw magnitude quake killed almost 2700 and injured over 12,000. The airport reopened at noon on the day of the disaster and the first flight with rescue personnel and supplies landed there at 8 pm the same day.
---
Inca Manco Capac International Airport (IATA code JUL)
It's finally time for a third player on our ranking (outside of China and Bolivia), and this is Peru! Aeropuerto Internacional Inca Manco Capac is located at 3,826m above sea level 32 kilometers west of Titicaca Lake.
Inca Manco Capac boasts a runway of 4,200 meters located on a field.
This relatively old airport – it opened in 1959 – bears the name of the founder of the Inca civilization in Cusco: Manco Capac. Photos feature an imposing golden statue in front of the airport.
Fly here on LATAM Peru airline serving Cusco and Lima.
---
I wish I could visit Tibet one day and marvel at the rugged beauty of its mountains. I'm sure the journey to one of its high altitude airports will make the trip twice as memorable!
---
---