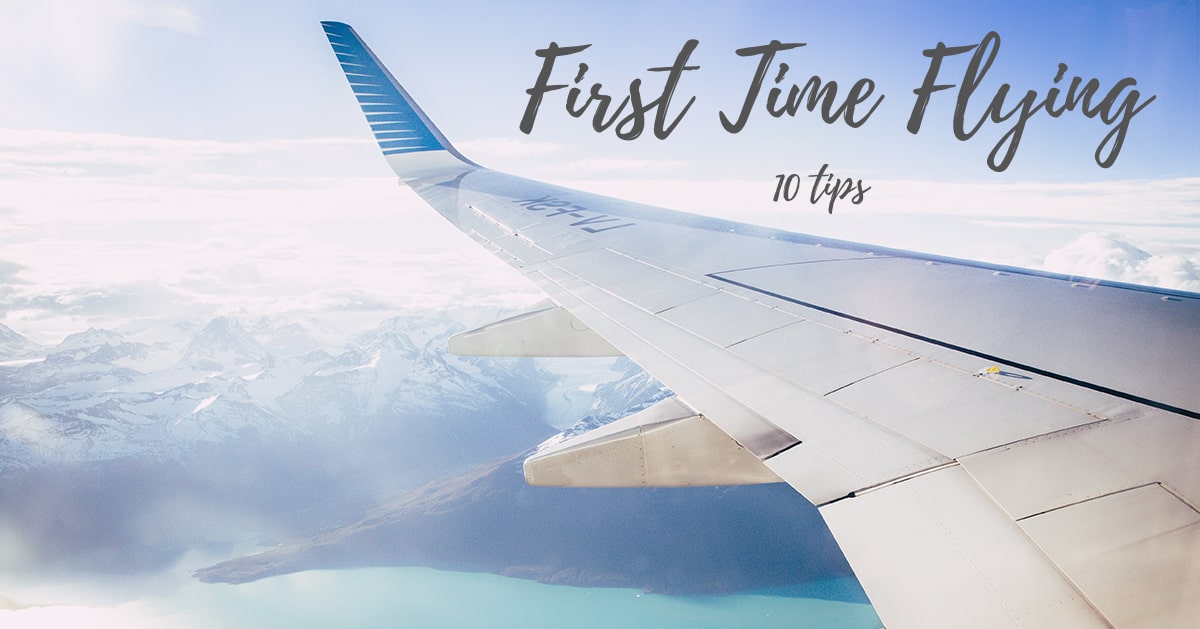 Nervous about flying alone for the first time? Or rather thrilled and filled with expectations? It's usually a mix of the two.
Flying has amazing benefits and nervousness can go away easily. All you have to do is…
Be prepared (don't you love the Lion King song!).
There are a few things to know before flying for the first time. Read our travel tips for first time flyers and you're ready to take off!
Once you take to the skies, you'll feel like the world is your oyster!
---
---
Booking

There are a few things you need to check during the booking process. Prepare well and you'll feel calm and confident during your holiday!




Research your destination

Depending on the destination you've chosen, apart from your passport, you may also need a visa. The procedure may take some time so do your homework, apply on time and make sure you're all set before your flight. You may also need to exchange some money and carry some cash on you. Yеt don't exchange too much (safety is also important). In other countries this will not be necessary as you may use your cards or ATMs. (I remember trying to pay by cash in a bakery in Europe, the shop assistants were somewhat surprised at the banknote I tried to hand them.)




Make a list and check it twice!

It is always a good idea to double check your itinerary, and the airport of your arrival. London, for example, has several airports, so check of your booking says Heathrow, Gatwick, Luton or Stansted.

Airports are typically located away from the city center so I always like to check transfer options. Airport websites and a simple online search can help here. You may even want to book coach/train tickets in advance.

If you arrive late, public transport may not be an option, so you'll have to organise a taxi or rent-a-car (unless a friend can pick you up).

While at it, check your hotel or group tour booking too.

Are your names spelled correctly? It not, check our article on how to change the name on your ticket.
Try to do this as soon as possible and check if you need to pay extra for the procedure.

Other essentials include: your phone plan, your internet roaming. Many airports have free wi-fi but it's always a good idea to check in advance. (Being 'disconnected' is quite frustrating once you get used to relying on the Internet).




Booking a specific seat

An aisle or a window seat? Not sure?
Go for the aisle if you'd like to stretch your legs and have easy access to the loo. Window seats, on the other hand, offer amazing views (and pictures)!

Forgot to book a seat? You may get assigned a random seat and end up in the middle (a great option for people who like to chat with strangers).
If you'd rather choose a seat alone, book as soon as possible!

Passport and boarding pass

First time flyers are usually nervous about paperwork. Remember that you passport/ID is the most important document. It should be up to date (at least 3 months to expiry, especially if you're travelling international flights).




E-ticket

Number two is your ticket. If you've booked your flight online, do not expect a paper ticket in the post box. All the necessary information will come with your confirmation email. You can either print your e-ticket or show it on your smartphone screen at the check-in desk once at the airport.

Travel insurance

Book your travel insurance before the holiday. Read through and print out the insurance policy documents (hope you won't need to consult them but... better safe than sorry). Also, make a list of emergency numbers and keep these close at hand just in case.

Luggage

Pack light. Don't overthink it.

Buy a brightly coloured suitcase. I can spot my turquoise case among all the black ones on the carousel easily. I don't need to check the tags.




Hand luggage or Check-in bags?

You may only need your carry on bag (hand luggage), if you're travelling for the weekend. This backpack or duffle bag travels with you on the plane. You can place it in the overhead compartment above your seat or under the seat in front of you.
Check the size requirements with your airline, as there's no universal rule.

Alternatively, on long haul flights you can pack extra in a check-in suitcase (also called hold baggage). This is the luggage you check in (it gets tagged) and it travels in the belly of the plane. At arrival you pick it up at a carousel. Check the weight limits of your airline carefully. If your check-in suitcase is heavier, you may have to pay extra at the airport (which is not very cheap).




Check in online (if possible)

Online check-in makes going through the airport much easier and faster.
You won't need to queue at the check in desk to get your bags tagged and your boarding pass. Simply print out at home and once at the airport, head straight to security.




Alternatively, you'll have to plan time for queuing at the check-in desk. Remember that typically you're required to be at the airport 1 and a half hours before your flight.

Airport security

Prepare for scanning

Before travelling, check the rules of your departure country about liquids, medication, sharp objects, electrical items, laptops, etc.
You'll need to show your passport and boarding pass to get to Security.
Going through security may be a rather fussy and time-consuming procedure but it's a routine that guarantees your safety on the flight.

So prepare well and keep calm.

Place your watch, wallet, documents and boarding pass in your cabin bag. Many travellers use a purse holding their essentials that goes in their cabin bag. This simple trick means less fidgeting, no lost essentials and a faster security procedure. Remember to empty your pockets - coins and keys will beep at the metal detectors.

Drink the water in your bottle but keep the bottle. You may refill it with tap water once you've passed through security - staying hydrated throughout the flight is very important! Place all your liquids (small containers, less than 100ml each!) in a transparent plastic bag (a simple ziplock will do). You'll have to show the bag to the Travel Security Agent (TSA).




At the scanner

bin for your hand luggage (and your shoes). Once you go through the metal detector or body scan, pause and wait for the TSA to signal it's OK to move on.

If your luggage gets held up, do not fret. Remember that this is simply a safety routine procedure. Keep calm, explain to the TSA and move on.




After the scanner

Once you go through the scanning process, reorganise your stuff. Remember you'll need your ID and boarding pass again to board the plane.
Next, you'll have to find your gate. Check the screens for your destination and flight number.

Boarding

Prepare for scanning

No need to queue.
SImply sit down, stretch your legs in the lounge, play a movie on your laptop and wait for the queue to die down. You already have a seat assigned so no need to rush in with the crowd.
Some airlines board passengers row by row. Simply wait for your number to be called.

Note that if your hand luggage is bulky, you may be asked to check it in for free. This however means that you'll have to wait for your bags at the carousel at arrival.




How to find your seat?

Your boarding pass will be checked by the flight attendants at the entrance of the plane, so keep it at hand.

Typically, your seat number consists of a letter and a number (say 9A). The number shows the row and the letter - the seat (aisle, middle or window). If you have any difficulties finding your seat number, consult the cabin crew.

Place your luggage in the overhead compartment above your seat (or the nearest one available). You backpack can go under the seat in front of you.

Prepare for take-off

You're already on the plane.
You can prepare for the flight, place all you need in the seat pocket in front of you (laptop, books, water bottle, sleep mask, etc.).

Once everyone is seated, the flight attendants will go through the safety procedures. No need to feel nervous, this is routine practice to reassure first time flyers like you.




Ready for take-off

You'll be greeted by the captain and the seat belt sign will go on.
Time for lift off!

You may feel some vibrations and some rattling sounds. No worries, this is perfectly normal and continues for about 20 seconds.

Once the plane has reached cruise altitude, things will quiet down and flying will feel much smoother. The captain will switch off the seat belt sign.

You can now stretch your legs and enjoy your first flight!

Food and entertainment

Budget airlines typically do not offer in-flight entertainment. So bring your own! Download some films, music, your favourite reads. Check out our blog post about fun ways to pass the time during a long flight.

Food is offered on long haul flights but not on shorter ones, so bring your own or buy on the plane. It's not too expensive and you can pay by card.

Your ears may feel weird

Don't worry, this is absolutely normal.

It's called airplane ear and usually happens during descent as a result of the pressure.
Some people are quite sensitive, others don't really feel anything.

All you have to do is yawn, swallow a few times or suck a sweet to equalise the pressure between your ears and the aircraft cabin.

Keep cool and carry on

If things go wrong, remember the hitchhiker's rule: Don't Panic!

If you miss a connection, your flight gets delayed, or your luggage gets damaged, know that your rights are protected!
---
Keep calm and you may have a great story to tell at the end of the day!
Happy travels!
---
---