There's only one

good thing

about a delay
You can get up to €600 in compensation



Anyone who travels with a plane fairly often must have experienced a flight delay at least once. Sometimes there is a reasonable explanation like for example severe weather conditions. 
However, more often than not, travellers are left waiting without being given any reason for the flight disruption. The good news is that you have certain rights in such cases, ensured by European and UK law. Of course, your rights will be protected by the European Union legislation only if you fly from or to the old continent. 
As an air passenger you are entitled to financial compensation in the case of a flight delay or cancellation. According to EU Regulation 261/2004 and UK law you can receive up to €600 euros (£520) if your flight is delayed over 3 hours or cancelled less than 14 days before departure. (Luckily, the UK Parliament adopted said regulation into its domestic law after Brexit). 
Here is everything you need to know about claiming your compensation if your flight arrives late.
When are you entitled to flight delay compensation?
There are two important conditions you have to meet in order to apply for compensation. 
For the purposes of getting reimbursed, your flight will be considered delayed if it arrives at its final destination more than 3 hours after the originally scheduled and announced arrival time. 

Your flight departs from an EU country




OR




You arrive in Europe on a flight, operated by an EU airline.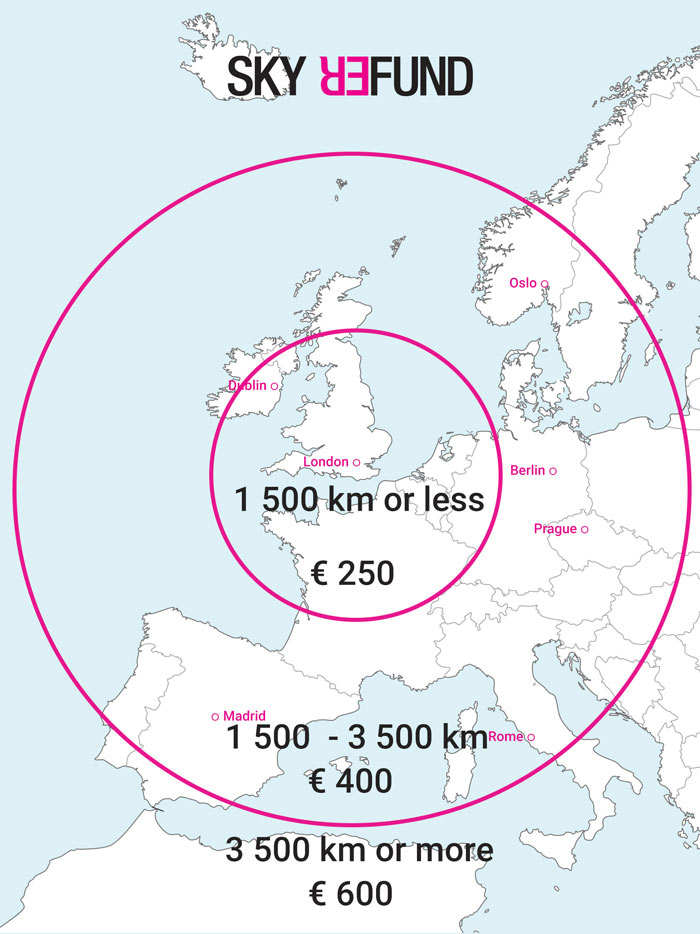 Extraordinary circumstances
Unfortunately, flight delays are often due to so-called extraordinary circumstances, meaning the disruption is not considered the airline's fault, and passengers are not eligible for compensation. These situations include, but are not limited to:
Bad weather; 

Airport or union strikes;

Bird strikes;

Restrictions set by air traffic controllers (e.g. runway closure);

Political and civil unrest;

Security risks/ threats at the airport. 
You probably noticed technical problems are not on this list. Each airline is responsible for keeping its aircrafts well maintained and functioning. Therefore, you can rightfully claim compensation if your flight is delayed due to a mechanical issue.
One more important detail to note is that not all strikes are considered as force majeure events anymore. According to a 2018 ruling of the European Court of Justice, internal 'wildcat strikes' by the airline staff, provoked by the airline's restructuring, are the carrier's responsibility to manage. If a flight is delayed for this reason, the airline will be required to pay compensation.
Compensation amount
The amount of money you can get as compensation depends on the distance of the flight. You can consult the table below and check how much of a reimbursement you can expect if you experienced a long delay, based on your flight itinerary. 
Less than




3 hours

Between




3 - 4 hours

More than




4 hours

Distance

 € -
 € 250 
€ 250 
All flights up to 1500 km
 € -
 € 400 
€ 400 
All flights between 1500 km and 3500 km
 € -
 € 400 
€ 400 
All intra-EU flights over 3500 km
 € -
€ 300 
€ 600 
All non-EU flights over 3500 km
Keep in mind the following two scenarios:
If you experience a delay on an internal EU flight, your compensation cannot exceed €400, even if the flight distance is over 3500 km.
If the flight distance is over 3500 km but the delay is between 3 and 4 hours, the compensation amount could be reduced in half (meaning you will get €300 instead of €600).
Connecting flights
If you missed a connecting flight because the first one was delayed, you can get compensation, calculated on the basis of the whole journey. There is an important detail, though; both flights should be under the same booking/reservation number. If you booked and paid for the two flights separately, it will be tough to negotiate compensation for the whole distance and you will likely get reimbursement solely for the flight that was delayed.
What should you do if your flight is delayed?
First and foremost, keep your boarding pass, and any other documents issued by the airline. 

Inquire the reason for the delay and gather proof for it (such as pictures of the departures board or any communications from the staff). 

The airline must offer meals and refreshments in a reasonable relation to the waiting time, but you should also keep the receipts for any food or drinks you buy during your wait. 

It is

very important

that you

not sign any agreements

with the airline, otherwise your rights to compensation may be waived. 

If the flight is delayed more than 5 hours, you can choose whether to wait or to leave the airport. If the delay leads to you staying overnight, the airline must provide accommodation and cover transport expenses from and back to the airport. If you are flying from your own city, you can go back home but should still be reimbursed for the transport. 

When you eventually arrive at your destination, note the exact time of arrival.
Additionally:
Right to reimbursement or rerouting
Apart from compensation for your loss of time, if your delay exceeds 5 hours, you are entitled to a full or partial refund of your original ticket and a return flight to your point of departure, if needed.
Up and downgrading


If the airline offers an alternative flight and an upgrade, you will not get any additional charges. On the other hand, if you get downgraded you can get a reimbursement of 30-75% of the original ticket fare.
You can also claim financial compensation under EU Regulation 261/2004  in case your flight is cancelled or you are denied boarding. SkyRefund's mission is to protect air passenger rights. We will help you handle the lengthy administrative and legal procedures if you experience any flight disruptions and would like to claim a reimbursement. Check your eligibility here by simply entering your flight details and let us handle the rest. 
---