There's only one

good thing

about a delay
You can get up to €600 in compensation



Flight Delay Compensation: Your Ultimate Guide
What is flight delay compensation?
Air travel is convenient but often more complicated than we would like. At one point or another we can experience some type of flight delay. Fortunately, under Regulation (EC) No 261/2004 you can be entitled to flight delay compensation of up to €600. 
1. Was your flight delayed by more than 3 hours?
2. Have you departed from the EU or arrived at an EU airport with an EU registered airline?
If your answer to these questions is "Yes" and your delayed flight was not subject to extraordinary circumstances, then you can claim up to €600 under EU law.
Do you have your flight details ready? All we need is the date and the flight number so we can check if you are entitled to compensation. 

At SkyRefund, an experienced legal team will take care of all the hassle that you as a traveler would typically come up against. Additionally, we have a quick and intuitive tool that takes into consideration the distance and the duration of your delay and calculates the amount of money you are entitled to.
---
---
When do you get compensation for flight delays?
According to Regulation 261 passed by the European Parliament, when passengers have a prolonged flight delay, cancellation or denied boarding they may be entitled to compensation.
What determines your right to compensation?
The duration of your delay has to be over three hours.

Your delay's length is the difference between your actual and your expected time of arrival. 
It is all about Arrival Time, not departure.
How to find out my trip's length?
A very simple way to get a rough idea about your trip's length would be to remember that in most cases flights shorter than 1500km take less than two hours. Flights between 1500km and 3500km are usually with a duration of two to four and a half hours. Flights that last longer than four and a half hours are usually longer than 3500 km.
In most cases, air passengers don't know the exact distance between their departure and landing point. The easiest method to check if you are eligible for flight delay compensation is to use our intuitive flight compensation calculator. All you need to do is enter your flight number and date.
EU and non-EU flights
Good news, almost all European flights are covered by EC 261, including the outermost regions in Europe (French Guiana and Martinique, Saint-Martin, Madeira, the Azores and the Canary Islands).
It is important to understand that EC 261 also applies to flights outside of Europe.
Your flight is covered when:
It departs from an EU airport...
..or it arrives at an EU airport and is operated by an EU airline!
Extraordinary circumstances
European Regulation 261/2004 states that airlines are not required to compensate passengers if a flight delay was caused by "extraordinary circumstances".
Instances of "extraordinary circumstances" include:
Bad weather (for example: snowstorms, windstorms, low visibility)
Strikes of the airport personnel and union strikes

Bird strikes

Air traffic control restrictions (including runway closures)
Political and civil unrest
Weather conditions
Changes in weather conditions can be very subtle. Sometimes a weak crosswind can prevent a flight from landing on schedule, whereas a much stronger headwind may not affect the flight at all.
Technical problems
Technical problems, however, are usually not considered extraordinary circumstances. Aircraft maintenance is the airline's obligation. Therefore, the carrier would not have fulfilled its responsibilities if a mechanical problem prevents a flight from departing on time.
So, if your flight was delayed due to technical issues, you could claim flight delay compensation.
Strikes
According to a 2018 ruling of the European Court of Justice, not all strikes are seen as force majeure events. Internal 'wildcat strikes' by flight staff that arise as a result of the airline's restructuring are not seen as exceptional anymore. It is the carrier management's obligations to avoid changes which would cause employee strikes that result in long delays, cancellations and other flight disruptions.
"Wildcat" airline strikes do not fall under extraordinary circumstances.

To make things even clearer, we have made a simple checklist.
Compensation Eligibility Checklist

Was your flight delayed by more than 3 hours at the final destination?

Was it possible for the airline to avoid the delay?

Did you depart from an EU airport or landed in the EU with an EU registered airline?
Missed a connecting flight due to a flight delay
With global air traffic constantly on the rise and passengers flying farther than ever, the number of connecting flights has increased spectacularly in recent years.
Missing your connection even by a few minutes could lead to a significant overall delay. Under EC 261/2004 you could be entitled to reimbursement if you arrived at your final destination more than 3 hours late.
A Connecting Flight is required when a single flight would not take the passenger directly to their final destination. That usually means one or more aircraft/airline changes on the way, which brings a greater possibility of delays and cancellations.
In some cases, a delay in your inbound flight may cause you to miss your next connection. It is the airline's responsibility to arrange a new flight for you. Additionally, if as a result of your missed connection you got to your final destination with a delay of more than 3 hours, you could submit a compensation claim as this scenario follows the 3-hour rule mentioned above.
EU Regulation 261
 has no special provisions regarding connecting flights. If you as a passenger experience a disruption such as flight delay, cancellation or denied boarding, you have the right to make a compensation claim. Check below if you are eligible.

Am I eligible for a connection flight compensation? 
Connecting Flight Compensation Eligibility Checklist

Have you experienced a flight disruption such as delay, flight cancellation or denied boarding?

Were you late by more than 3 hours at your final destination?

Was it possible for the airline to avoid the delay?

Did you depart from an EU airport or landed in the EU with an EU regulated airline?

Were your tickets issued under the same booking number?
To be eligible for reimbursement, your tickets must be issued under the same booking number. This is a fancier way of saying that they were issued together and are on the same booking.
If your flights are on separate bookings, strictly speaking, they count as different trips. Therefore, if your journey involves two flights under different bookings, you would have two separate final destinations.
To identify your reservation number, you can simply double check your booking reference number stated on your reservation.
Unfortunately, low-cost airlines like easyJet, Ryanair and Wizz Air do not offer multi-flight trips under the same booking reference. This means that if you have more than one flight with them, they would not be seen on the same booking and passengers affected by a missed connection would not have a valid claim.
But there is good news if you are flying with traditional carriers.
With single flights, your compensation amount is determined by the flight distance of that flight only.

With connecting flights, the size of reimbursement will be set depending on the distance of your entire journey.
Go back to table of contents
---
How to claim compensation for delayed flight?
If your flight is delayed, here is what to do, starting at the airport:
Make sure you have your boarding pass and all other travel documents.
Ask why the flight is delayed.
Gather proof of its delay. For example, take photos of the departure board or communications from the airline announcing the disruption.
Make a note of exactly what time the plane arrives at your destination.
Ask the airline to cover your meals and refreshment expenses.
Do not sign anything or accept offers that may waive your rights.
Choose whether to wait it out or call it off if your delay is more than five hours.
When needed, ask the airline to provide you with a hotel accommodation.
Keep your receipts if the delayed flight leads you to spending additional money.
What documents do you need?
It is best to hold on to all documents you have. Different airlines have different procedures and requirements.
We at SkyRefund know exactly what these are for each airline. We will help you prepare all needed documentation so that we can start work on your claim immediately.
---
There's only one

good thing

about a delay
You can get up to €600 in compensation



---
SkyRefund will help you receive your flight delay compensation! Quick and easy!
Airlines often cite bad weather, technical faults or strikes as the reason for a flight delay. Standing up for yourself and enforcing your rights on your own can be a very frustrating and time-consuming process. Unfortunately, few passengers successfully claim compensation and it always involves a lot of hard work. 
SkyRefund's mission is to protect air passenger rights. To ensure that passengers receive their rightfully owed delayed flight compensation, we will take care of all of the administrative hassle as well as all the necessary legal steps. 
We will:
Conduct an in-depth investigation into the circumstances surrounding the flight delay
Maintain communication with the airline and double-check any information coming in from them
Contact the airport and the local civil aviation authorities 
We are even ready to take your case to court if the airline denies your right to delay compensation.
Cancelled flight? Learn more about claiming compensation for flight cancellations. 
Go back to table of contents
---
How much compensation for delayed flight?
The amount depends primarily on the distance of the journey itself and ranges between €250 and €600 per passenger. There are a few other considerations taken into account when determining your eligibility to flight delay compensation. We will illustrate all of them in this guide.
If your flight was shorter than 1500 km, you could receive €250 in EU travel delay compensation from the airline. The amount rises to €400 for flights between 1500 km and 3500 km and up to €600 if the distance exceeds 3500 km.
Less than




3 hours

Between




3 - 4 hours

More than




4 hours

Distance

€ 250
€ 250
All flights up to 1500 km
€ 400
€ 400
All flights between 1500 km and 3500 km
€ 400
€ 400
*All intra-EU flights over 3500 km
€ 300 
€ 600 
*All non-EU flights over 3500 km
Two important exceptions: 
* If your flight takes off and arrives in the EU, the compensation for your delayed flight cannot exceed €400. This is true even if your trips are longer than 3 500 km.
* In addition, if your flight is over 3 500 km but your delay lasts between 3 and 4 hours, your reimbursement could be reduced in half. In this case, the amount of your refund would be €300.
Go back to table of contents
---
Flight delay hotel accommodation and other rights
Food and refreshments
Under EU law, it is the airlines' obligation to make the waiting period as comfortable as possible. This is known as a passenger's "Right to Care". EC 261 states that the responsible airline must provide you with a meal, refreshments, access to phone calls and emails.
Typically, airlines would do this by offering their passengers food vouchers. These would be expected to cover all necessary and urgent expenses.
Don't worry if the voucher cannot cover all your expenses. The airline will have to cover your additional costs if you exceed its amount. Make sure you hold on to your receipts so that you can prove your purchases later.
It is important to remember that receipts are the only acceptable proof of purchase. Bank statements are not accepted and they will not allow you to ask for a refund later. 
According to EC 261, any meals and drinks you buy must be "in a reasonable relation" to your waiting time. The "Right to Care" applies only to reasonable amounts and purchases. It is expected that in case of a delayed flight, you would need a meal every 2 or 3 hours.
Accommodation
As a passenger you are also entitled to accommodation when your delayed or cancelled flight forces you to spend the evening at the point of departure. If the hotel of your choice is some distance away from the airport, your carrier is required to cover your transportation costs as well. In case your starting point is your hometown and it is possible for you to spend the night at home, the airline should still cover your transport expenses.
We would recommend leaving the airport's premises only if your flight is cancelled, not delayed. Passengers with cancelled flights are usually given a replacement flight with a fixed departure time. A delayed flight, on the other hand, could start boarding at any time.
You have the right to claim reimbursement for accommodation costs when a flight delay is caused by extraordinary circumstances and you have to spend the night at the point of departure.
Remember that airlines are obliged to inform you about your rights under European Regulation 261/2004.
The right to care and the right to compensation are separate. The refund will be paid in addition to any delay reimbursement that you may be entitled to.
Right to reimbursement or rerouting
Apart from compensation for your loss of time, if your delay exceeds 5 hours, you are entitled to a full or partial refund of your original ticket and a return flight to your point of departure, if needed.
Up and downgrading
If you are offered an alternative flight and get an upgrade, the airline isn't allowed to charge you anything extra.
If the class of the alternative flight is lower, you can get a reimbursement of 30-75% of the price you originally paid.
Go back to table of contents
---
Flight delay compensation: Time Limit
Depending on the airline's origin, you may be able to claim flight delay compensation for flights as old as 10 years. EU Regulation 261 does not provide an EU-wide limitation period. This is why the time limit in which you can claim varies between countries as follows: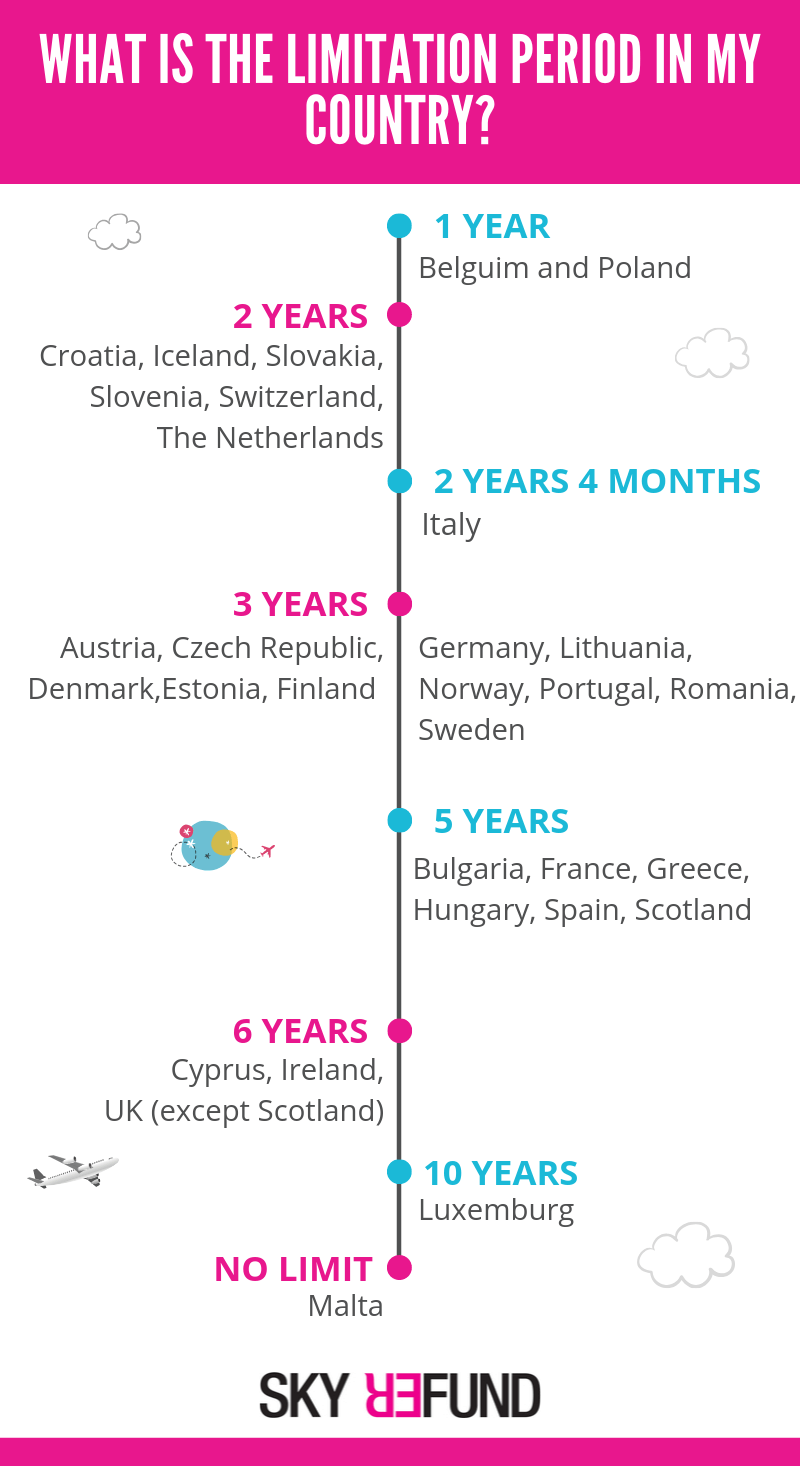 Do you want to know more about the time limit for claiming compensation for different countries around the globe? Check our complete guide on the subject.
Go back to table of contents
---
EU flight delay rules
Europe
According to EU Regulation 261, you can file a delayed flight claim for compensation when the following conditions are met:
You have checked in for your flight on time (which is no less than 45 minutes before departure).

You arrive at your destination more than 3 hours later than planned.

The flight you want reimbursement for operated no more than 3 years ago.

The airline is responsible for the delay (i.e. it was caused by technical difficulties and operational circumstances, and not extraordinary ones).

The flight took off in the EU (any airline) or landed in the EU (provided the airline is headquartered in the EU).
Moreover, it doesn't matter whether the airline has already provided you with food or travel vouchers.
After Brexit
The UK has adopted the EU Regulation 261 into its domestic law. This means that, for the time being, nothing is changed regarding your rights as an air passenger.
However, it is possible for the UK government to make changes to the law in the future, affecting how passengers claim flight compensation. We will keep you updated.
Global
Many nations, including the USA, have signed up the 2003 Montreal Convention, which regulates air passenger rights for specific flight disruptions, including flight delays. It applies not only to EU travels, but to most international flights as well.
According to the Montreal Convention, airlines are responsible for any inflicted damage or additional expenses (such as unplanned stay at a hotel) and need to compensate passengers. You can read more about it here.
Go back to table of contents
---
FAQ
If your flight fulfills the criteria we have listed above, you have the right to claim reimbursement from the airline.
Here is a list of the most frequently asked questions we receive.
---
Q: I have just learned that my flight is delayed. What should I do?
A: We would recommend that you stay at the gate and pay attention to the information screens for any news about your flight. Since the flight is already late, boarding may begin at any time.
If your flight is set to depart from a different gate, approach the new gate as soon as possible. If you fail to board the plane, you will lose your right to reimbursement.
---
Q: What documents should I keep?
A: Hang on to your boarding pass and booking confirmation letter. Your boarding pass contains all of the information required to file a compensation claim, including your booking reference. Do not throw it away!
Also, keep the receipts for all of the expenses you incur at the airport. The airline is required to reimburse you for any additional expenses for the period of your delay. Receipts, however, are the only way of proving you paid for your purchases. It is essential that you keep them.
---
Q: How long does my flight have to be delayed for compensation?
A: It needs to be at least 3 hours late arriving at the destination for you to be eligible for compensation. Here is an example:
Your flight was scheduled to arrive at 12:45 pm but instead arrived at 4 pm. Your delay duration is 3:15 hours and you would be entitled to claim for your flight delay.
Now, let's say that the departure of your flight was late by more than three hours. However, the crew made up for some of that delay in-flight. As a result, you arrive at your destination 2:45 hours behind schedule. Because you arrived less than 3 hours late, you would not be eligible for a flight delay compensation.
---
Q: I was on a business trip paid by my employer. Who will receive the compensation - the company or me?
A: The airline is required to pay compensation to the passenger who boarded the flight-- you. Check our article about flight delays on a business trip.
---
Q: I was on a codeshared flight. Which carrier should I approach with my claim?
A: When flying on codeshared flights, passengers should submit their claims to the operating air carrier. The easiest way to find out which your operating carrier was is by taking a look at your ticket. You should find the text reading "Operated by *Airline Name*".
---
Q: We flew as a group. Do we share the compensation amount?
A: No. Even if you and your companions' tickets are on the same booking, each passenger will be entitled to a separate reimbursement amount.
---
Q: What if the delay forces me to stay overnight?
A: Ask for accommodation. If the delay forces you to depart the following day, you can ask for a room for the night. The airline should also pay for your transportation to and from the hotel. These expenses are on top of any delay compensation that you are entitled to.
---
Q: The airline offered me a refund of my ticket. Should I accept?
A: No. Refuse the refund.
Sometimes airlines offer passengers a full refund of their tickets. If they agree to the offer, the airlines are not obligated to provide an alternative flight and vouchers for food and drinks but passengers keep their right to get compensated.
Nevertheless, you can still accept a voucher for food and drinks, if one is offered, without forgoing your rights.
---
Q: I was seated in a lower class than the one I purchased. Can I get a refund for my downgrade?
A: Yes. According to EU Regulation 261/2004, the affected passenger can claim a refund for part of the price of their ticket. As with flight disruption compensation, the distance of the flight (which affects the time you spend in a lower class) determines the refund amount.
If your flight was shorter than 1,500 km, you can claim back 30% of the ticket price. You can get back 50% of your ticket value if the flight was between 1,500 km and 3,500 km. As with flight delays, this is the most you can get if your flight departed and landed within the EU. Finally, if your flight exceeded 3,500 km, you are eligible for 75% of the cost of your ticket.
---
Q: What should I do when I arrive?
A: We recommend noting down the actual time of arrival. It is always displayed on the information screens inside the terminal.
---
Q: Can I claim delay compensation from any airline?
A: To receive compensation for your delay or cancellation, the operating airline needs to be registered in the EU, Albania, Bosnia and Herzegovina, Iceland, Kosovo, Macedonia, Montenegro, Norway, Switzerland, and Serbia.
In addition, the regulation governing compensation payments applies to all flights which depart from the EU, including any flights operated by non-EU airlines.
---
Q: When is the best time to submit my delay compensation claim?
A: It is best to submit your claim as soon as possible. This would allow our team to build the strongest claim on your behalf.
Go back to table of contents
---