There are more than a thousand civil airports in the world. Some are small and easy to navigate. Others you dread for their long lines and connection times. But the biggest airports in the world can often be pieces of beauty which offer plenty of entertainment to passengers.
We have ranked the busiest and the biggest airports in the world. And some of them are definitely on our bucket lists.
These are the busiest airports worldwide
The world's busiest airports would likely be major hubs with travellers from around the globe. Usually, this would make these giants a sort of anthropological gems, places where the modern world meets.
So which are the biggest airports by passenger movements?

#1 Hartsfield-Jackson Atlanta International Airport (ATL)
Hartsfield- Jackson has been the world's biggest airport by passenger traffic since 2000. Its business has only grown since then. As of 2018, more than 107 million passengers arrive or depart from Atlanta International Airport each year. This means that the airport accommodates nearly 295,000 passengers daily.
The airport offers services to both domestic and international destinations in five different continents: North America, South America, Europe, Africa and Asia.
Hartsfield-Jackson Airport serves as the main hub of Delta Air Lines and 72% of its flights are operated by Delta.

#2 Beijing Capital International Airport (PEK)
Beijing Capital opened in the 1950s but only in the last decade, it has risen to one of the biggest airports in the world in terms of number of passengers. In 2017 alone, passenger traffic exceeded 95 million. It is a hub for China's major airlines: Air China, China Eastern and China Southern Airlines, as well as Hainan.
Beijing Capital has become an important meeting point of Asia, Europe and North America. Nevertheless, the airport has retained its Chinese roots. Passengers can walk through miniature imperial architecture with gardens and bridges imitating Beijing's famous Summer Palace. Travellers with a longer layover can also pay a short trip to the Great Wall of China.
In case there's not enough time for that, you may still enjoy your time at the airport. As one of the largest airports in the world and a major world hub, BCIA offers more than 70 different restaurants with food from around the globe. In addition, the airport has more than four football fields of area with retail and services options.

#3 Dubai International Airport (DXB)
If we were ranking the world's largest airports by international flight traffic, Dubai International Airport would have topped the list. It is the major transport hub in the middle east. However, due to the smaller number of domestic flights, this airport in the United Arab Emirates ranks as the third biggest airport in the world.
Dubai International Airport is the main hub for the city's two international carriers- Emirates and flydubai. Another 140 airlines operate flights to and from the airport.
Hand in hand with Dubai's increasing popularity in the last two decades, the airport's growth passenger traffic has been staggering. Passenger movements (arrivals and departures) have grown from 4 million to close to 90 million in 2018.
When Terminal 3 was built, it became the largest building in the world by area. At the time of writing, this terminal of the airport covers only flights operated by Emirates and Qantas.
Dubai International Airport contributes a staggering $27 billion to Dubai's economy which equals close to 27% of its GDP. Aviation in Dubai also contributes to 21% of employment. In the next years, its significance is expected only to increase and to contribute to 35% of employment and to bring in $88 billion dollars.
#4 Los Angeles International Airport (LAX)
LAX served more than 87 million passengers in 2018, which makes it the fourth busiest airport in the world. It comes second in the United States for passenger movements, according to Airports Council International.
Los Angeles International is a major connection point for international flights, particularly to other countries in North America, South America and Asia.
As it is by far the largest airport on the East Coast, it serves as a hub for all major US airlines.
If you ever find yourself in the area, make sure to pronounce the letters of LAX separately. The airport's designation used to be just LA until the 1930s. Aviation's rapid growth, however, necessitated three-letter identifiers, so an "X" was added. In and of itself the "X" is meaningless.

#5 Tokyo Haneda Airport (HND)
It makes sense that the largest metropolitan area in the world would also house one of the busiest airports worldwide. In fact, despite an increase in passenger movements, it was recently surpassed by LAX as the fourth busiest airport. In 2018, it accommodated just over 87 million travelers.
It is the major hub for Japan's two biggest airlines: All Nippon Airways and Japan Airlines.
Tokyo will host the 2020 Olympic Games and passengers should expect a further development of Tokyo Haneda, which will improve its connectivity.
Few passengers would like to connect flights at one of the biggest world airports.
But if you are connecting at Tokyo Haneda, make sure to stroll down Edo-koji street. The restaurants and shops there are designed to imitate traditional Japanese architecture and you can find fantastic food and memorable souvenirs to complete your trip to Japan.
Tokyo Haneda was ranked #3 among world's best airports in 2018 according to Skytrax. In addition, it was voted World's Cleanest Airport and World's Best Domestic Airport in 2018.

#6 Chicago O'Hare International Airport (ORD)
Chicago O'Hare was the most used airport in the world between 1963 and 1998. With 83 million passengers served in 2018, it was the sixth busiest airport globally.
After becoming a symbol of the jet area in the 1960s and 1970s, America's second largest airport continues to be a pioneer of innovations.
It was the first airport in the world to host an apiary which became home to more than a million bees. The bees were kept by former convicts from the Chicago, Illinois area in a successful effort to teach the former prisoners new skills and help them become more employable.
In addition, the airport hosts the first aeroponic garden. Its produce supplies the various restaurants in the terminal.
Chicago O'Hare is a major hub for United Airlines and American Airlines.

#7 London Heathrow Airport (LHR)
With its 80 million passengers per year, Heathrow is the busiest airport in Europe and the seventh in the world. It is a major part of London's airport system, which is the biggest in the world.
It consists of four active terminals (T2-T4). Three of them are dedicated to the three major alliances and the fourth-- to British Airways.
It is a major hub for British Airways and Virgin Atlantic.
The most common international routes from LHR are to and from New York- JFK, Dubai International Airport and Dublin.
As Europe's busiest airport, Heathrow is expected to play a big part in the UK's economy following Brexit.
#8 Hong Kong International Airport (HKG)

Hong Kong International was built in 1998 but has since become one of the biggest airports worldwide in terms of number of passengers annually.
It is a major hub for all Hong Kong airlines, including Cathay Pacific, and a focus city for China and China Eastern Airlines.
The airport is built on land reclaimed from the sea specifically for the construction of the airport. Furthermore, the expansion of the airport to include a third runway and an additional concourse has been agreed.
HKG was ranked fourth by Skytrax in its best airports rankings. It is World's Best Transit Airport and the Best Airport for Dining.
Being one of the largest airports in the world has its perks. If you have a few hours to spend at Hong Kong Intl Airport, don't miss playing a few holes of golf, or watching an IMAX movie. You can find both at Terminal 2.

#9 Shanghai Pudong International Airport (PVG)
Shanghai Pudong only entered the top 10 of the largest global airports in 2016. However, thanks to a growth rarely seen, it will likely remain amongst them for the foreseeable future.
As of 2018, Shanghai Pudong served 74 million passengers on mostly international flights. The main reason behind this growth is the airport's expansion, completed in 2015, which effectively doubled the airport's capacity. Today, the airport has two terminals and five runways.
And while Pudong's passenger concourses may not be that impressive in and of themselves, you could take a maglev (magnetic levitation) train to the city and feel your heart rate rise as the train's speed surpasses 430 km/h.
We hope these super-high-speed trains will help more passengers in avoiding a missed flight.

#10 Paris Charles de Gaulle Airport (CDG)
Paris CDG is the second largest international airport in Europe after London Heathrow and in light of Brexit, it is expected to become the busiest airport in the EU. The airport accommodated nearly 72 million passenger arrivals and departures in 2018.
Further growth is expected and just in January and February of 2019, CDG passenger traffic surpassed 10 million.
Paris Charles de Gaulle, France's largest airport, was built in an avant-garde style in the 1960s and 70s and consists of 3 terminals. They host flights departing to and arriving from six different continents.
Paris Charles de Gaulle is Air France's primary hub.
Biggest Airports: Honorable Mentions
#11 Amsterdam Schiphol
#12 Dallas-Fort Worth
#13 Guangzhou Baiyun International Airport
#14 Frankfurt Airport
#15 Istanbul Atatürk Airport
#16 Indira Gandhi International Airport
#17 Soekarno-Hatta International Airport
#18 Singapore Changi Airport
#19 Seoul Incheon International Airport
#20 Denver International Airport

Future #1? Beijing New Airport to become the largest in the world.
Beijing Daxing International Airport, sometimes referred to as Beijing New Airport, will be the city's second international airport and is expected to become the world's busiest airport. The new airport is expected to handle more than 130 million passengers annually.
The building was designed by the late Zada Hadid and its integrated and beautiful hub with six spokes design has been praised by architects from around the world. This design is meant to make connections much less time-consuming, especially when travelling with airlines within the same alliance.
We are looking forward to its inauguration, scheduled for the second part of 2019.
Which are the biggest airports in the world?
One in Africa, 3 in Asia, five in the US and one in Europe.
But which are the world's airports with the largest area?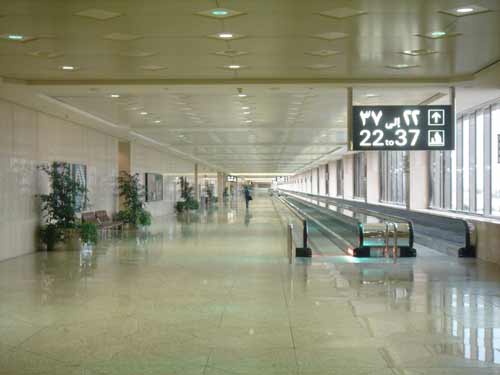 #1 King Fahd International Airport (DMM)
With a total area of 780 square kilometers, The King Fahd International Airport, located in Dammam, Saudi Arabia tops the list of the 10 largest airports in the world by size.
The airport's total area exceeds that of the country of Bahrain!
Most of the property, however, is not put into use. In fact, only 37 square kilometers are dedicated for airport usage. That is only about 5%!
It is not particularly busy either. It handles about 10 million passengers a year.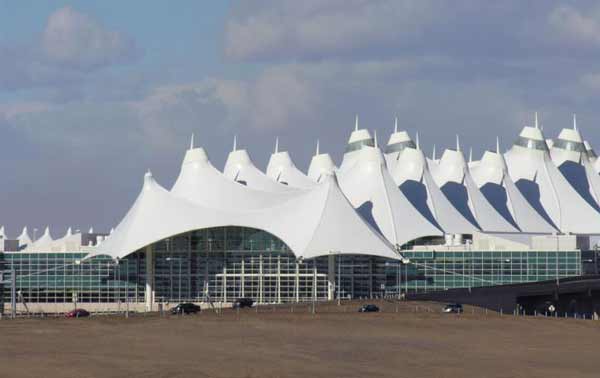 #2 Denver International Airport (DIA)
With its 136 square kilometers Denver International Airport ranks as the second biggest airport in the world and is the largest airport in the US. It is bigger than the island of Manhattan! DIA is also the fifth-busiest airport in America with service to 205 destinations on five continents.
Denver International is a hub for United Airlines and Frontier and a base for Southwest Airlines.
DIA faced a lot of criticism when it opened in 1995, more than a year behind schedule. It cost an additional $3.3 billion (in today's US dollars) than anticipated and some of its long-awaited innovative technologies were dysfunctional and later abandoned.
Denver International is perched at 1,655 m above sea-level. This is part of the reasons why DIA sports the longest runway in the United States. It is nearly 5 km long! The extra length helps flights take off in the lower-pressure conditions of Colorado.
#3 Dallas/Fort Worth International Airport (DFW)
Despite coming in third in the list of the largest airports by area, DFW is almost half the size of Denver International Airport (ranked second) and 11 times smaller than King Fahd International Airport.
Dallas-Fort Worth is the largest American Airlines hub, which in turn is the largest airline in the world in terms of fleet size. This makes DFW the second-largest hub in the world after Hartsfield-Jackson in Atlanta. American Airlines operates nearly 70% of all flights to and from DFW.
While Dallas-Fort Worth may be much smaller than the two biggest airports, it is still so big, it even has its own ZIP code and Postal Service city designation.
DFW was ranked 56th in Skytrax's Top 100 Airports for 2018.
#4 Orlando International Airport (MCO)
Orlando International, the fourth largest airport worldwide, used to be an Airforce base until the end of the Vietnam War in 1975. Since then, it has been transformed to a civil-only airport and today is the third biggest airport in the US.
With 27% of passengers on their services, Southwest has by far the largest market share at MCO, almost as much as Delta and American Airlines combined.

#5 Washington Dulles International Airport (IAD)
Washington Dulles is the largest airport in the Baltimore-DC area but also the least busy. The airport spans 52 square kilometers.
The airport was officially inaugurated in 1962 by Presidents John F. Kennedy and Dwight Eisenhower and received plenty of praise for its light and graceful architecture.
Initially, the airport's code was DIA. This often caused confusion as Ronald Reagan Washington National Airport's code, only a few miles away, was DCA. Thus, especially when handwritten, these designations were a source of a lot of confusion. Hence Dulles took IAD and Denver International later became DIA.
Together with Newark Airport, Washington Dulles is one of United Airlines' two hubs on the East Coast. United accommodates 61.1% of all passengers on IAD. Many of them travel to the over 125 international destinations served by Washington Dulles.

#6 George Bush Intercontinental Airport (IAH)
Formerly known as Houston Intercontinental Airport, IAH spans just over 40 square kilometers, which makes it the fifth largest airport in the United States and the sixth biggest in the world. It is named after George H. W. Bush, America's 41st President.
The airport is the second biggest United Airlines hub in the US after Chicago O'Hare. True to its name, the airport has connections to 180 international destinations. It is also the airport with the most destinations in Mexico- over 30!
#7 Shanghai Pudong International Airport (PVG)
Shanghai Pudong is not only the second biggest Asian airport, the seventh largest airport in the world but also the ninth busiest worldwide. Read more about PVG.


#8 Cairo International Airport (CAI)

Cairo International Airport is the second largest airport outside of the USA and the eighth on the list of the world's largest airports. In addition, it is the biggest in Africa and the continent's second busiest (after O.R. Tambo International Airport in Johannesburg).
The airport was used as an Allied Forces base during World War II. After the end of the war, it was transformed into a civilian airport and the Egyptian Civil Aviation Authority began its administration.
Today, the airport consists of 3 terminals, three runways and is the main hub for two of Egypt's largest carriers- EgyptAir and Nile Air.
Cairo International Airport is ranked tenth in Skytrax's Best Airports in Africa 2018 rankings.

#9 Suvarnabhumi Airport (BKK)
Unofficially recognized as Bangkok Airport, Suvarnabhumi Airport is the third biggest airport in Asia. It is one of the most popular as well. In 2012, only six years after its completion, Suvarnabhumi was the most popular location for Instagram photos in the world.
Skytrax ranked Bangkok Suvarnabhumi as the 36th best airport in 2018 in annual worldwide rankings.
Bangkok Airport's area is just over 32 square kilometers, which makes it one of the largest in Southeast Asia. At 132 m, it sports one of the tallest air traffic control towers. The tower alone cost $18 million and its ATC navigates 76 flights per hour.
In Sanskrit, Suvarnabhumi means "Land of Gold", a mythical land, not too dissimilar from the Western concept of El Dorado but much closer to Thailand.
#10 Paris Charles De Gaulle Airport (CDG)
Paris Charles De Gaulle Airport holds not only the tenth spot amongst the world's largest airports, but is also the tenth busiest in the world. Read more about CDG, the largest airport in Europe.

With this, we conclude our overview of the biggest and busiest airports in the world. Many of the busiest are not among the biggest and vice versa. Only Paris Charles De Gaulle and Shanghai Pudong made it to both lists.
Regardless, if you were to visit all of these mega-airports, you'd be pretty well-travelled already.
Safe travels!
---
---