There are more than a thousand civil airports in the world. Some are small and easy to navigate. Others serve over 100 million passengers a year and you dread them for the long lines and connection times. But the biggest airports are often beautiful architectural masterpieces and have a lot to offer. 
In the list below you will see the largest airports in the world. One in Africa, one in Europe, three in Asia, five in the U.S.A. - prepare for your journey among the world's airports with the largest area.
---
We help you get compensation for
delayed and cancelled flights

in the last

3 years.
Check your flight now. Get up to
€ 600

per passenger.
---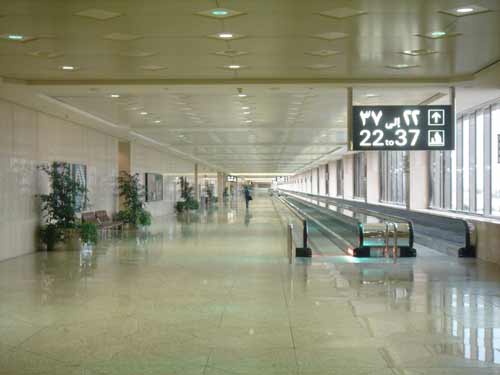 #1 King Fahd International Airport (DMM)
The "biggest airport in the world" title is proudly held by Dammam International Airport, named after the former king of Saudi Arabia, Fahd ibn Abdulaziz. 
The airport property is spread over the impressive area of approximately 776 sq. km2. However, the airport building has a surface area of only 327,000 m2. King Fahd has two parallel runways (4,000 m long each) and three terminal buildings (one of them is exclusively reserved for the Saudi royal family).
The airport is located in the Eastern province of Saudi Arabia, in the middle of the desert. King Fahd International Airport serves as a hub to Saudia, Aramco Aviation, SaudiGulf Airlines, and Flynas. The most popular destination from Dammam is Dubai, with 70 flights per week.
---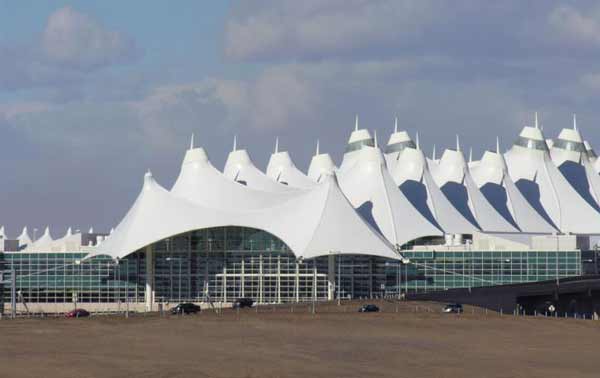 #2 Denver International Airport (DIA)
The second place is for the International Airport of Denver, Colorado. Its total surface area is 135.7 km2 and the air traffic is handled via six runways. The departure gates are based in three concourses. 
Denver Airport is situated mid-continent, not far from the Rocky Mountains. Thanks to its location, it gets extremely busy. In fact, it was the third busiest airport in the world by passenger traffic as well as in the United States in 2021. The first five of top 10 busiest airports worldwide includes Hartsfield-Jackson Atlanta, Dallas/Fort Worth, Chicago O'Hare, and Los Angeles International Airport. 
Both United and Frontier Airline use Denver as a major hub, and Southwest Airlines consider this airport their largest operating base.
---
#3 Istanbul International Airport (IST)
Even though it's not completely finished yet, Istanbul's new airport entered the World's top 10 and ousted Bangkok's International Suvarnabhumi Airport (BKK) from its 10th place. By the end of the planned expansion, the airport in the biggest Turkish city should cover 76.6 km2.
Currently Istanbul Airport has five runways and five terminals. The designers shaped the control tower as the Turkish national flower, the tulip. 
In 2021 Istanbul was named the second-busiest airport in the world for international passenger traffic and it will probably keep this title with the future completion on the way.
---
#4 Dallas / Fort Worth International Airport (DFW)
The fourth place is for the 69.63 km2 of Texas's airport, located right in the middle between Dallas and Fort Worth. This American giant has five terminals and four runways, and handles both domestic and international flights. 
Dallas/Fort Worth is the main hub of American airlines which operate about 80% of the flights. The airport was ranked third-busiest in the world by aircraft movements in 2020, preceded by Hartsfield-Jackson Atlanta International Airport and O'Hare International Airport in Chicago.
Dallas/Fort Worth may be much smaller than the two biggest airports, but it is still so big, it has its own ZIP code and Postal Service city designation.
---
#5 Orlando International Airport (MCO)
With a total surface area of 53.83 km2, Orlando ranks as the third largest airport in North America. The Florida giant operates with four runways and three terminals.
Orlando International Airport serves as a hub for Silver airways and operating base for JetBlue, Southwest and Spirit airlines.
The IATA code of the airport, MCO, stands for McCoy Air Force base, its former name. However, their marketing team "rebranded" this abbreviation to "Much Closer to Orlando".
---
We help you get compensation for
delayed and cancelled flights

in the last

3 years.
Check your flight now. Get up to
€ 600

per passenger.
---
#6 Washington - Dulles International Airport (IAD)
Washington-Dulles International Airport, or just Dulles, has a surface area of 52.6 km2. It is located in Virginia, 42 km west of Downtown Washington, D.C. Its air traffic is operated via five runways and five terminals.
Dulles was built after World War II when it became clear that the American capital would need one more airport to meet the growing demand for air transport to and from DC. The new airport was named after the 52nd Secretary of State and was the first in the country designed for commercial jets.
Dulles is now a hub for United Airlines, United Express, GoJet and SkyWest Airlines, and a few more. It is also often used by airlines which have codeshare agreements with United, like Turkish Airlines and Lufthansa.
---
#7 Beijing Daxing International Airport (PKX)
Beijing Daxing International Airport covers a surface area of 47 km2 and is thus the bigger of the two airports serving Beijing. There are currently four runways (planned to become seven in the future). Even if it is larger, Daxing is still significantly less busy than its rival, Beijing Capital International Airport.
Daxing is a relatively new airport: it was officially opened in 2019 after 5 years of construction. Thanks to its unique architectural design, the terminal building bears the nickname "the starfish". Five corridors lead to the terminal's center and passengers can walk to each of the 79 gates in 8 minutes maximum. 
While Star Alliance members and Hainan Airlines are still operating from Beijing Capital International Airport, SkyTeam alliance airlines and some Oneworld members have made Daxing their hub in China.
---
#8 George Bush Intercontinental Airport (IAH)
Texas has a strong presence in this ranking. The George Bush Intercontinental Airport is located 37 km north of Houston and is spread over 40.46 km2. Like Istanbul, this airport has five terminals and five runways. 
The Houston airport is a hub for United Airlines and is the leader among all U.S. airports for offering routes to Mexican destinations. You can fly to more than 30 cities in Mexico from George Bush Airport.
---
#9 Shanghai Pudong International Airport (PVG)
Similar to Beijing Daxing, Pudong is the bigger of two airports serving Shanghai. It covers 40 km2 and is also very busy: 76 million passengers went through this airport in 2019. Pudong was in the top 5 busiest airports in Asia for 2018 along with Beijing Capital, Dubai, Tokyo Haneda, and Hong Kong International Airport.
Pudong has two operating terminals and four runways. The capacity of Terminal 2 is 60 million passengers. 
Several Asian airlines use this airport as a hub, among which Air China, China Eastern Airlines, and China Southern Airlines. It is also an important cargo airport, used by major Western companies like DHL, FedEx, and UPS.
---
#10 Cairo International Airport (CAI)
With its 37 km2, three terminals, and three runways, "King Farouk 1st Airport" is the largest airport in Africa. Thanks to its strategic location on a crossroad between Africa, Europe, and the Middle East, Cairo is also the second busiest African airport (OR Tambo International Airport in Johannesburg, South Africa is the first). 
Cairo International Airport is situated in Heliopolis, the northeast part of the Egyptian capital. It was originally built as an American military base during WWII. The US Army Air Forces used the air base as a main air cargo and passenger hub. After they left, the local government started using the airport for international civil flights.
Cairo Airport is the primary hub for Nile Air and EgyptAir, as well as a few other Egyptian airlines. Over 45 passenger and nine cargo airlines operate from the North African airport.
---
New contestants on the way
Dubai Al Maktoum (DWC) is the busiest world airport by passenger traffic and there is a prospect to make it a big competitor of King Fahd airport. The projected surface area of the complex is 140 km2 and was originally to be completed by 2027 but financial crises and COVID delayed the plans. Already home to the largest airport terminal in the world, Dubai International Airport has great potential to become both the largest and busiest worldwide.  


The rankings on the Old continent
Since only one European airport made it into the world top 10, here is an honorable mention of the ten biggest airports on the Old continent.
Istanbul International Airport, Turkey


Surface area: 76 km

2

Moscow Sheremetyevo International Airport, Russia


Surface area: 42 km2

Paris Charles de Gaulle, France
Surface area: 32.38 km

2

Adolfo Suárez de Madrid-Barajas Airport, Spain


Surface area: 30.50 km

2

Amsterdam Schiphol, the Netherlands


Surface area: 27.87 km

2

Frankfurt am Main, Germany


Surface area: 23 km

2

Munich Franz-Josef-Strauß Airport, Germany


Surface area: 15.6 km

2

Paris-Orly Airport, France


Surface area: 15.3 km

2

Rome Leonardo da Vinci Airport Fiumicino, Italy


Surface area: 14.5 km

2

London Heathrow, United Kingdom


Surface area: 12.14 km

2

Most of them cannot compare with the size of the Asian and American giants. However surface area is not the most important criteria used to determine the importance of an airport. Airports are also ranked by how busy they are, either by number of passengers or aircraft movements. Check out our article about the world busiest airports and see for yourself: four European major airports made it into the top 20!

---
---