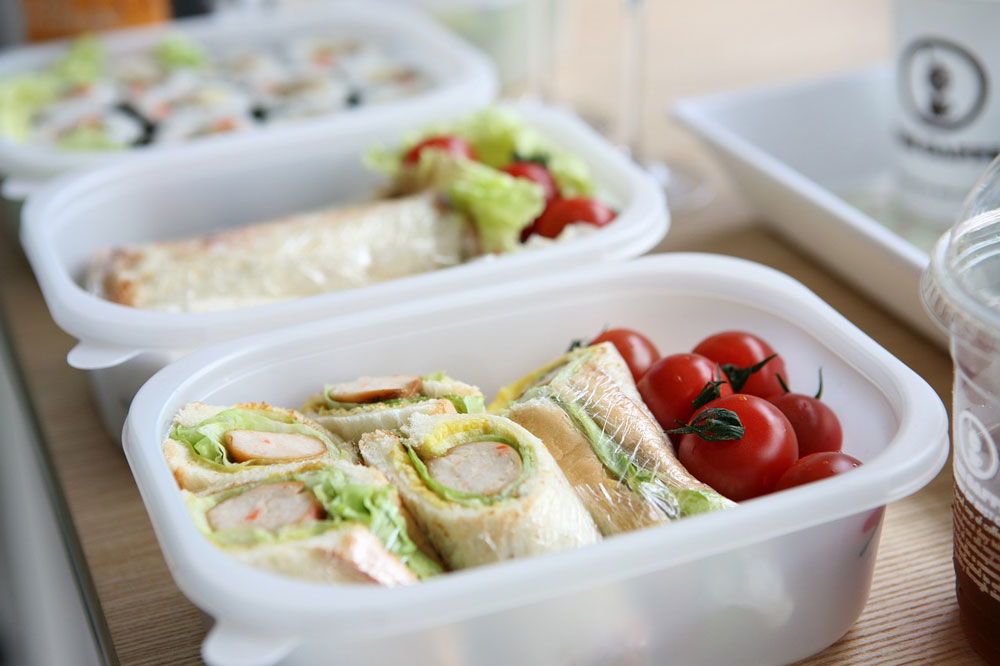 Many travelers might wonder if they can take a homemade sandwich on their flight, or buy some special cheese or ham as a present from their trip. Good news is that you may indeed feel free to bring your own food on a plane. Of course, we advise you to be kind to your fellow passengers and not take egg salad or something equally pungent.
There are many specifications as to what types of food and drinks you are allowed to take in your checked baggage and your carry on bags. We compiled a rough guide of the U.S., EU, and British rules for bringing edibles and beverages on flights.
---
We help you get compensation for
delayed and cancelled flights

in the last

3 years.
Check your flight now. Get up to
€ 600

per passenger.
---
For a complete list of food items that you may take, please consult the TSA official page, the European Union luggage restrictions , or the British airports restrictions (you can also check the British airways page).
Water and other non-alcoholic drinks
You are allowed to bring water, soda, juice, and any other non-alcoholic beverage in your checked bags without any restrictions. If you would like to take a water or soda bottle on board, you have to follow the universal liquid rule, also known as the 3-1-1 rule. 
That means that the maximum amount of each liquid you bring on board has to be 3.4 ounces or 100 milliliters and all your liquids/gels must fit in one quart size bag. Having said that, it might be a better idea to buy a drink after you pass the security checkpoint.
Having a drink or two on a long flight is a common way for people to really "lay back, relax, and enjoy their flight". You are more than welcome to take advantage of the service on board and ask the flight attendants for a glass of your preferred alcoholic beverage. (Keep in mind that they are not allowed to serve any passengers who are intoxicated, so drink responsibly.) 

Bringing alcohol on a plane on the other hand is tricky business. Alcoholic beverages over 140 proof, i.e. containing more than 70% alcohol, cannot be transported in the U.S. The EU and the UK allow a maximum of 1 liter (0.2 gallons) of such alcohol to be taken on a plane. 
Alcohol between 24 and 70% is limited to 5 liters (1.3 gallons) per passenger and must be placed in your checked luggage, in its original unopened packaging. You may bring small alcohol bottles in your carry-on but they must not exceed 3.4 oz/100 ml. You may also purchase alcohol in the duty free airport shops but it should remain in its original packaging and sealed in a transparent plastic bag.
Fresh fruit and vegetables
If you are traveling within the continental United States, Europe, Asia, or Africa, fresh fruit or vegetables are fine to bring both in your carry-on and checked bags. That rule applies to all solid food items (not liquid/gel). 
Importing fresh produce from one continent to another (including Hawaii, Puerto Rico, or the U.S. Virgin Islands when entering the continental U.S. territory) is either prohibited, or allowed under specific conditions. Contact your airline and consult the entry rules of the country you are traveling to in order to avoid trouble.
According to the TSA rules, you are permitted to bring fresh meat and seafood in both your hand and checked luggage. If the food is placed within ice packs, you can pass the check for security, as long as they are completely frozen. If the ice is partially melted, you will need to leave the package behind. 
The EU and the UK also allow the transportation of fresh meat and seafood for personal use within its borders (including European countries that are not part of the Union). Import of animal products from other continents, however, is prohibited for safety reasons (e.g. the spread of animal diseases).

Salad dressings, salsa and sauces
If you'd like to take any liquid condiments, you may do so as long as you abide by the 3-1-1 rule for carry-on luggage. As for most of the food categories listed here, there are no restrictions for the quantity of salad dressings and sauces you put in checked bags.
Your checked luggage can safely store honey, peanut butter, soup, jam, jelly, and any other types of liquid foods/spreads. If you are afraid they might break, you may take these kinds of food through airport security but only if their quantity is less than or equal to 3.4 oz/100 ml.
Baby food, formula, breast milk
If you are traveling with your baby or toddler, especially on a long flight, you have to be prepared with food and snacks. Fortunately, TSA and the rest of the airport security agencies are quite understanding when it comes to children. You are allowed to bring breast milk, formula, toddler drinks, purees and other baby food on board. 
Keep in mind that these types of food may be subject to additional screening if you do not want them to undergo an X-ray check. This also applies to foods that you need to bring due to special diet requirements and medical conditions.
---
---