Just over a hundred years ago flying was only a dream.
In 1903, the Wright brothers made history with the first 3-second powered flight. Barely 6 years later, the world had its first airline - DELAG, founded in Frankfurt.
Today, according to the Federal Aviation Administration (FAA) data, 2.6 million passengers criss-cross the US skies on more than 46,000 flights every day!
According to the global airline industry data provided by the International Air Transport Association (IATA), 4.3 billion passengers travelled on scheduled flights in total last year. They spent 1% of the world's GDP on air transport-- a whopping $871 billion. Meanwhile, the number of airlines taking all these passengers around the world has grown to over 5000!
---
We help you get compensation for
delayed and cancelled flights

in the last

3 years.
Check your flight now. Get up to
€ 600

per passenger.
---
Which is the largest airline in the world?
The answer to this question varies depending on the criteria.
American Airlines (Fort Worth, Texas) is the biggest airline in terms of fleet size and passengers carried. Delta Air Lines (Atlanta, Georgia) has the largest assets. Lufthansa (officially known as Deutsche Lufthansa) boasts the largest number of employees (about 130,000). Meanwhile, Turkish Airlines is the largest air carrier in the world by number of destinations served. The airline flies to 122 countries in Europe, Asia, Africa and the Americas
The number of passengers flying globally in 2019 is expected to increase by about 30 million. This is why we have decided to portray for to you the largest air carriers that will take them on their journey i.e. the biggest airlines by number of passengers carried. Ranking and data regarding the airlines are provided by IATA.
Perhaps unsurprisingly, 4 out of the top 5 air carriers in this ranking are American! A few European and Asian airlines also feature.
Our journey can now begin!
TOP 10 of the biggest airlines in the world
#1 American Airlines- The Biggest Airline in the World
American Airlines is impressive in more ways than one!
Firstly, the airline accommodates the largest number of passengers on its remarkable fleet: 198,700,000 every year!
Secondly, it operates the biggest fleet in the world -- an astonishing 956 aircraft.
But how did it grow to be so big?
This US behemoth, headquartered in Fort Worth, Texas, was formed in December 2013 after the merger of AMR Corporation (parent of American Airlines) and US Group (the parent company of US Airways). A few months before the deal was to be closed, the US Department of Justice along with attorney generals from several states filed a lawsuit, attempting to block the merger. They claimed it would limit competition and drive up prices.
Why were they alarmed? Our journey will take you back in time - more than 90 years ago.
American Airlines was itself a conglomeration of 82 small air carriers that merged as early as the 1930s. It was one of the first airlines furthering the legacy of the fabled Wright brothers, which is vividly illustrated by pictures of its colourful 1927 American Airways FC-2 planes.
US Airways, on the other hand, was established in 1939 by the prominent du Pont family. One of the richest clans in the USA since the mid-19th century (whose fortune was founded on gunpowder business) ventured into the chemical and automotive industries, and then into air travel.
Both companies had grown considerably throughout the years and the news of their merger created antitrust concerns back in 2013. However, a settlement was reached and the deal was closed. This created the airline with the largest fleet and biggest operating revenue - $40 billion in 2018!
American Airlines boasts more than 6,700 daily flights – one every 13 seconds! American takes passengers to 350 locations in 56 countries worldwide. About two-thirds of its fleet consists of Airbus A320 and Boeing 737-800s aircraft, and its total capacity reaches almost 260,000,000 seats. It is expected to add 607 new aircraft to its fleet and to further increase its capacity.
These impressive numbers explain why American Airlines Group (a publicly traded holding company) ranked 71 in the 2018 Fortune 500!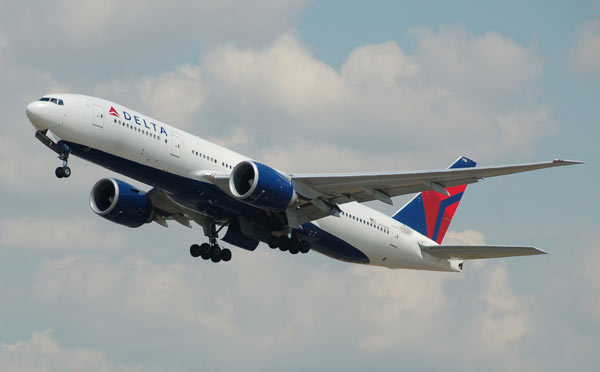 #2 Delta Air Lines
Delta is the largest airline in the world in terms of assets and the second largest in terms of passengers carried: 183,700,000.
It also boasts the second largest fleet - 894 aircraft as of December 2018.
Delta is also the oldest US airline still in operation. The original company - Delta Air Lines - began as a crop dusting operation in Georgia back in 1924. In 1929 it was transformed into Delta Air Service and made its first passenger flight between Texas and Mississippi.
The company is headquartered in Atlanta and operates over 5,400 flights daily from its eight hubs. It travels to 325 destinations in 52 countries on six continents.
Its total assets grew from $20 billion in 2005 to over $60 billion today.
In 2018, Delta ranked No. 75 in the Fortune 500.
#3 Southwest Airlines
Southwest is the world's largest low-cost air carrier and ranks 3rd in terms of passengers carried: 151,800,000.
The company was founded in 1967. It started as an intrastate airline whose plan was to undercut competitors' prices. Its founders chose to fly only within Texas to avoid federal price controls and market regulations. The competition was, of course, unhappy and lawsuits followed. Yet these were resolved and operations began in 1971.
In 1979 Southwest was already flying to neighbouring states.
Today Southwest boasts 4000 departures every day in peak season to 100 destinations in the USA (including Hawaii since March 2019) and ten additional countries.
To give you a glimpse of the mind-boggling number of the domestic flights the carrier operates, let's just say that as of January 2019 Southwest offers between 224 and 250 flights a day to Chicago, Baltimore, Denver and Las Vegas. This means that a Southwest plane leaves for these destinations almost every 5 minutes!
Southwest is the largest operator of Boeing 737 in the world - the airline has 750 of the aircraft, each averaging about 6 flights a day.
Passenger experience and in-flight entertainment
What makes Southwest really exceptional as a budget carrier is the quality of its service. It has a unique boarding process (involving a combination of letters A/B/C/D and numbers) which beats standard methods by 10 minutes!
Passengers are offered free non-alcoholic beverages on board (and even alcoholic ones for over 21-year-olds on Valentine's day) and pretzels. They can also enjoy Wi-Fi, free streaming live TV, free music and movies, and even free app messaging. Southwest crew is also famous for spontaneously bursting out in song and making colourful announcements.
No wonder the airline was ranked #1 in the USA for customer service (least number of complaints registered with the Department of Transportation).
#4 United Airlines
United, the fourth largest airline in the world, has its headquarters in Chicago, Illinois. Its fleet consists of 777 aircraft which takes 143,200,000 passengers to their final destinations every year!
United is 92 years old. It was established in 1926 in Idaho as Varney Air Lines. Later Varney became the first private contractor for airmail flights in the US. The company was then merged with others, including Boeing Air Transport founded in 1927.
United Airlines fleet consists mainly of Boeing and Airbus aircraft.
It takes its numerous passengers to 342 destinations.
#5 Lufthansa - The Biggest European Carrier
We are finally in Europe!
In 2018, Lufthansa Group set a record carrying 142,000,000 passengers to their destinations, which made it the top European airline. The astonishing success helped the Cologne-based airline overtake Ryanair and take the 5th spot in our ranking.
The German air carrier is the largest in the world in terms of employees - almost 130,000!
Lufthansa commands a fleet of 291 aircraft travelling to 220 destinations worldwide.
The company established in 1953 reemployed the staff of its predecessor Deutsche Luft Hansa A.G. (founded in Berlin in 1926) when Germany's flag carrier terminated its services after the defeat of Nazi Germany. By 1963, the new company had become the foreman of West Germany's image abroad. Meanwhile, East Germany got its own airline in 1963 - Interflug.
Throughout the years Lufthansa has continually expanded and in 1997 became one of the 5 forefathers of the Star Alliance.
In 2017 Lufthansa became the first European airline to receive the esteemed Skytrax 5-star certification.
---
We help you get compensation for
delayed and cancelled flights

in the last

3 years.
Check your flight now. Get up to
€ 600

per passenger.
---
#6 Ryanair
The Irish low-cost airline is Europe's second-largest carrier; it ranks 6th worldwide with its 119,800,000 passengers.
Ryanair serves a record number of routes - 1,831!
The success story of Ryanair is astonishing. The Dublin-based company was founded not too long ago, in 1984, to fight the British Airways/ Aer Lingus duopoly on the London-Ireland flights. When allowed to fly to Luton in 1986, it had two planes on two routes but managed to carry the staggering number of 82,000 passengers in one year!
The deregulation in Europe and Ryanair's 'no-frills' business model furthered its success turning it into the biggest European airline in terms of passengers carried (until Lufthansa's 2018 record) in just over 30 years.
The company's fleet consists of 439 planes (mostly Boeing 737-800) serving 225 destinations in Europe, North Africa and the Middle East.
#7 China Southern Airlines
Next stop-- Asia!
With its 84,900,000, China Southern Airlines, headquartered in Guangzhou, ranks as the 7th busiest airline in the world.
This is one of the relatively young companies on the list. China Southern was created in 1988 after the PRC government decided to decentralize monopoly carrier CAAC established in 1949. The so-called 'Big Three' were created in the process: China Southern (planned to serve Asia), China Eastern (to operate in Eastern Asia) and the flag carrier airline - Air China.
Gradually, Southern developed into Asia's largest airline in terms of fleet size (611, including cargo aircraft), revenue and passengers carried.
It operates more than 2000 flights a day and flies to over 200 destinations
China Southern Airlines was the first mainland China airline to join a global airline alliance - SkyTeam. The company withdrew from the alliance on January 1, 2019. Since then, it has been developing a partnership with American Airlines and other carriers.
#8 China Eastern Airlines
This Shanghai-based Chinese airline comes 8th in the world top ten with its 80,900,000 passengers.
It was created with China Southern and flag-carrier Air China as the 'Big Three' 30 years ago. Its initial purpose was to serve countries in East Asia but today it flies passengers to 248 regional, domestic and international destinations in Asia, North America and Australia.
China Eastern Airlines holds the record for the longest non-stop route - Shanghai to New York, which started operating in 2007.
#9 easyJet
The Luton-based carrier is the second-biggest budget airline in Europe and 9th largest carrier in the world in terms of passengers carried: 73,100,000.
easyJet boasts a fleet of 320 aircraft flying to 136 destinations in over 30 countries.
This is the youngest airline in our ranking. It was established 24 years ago by a British Cypriot entrepreneur. Initially, the UK company operated just 2 routes: London-Glasgow and London-Edinburgh.
But like Ryanair, easyJet adapted Southwest's no-frills model to Europe, stripping all extras to cut prices. Its business strategy, along with the market's deregulation and a strong demand have led to a rapid growth.
A great illustration of easyJet's success would be the story of a suspected FL Group takeover. FL bought easyJet shares in 2004, later increased its shares, only to sell them just 2 years later at a profit of €140 million.
#10 Turkish Airlines
With its 62,800,000 passengers, the Istanbul-based air carrier ranks 10th.
This is the largest airline in the world in terms of passenger destinations - it flies to 122 countries on six continents. This number seems even more remarkable when compared to the 2nd-ranking Air France, which serves 91 countries, and British Airways - 3rd with 82 countries served.
Turkish Airlines was established in 1933 as a department of the Ministry of National Defence with a fleet of two 5-seat, two 4-seat and one 10-seat planes. Later it was transformed into a domestic carrier, and after World War II the airline started operating internationally.
Turkish Airlines was plagued by troubles in the 1970s, 80s and 90s - a crash resulting from bad design and financial losses. These were followed by fleet expansion, marketing agreements and a rehabilitation project.
All efforts lead to a gradual increase in the number of flight destinations winning Turkish Airlines the top position in the world today.
The oldest, the heaviest and the best airlines worldwide
KLM - the flag carrier airline of the Netherlands - turns 100 this year! This makes it the oldest airline still in operation. As of 2004, the Dutch carrier is part of the Air France-KLM group.
FedEx Express is the biggest airline in the world in terms of freight tons flown.
Singapore Airlines was named the World's Best Airline at the 2018 World Airline Awards.
This is the end of our journey here.
Bon Voyage!
---
---