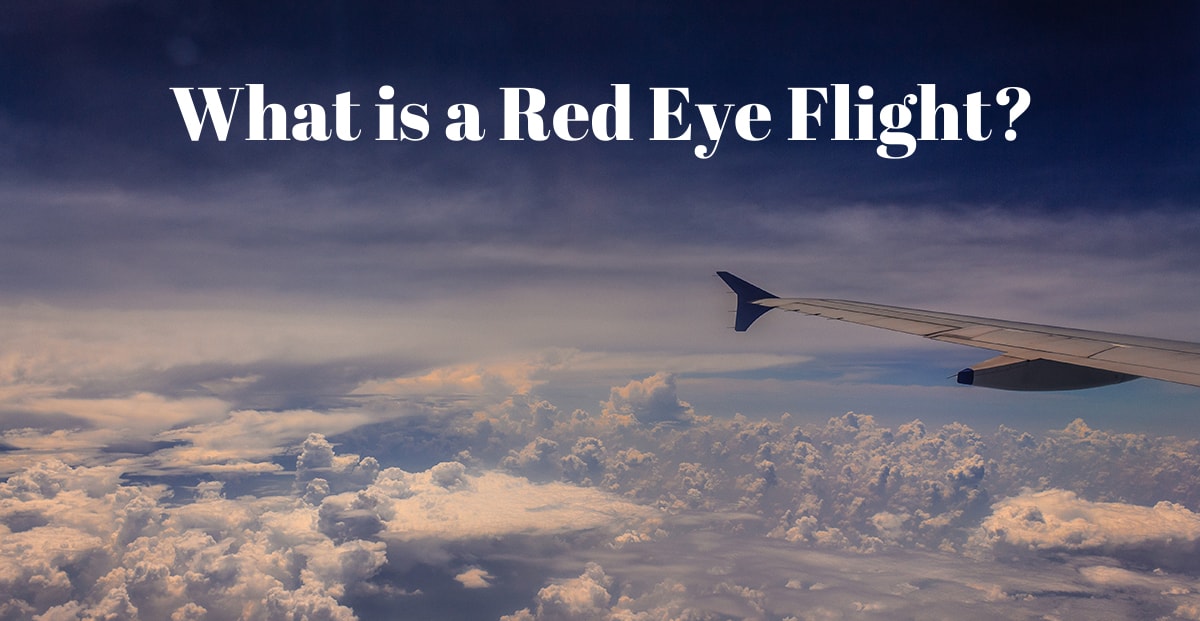 You may have heard about red eye flights or even seen them in films. Fans of action flicks and psychological thrillers like Non-Stop, Turbulence or Flightplan will surely know.
The rest are probably wondering: What is considered a red eye flight? Are they safe and are they cheaper? Read on to find out.
We've also researched the main benefits of red eye flights. And if you're willing to give them a try, you can also find main destinations and airlines that offer tickets.
---
---
What is considered a red eye flight?
A red eye flight is a flight that departs late at night and arrives the next morning - so an overnight flight.
What's with the scary vampire/ zombie name?
Well, some air travellers find it hard to sleep on planes so the term 'red eye' serves as a warning. You know how your eyes turn red when you travel at night and you are tired in the morning? Yes, it happens to all of us! You're not turning into a zombie, don't worry.
In fact, it happens so often, that overnight flights are now semi officially called 'red eye flights'. Note that even all-knowing wikipedia lists its article under this term. 
---
What are the benefits of red eye flights?
Overnight or 'red eye' flights are usually popular among business travellers. Do they love them? It's hard to tell.
The obvious disadvantage of night flights is, of course, the lack of shut eye for those who can't fall asleep on planes.
Yet red-eyes (e.g. flights departing after 10 pm and arriving at 5 or 6 am) have certain benefits. For example:
You avoid peak traffic to/ from the airport

It's the end of the working day, you're on your way to the airport and you're stuck in traffic. If you want to avoid all the waiting and anxiety, night travel is just for you! You'll be surprised at how empty the roads to the airport are later in the evening.

An extra bonus: If you arrive at 5 am, you can also avoid traffic jams on entering the city at your destination.

So a red eye flight means less useless waiting and more time for yourself!

You can save money on accommodation

Flying at night actually saves you money.

Imagine you have a business meeting to attend and you're up for a six hour flight. Taking an overnight flight can help you save the hotel money. And you can still be there on time for the morning meeting!

Red eye flights are less crowded

Due to the late hour, there are usually less people on the plane. This means that you have the added advantage of choosing your seat. You can also enjoy some extra space to make yourself comfortable for some shut eye.

Airports are less busy

The fact that less people travel during the night also means that you can go through the airport much faster.

No queues at check-in, less hassle at security check. TSAs will be calmer and more patient, you will have more time to pack your things carefully after passing security. The less hectic security check also means a slimmer chance to accidentally leave your laptop in the tray.

Another queue passengers don't usually look forward to is the one at boarding. But when you fly red eye, fewer people also means less waiting at the boarding gate.

Another advantage of less busy airports is that the fewer the flights that leave at night, the fewer the delays.

An extra bonus

The fascinating view at take off!

Some of you may have seen this and it's breathtaking! The flickering city lights as your plane departs and the web of streetlights... The whole city lit up as if it's Christmas Eve. It's an awe-inspiring sight!
Are red eye flights cheaper?
This is an additional bonus.
As already mentioned, due to the unusual time, late night flights are less in demand. This typically makes red eye flight tickets cheaper, especially when compared to morning or mid-day flights on the same route.
Popular red eye flight destinations
You can book red eye flights - be it for business travel or holiday - from any continent.
In Asia, for example, red eye flights serve destinations like Hong-Kong - Tokyo, or Hong-Kong - Seoul. There are overnight flights between Bangkok and Singapore and Jakarta and Beijing. Other popular destinations, mostly for holiday goers, include Istanbul - the Maldives or Singapore - the Maldives.

In Australia, red eye flights connect Perth and Sidney or Perth and Melbourne. A popular international overnight flight is the one between Singapore and Sydney.

In Brazil these flights are actually called 'Great Owl' due to late night film sessions. Great Owl flights connect Brasilia and Rio de Janeiro, for example. Intercontinental flights travel between Argentina and North America or Europe too.

Eurоpe, on the other hand, sees early morning arrivals from the American East Coast - these are the busiest long-haul routes. Popular city pairs here include New York or Washington, DC in the USA and London Heathrow, Frankfurt or Amsterdam in Europe.

USA and Canada also offer overnight flight. The most popular ones connect the West Coast to the East Coast, for example Los Angeles to New York. Yet others take passengers to Alaska or Hawaii (Tokyo - Honolulu is a favourite for asian holiday makers).

Russia also offers red eye flights. Typical destination pairs here include Moscow - Yakutsk and Moscow - Vladivostok, which typically last five to eight hours.
Note that not all airports and airlines offer red eye flights.
In fact, late night flights were not possible in the 1930s and 1940s due to the lack of suitable airport equipment.
Even today, not all airports are equipped for late night departures or early morning arrivals. What is more, certain airports do not handle red eye flights due to noise restrictions. Can you imagine an airport located close to the city and the sonic boom into the small hours.
Which airlines offer red-eye flights?
USA

If you're eager to give red eye flights a try and you're based in the USA, you're in luck. You can book a domestic flight between the West Coast and the East Coast on many US airlines.

Various air ticket search engines offer bargains like Los Angeles to New York on American Airlines, Delta and Alaska Airlines. Flights to Las Vegas from Philadelphia International Airport are served by American Airlines, Frontier, Southwest and Spirit Airlines. From Washington DC red eye flights are served by American Airlines, Frontier and United Airlines.

Most of these airlines also offer red eye flights to Europe or other continents.

Europe

Most airlines from the Middle East and Asia offer red eye flights to major destinations in Western Europe. Many US flight arrive in Europe in the early morning hours too.

Examples of outbound flights include late departures from London (Heathrow) to Moscow or Tel Aviv.

Asia

Japan's international carrier Japan Airlines serves red-eye flights. If you're in Hong Kong, you can book with Cathay Pacific. South Korea's Asiana and Korean Airlines are other options, as well as Philipne Airlines, Indonesian, Turkish Airlines and Singapore.

Russia

Russian flagship carrier Aeroflot serves flights connecting Moscow to Yakutsk, Irkutsk, and Vladivostok.

Australia

Passengers travelling from the Land Down Under, can enjoy red eye flights on low-cost Jetstar and the flagship carrier Qantas. Note that westbound international flights typically last 15 hours. This means that they arrive roughly 2 days after departure as they cross the International Date Line.
How can you book a cheap red eye flight?
Eager to book red eye airline tickets?
Note that these are not typically labeled 'red eye' on airline websites. You can search for late outbound flights and then note the destination arrival time. A '+1' indicates the flight arrives on the following day. Mind that a flight is considered 'red-eye' only if it arrives before business hours.
Hope you feel well-prepared for new adventures!
Good luck, fellow travellers!
---
---
---