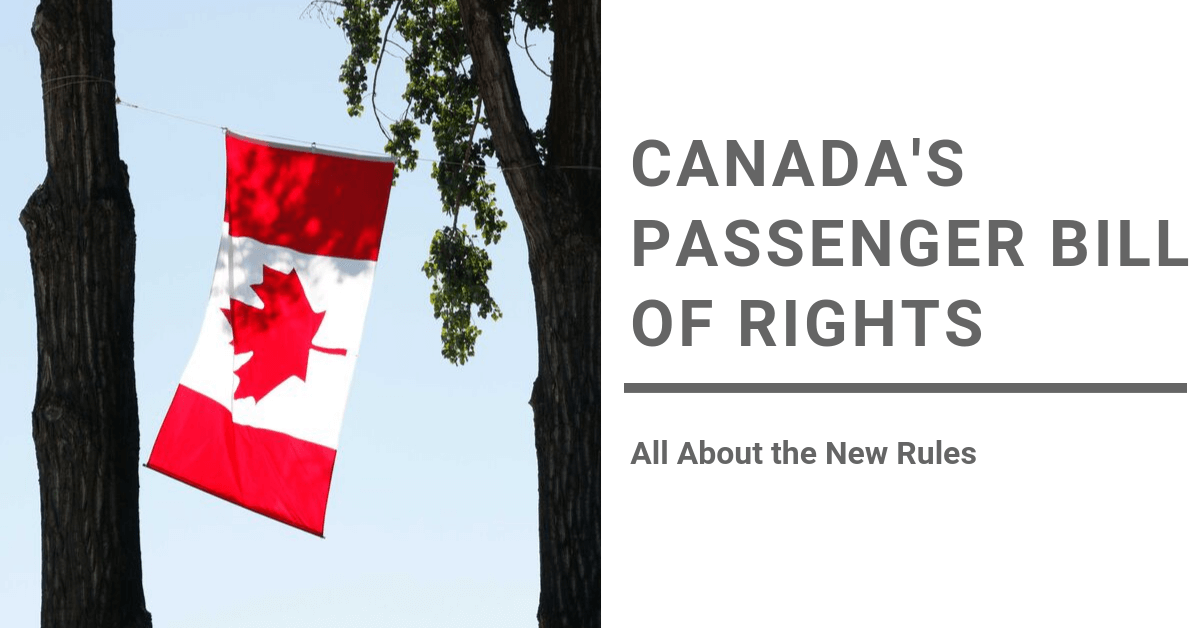 A new set of common rules promises generous compensation to air passengers in Canada. The recently passed Passenger Bill of Rights defines the basic entitlements of air passengers in Canada and offers protection in case of flight disruptions.
---
We help you get compensation for
delayed and cancelled flights

in the last

3 years.
Check your flight now. Get up to
€ 600

per passenger.
---
What made the new Bill of rights necessary?
Canadian Automobile Association (CAA) - passenger advocate in the country - has been calling for the passing of a unified and clear set of standards of treatment for air travellers for years. According to its data, airline passengers in the country were mainly unhappy with:
involuntary bumping

- passengers were denied boarding due to overbooking of flights,

lost or damaged baggage

,

cancelled flights

.
CAA also claimed that the process of filing complaints with the Canadian Transportation Agency (CTA) was unnecessarily complex and cumbersome. Canada needed new clear and comprehensible air passenger protection regulations in sync with the rules applied in Europe (EC261) and the USA.
The solution: The Passenger Bill of Rights
The new set of rules was recently  publicly announced by local transportation minister Marc Garneau and was prominently featured in global news. The Bill covers all flights to, from and within Canada. It addresses issues like communication, compensation for delays and cancellations, passenger rights in case of bumping and tarmac delays. The new regulation also sets standards for the transportation of musical instruments, lost and damaged luggage, as well as the seating children under the age of 14.
Two-phase implementation
The implementation of the new air travel standards is planned to go in two phases. The first one is already in place (since July 15) and the second is to come into effect on December 15. 
The two-phase implementation was meant to give airlines time to comply with the new regulations. After some consultations, air carriers stated that delay/ cancellation rules would be more challenging to implement so this part of the bill was left for Phase 2 (Dec 15).
Small vs Large airlines
Under the new Bill smaller airlines, like Swoop and Porter Airlines,  will be required to pay less compensation for flight delays or cancellations. On the other hand, air carriers that have serviced over 2 million passengers in the last 2 years are considered large airlines and will follow slightly different rules. This means that if you have booked with Air Canada or WestJet, you will be eligible for a higher compensation.
---
Phase 1: Rules in effect since July 15, 2019
The first part of the Bill sets standards of treatment related to communication, tarmac delays and overbooking. It also covers lost or damaged luggage and the transportation of musical instruments.
Communication
Many passengers are familiar with the frustration a flight delay may cause. Having no information as to what is happening only adds some extra anxiety to it. This is the first issue the new regulations address.
Whenever a flight disruption occurs, airlines are now required to inform their passengers in a clear and timely manner.  The information has to be provided via:
An audible announcement

A visible announcement

The communication method chosen by the passenger (email, SMS, etc.)
Air carriers are also required to present in simple and clear language their terms and conditions concerning:
flight delays and cancellations,

denied boarding,

lost/damaged baggage,

seating arrangements for children under 14.
This data has to be provided electronically and on all travel documents that the passenger receives from the air carrier.
Tarmac delays
In case you have boarded your plane but it does not take off on time and you are forced to spend long hours in the cabin, you are entitled to:
Proper ventilation and cooling or heating (if it is winter),

Access to toilets,

Food and drink for the time of your waiting,

communication, free of charge, if feasible, so that you can make the necessary arrangements and communicate with people outside the plane.
After the plane has spent 3 hours on the tarmac, the pilot will have to take it back to the gate and allow all passengers to disembark.
The only exception to this rule is when the plane is likely to take off in the next 45 minutes. In this case the pilot will be allowed to stay on tarmac for the necessary time to prevent any further delays or cancellation. The goal is to minimise the inconvenience caused to travellers.
The above standards of treatment (ventilation, food and drink, etc.)  will have to be provided for this extended period of time too!
---
We help you get compensation for
delayed and cancelled flights

in the last

3 years.
Check your flight now. Get up to
€ 600

per passenger.
---
Denied boarding
Bumping or denied boarding occurs when the number of passengers who have purchased tickets and have checked in for a certain flight is greater than the number of seats available on the plane. This may result from overbooking (airlines may sell too many tickets to maximise capacity) or downgrading to a smaller plane (for example due to a mechanical issue revealed during the pre-flight scheduled maintenance).
In such a case, the Bill requires the airlines to try and find volunteers before kicking someone off the plane. Volunteers are entitled to some benefits for giving up their seat and must receive this in writing when discussing an agreement with the airline staff.
Under the new regulations, in case of overbooking, passengers who get involuntarily bumped from their flight are eligible for compensation. If the reason for the denied boarding is deemed within the airline's control, the carrier has to offer a replacement flight and pay a compensation for the inconvenience caused!
The amount you are eligible for depends on the length of the delay, which is calculated at arrival at your final destination.
If you arrive less than 6 hours after originally scheduled, your compensation is set at minimum

$

900,

if your delay is between 6 and 9 hours - the minimum compensation is

$

1800,

For delays exceeding 9 hours, the minimum compensation is $2400.
| | |
| --- | --- |
| Length of delay at arrival | Amount (CAD) |
| 0 - 6 hours | $900 |
| 6 - 9 hours | $1800 |
| More than 9 hours | $2400 |
Lost or damaged baggage
The Montreal Convention (to which Canada is a party) determines an airline's liability in case of luggage lost or damaged during international flights at approximately $2100. Under the new Bill carriers will be liable for the same amount for baggage loss or damage on all domestic flights too.
If you find out upon arrival that your bags have been damaged, you have 7 days to file your complaint with the airline. Claims for potentially lost luggage must be submitted within 21 days after the day of originally expected arrival.
In addition to the compensation for damaged or lost luggage, passengers can also claim back any baggage fees they have paid.
Transportation of musical instruments
The new Passenger Bill of Rights requires all airlines to include a special section in their terms and conditions, regarding the transportation of musical instruments as checked or carry-on baggage. The Terms sections will have to define fees, weight and size restrictions as well as cabin storage options.
Air carriers will not be allowed to simply adopt a policy that does not allow the transportation of musical instrument, under the new Bill.
---
Phase 2: in effect after December 15, 2019
The clauses related to the protection of passengers' rights in cases of flight delays and cancellations are part of the second phase of implementation of the new Bill in Canada.
Although these rules come into effect later, they will be applicable for the 2019 Christmas holiday season when international airports are traditionally packed with travellers. Winter weather conditions and the increased air traffic are often the perfect conditions for flight delays and cancellations.
Following December 15, 2019 all passengers flying to, from or within Canada can feel confident their rights are protected. Under the new Bill they will be eligible for compensation in case of flight disruptions that are deemed to fall within the control of the air carrier. The compensation amount will again depend on the length of the delay and the size of the airline.
Flight disruptions and compensation
Communication
Whenever a flight delay occurs, passengers will have to be notified as soon as possible. Airlines will have to provide information as to why the flight was delayed, as well as updates, every 30 minutes, regarding the flight status (when their plane is expected to depart).
Apart from the regular status updates, the Bill requires air carriers to provide to all passengers information regarding their rights to rerouting, refund and compensation in case of a flight disruption. Travellers will also have to be clearly informed of their rights to file a complaint with the CTA.
Eligibility for compensation
Air carriers will have to pay passengers compensation for flight delays and cancellations that lie within their control and are not related to safety reasons.This means that if the airline was responsible for the delay, it will have to:
Ensure that your itinerary is completed by booking you on a replacement flight on the same class of service, and

 Compensate you for the inconvenience.
Possible scenarios that make you eligible? Overbooking is a typical example of a situation deemed within the control of the airline, scheduled maintenance is another.
On the other hand, weather conditions, political or civil unrest or a security threat do not lie within the responsibility of the airline. In these cases air carriers are freed from the obligation to pay compensation. However, they still have to make sure that you reach your destination as soon as possible.
Minimum levels of compensation
Compensation for flight delays depends on the length of the delay at arrival at your final destination.
In case you arrive

3 to 6 hours

after originally scheduled and you are flying with a large airline (like Air Canada, for example), the air carrier will have to pay you $400. Small airlines (like Swoop, for instance) will owe inconvenienced passengers $125.

For delays at arrival ranging

between 6 and 9 hours

, the minimum level of compensation owed by large airlines is set at $700, whereas the amount for small airlines is $250.

Passengers that have experienced a delay

exceeding 9 hours

will be eligible for $1000 if flying with a large airline or $500 with a small carrier.
| | | |
| --- | --- | --- |
| Length of delay at arrival | Large airline compensation (CAD) | Small airline compensation (CAD) |
| 3 - 6 hours | $400 | $125 |
| 6 - 9 hours | $700 | $250 |
| More than 9 hours | $1000 | $500 |
Claiming procedure:
Passengers have 1 year to file their claim. Upon receiving the claim, the airline is required to respond in the next 30 days. Within this time limit the carrier will either have to pay the required compensation or reject your claim and offer justification for its decision.
A common practice among airlines is to offer vouchers and flight rebates as benefits to inconvenienced travellers. The new Bill however requires air carriers to offer their compensation in monetary form. Passengers will have the right to choose whichever option they prefer.
Standards of treatment
Under the new common set of rules, once a delay exceeds 2 hours, airlines will have to offer their passengers food and drink, as well as free means of communication (for example, wi-fi).
If you are forced to spend the night at the airport, the airline will also have to cover your accommodation expenses as well as the transportation to your accommodation.
In case a delay has made the trip useless to the passenger, the airline will have to both refund the ticket and pay compensation to the traveller.
Seating of children
Under the new Bill, airlines will have to make sure they seat children close to their parents free of charge.
Children under 5 years will have to be seated next to their parent or guardian at no extra cost.
Kids aged 5 to 11 will have to be seated in the same row, no more than a seat away.
Children aged 12-13 will have to be seated no more than a row away from their parent, guardian or tutor.
Enforcement
A number of air carriers, including Air Canada, Porter Airlines, and the International Air Transport Association protested against the new Bill, claiming it violates international standards. However the Bill has been passed and enforcement mechanisms have been set in place too. Airlines that do not adhere to the new rules will be charged by the CTA with fines reaching $2100 per incident.
Air carriers still have time to adopt the necessary policies before the holiday season and get in sync with the new Bill.
Meanwhile, all travellers that head to Canada can feel more confident that their rights will be protected.
---
---