No delays, no cancellations. You have survived the long lines, the scrutiny of the security screening, the burdensome boarding, and the terrifying take off. You are finally passing a pleasant time and looking forward to disembarking at your destination.
And then you get the worst news of all! The dreaded D-word: diversion. The pilot is redirecting the plane to an alternate airport.
What are your rights in case of a diversion? Can you claim compensation for a diverted flight?
---
We help you get compensation for
delayed and cancelled flights

in the last

3 years.
Check your flight now. Get up to
€ 600

per passenger.
---
What is a diverted flight?
If things go wrong mid-air, the pilot may choose to divert the plane to the nearest convenient airport. In case of a flight diversion, the pilots have one main goal: to safely get to an airport, deal with the problem and then fly back to the intended destination as quickly as possible.
What are the typical causes for a flight diversion?
Flights diversions are unexpected and typically occur when the weather at or around your destination is bad and the plane cannot land as planned. The second diversion scenario: there is a sudden mechanical malfunction and it is not safe to continue flying. A third typical reason would be a medical emergency on board that forces the pilot to look for the closest airport with a suitable medical facility.
How is a diverted flight different from an emergency landing?
Although it may seem a matter of terminology, the difference between the two is very important in aviation. So important that a popular newspaper even had to print a correction of a story it had published.
Emergency landing occurs when the cabin is in danger and the plane has to get to the ground as soon as possible. An example would be an uncontained engine failure that leads to damage to fuselage and windows by debris. This poses a serious threat to all passengers on board and the pilot has to take emergency action.
On the other hand, a flight is diverted as a precaution, there is no danger posed! The pilot chooses to redirect the plane so that the problem gets addressed and then the flight can be resumed to its original destination.
---
Can I claim compensation if my flight is diverted?
The only good news about a flight disruption is that you may be eligible for up to €600 compensation under EU Regulation 261/2004. The European Union legislation also known as EC261 covers flight cancellations, delays (also caused by a flight diversion) and denied boarding.
When can you claim compensation?
Under EU Regulation 261/2004 you are entitled to compensation if:
Your flight was delayed by more than 3 hours

Your flight departed from the EU
or
Your flight arrived at an EU airport and was operated by a European airline

There were no extraordinary circumstances
Note that flight delay compensation is payable if your delay exceeds 3 hours at arrival. 
If the pilot manages to make up for the delay during the flight, the diverted compensation criteria would be met when your reach your final destination more than 3 hours behind the original schedule.
You can easily use our free compensation calculator to check if you are eligible. Simply enter your flight details in the form and leave the rest to us.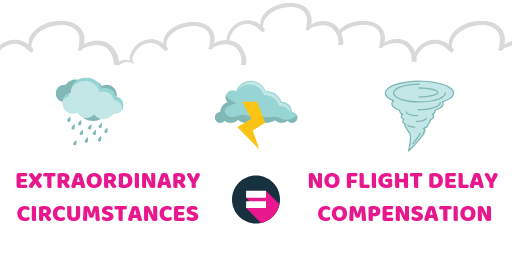 Note that the airline is freed from the obligation to pay compensation if the flight disruption was caused by extraordinary circumstances. These typically include inclement weather, bird strikes or Air Traffic Control (ATC) restrictions (say, runway closures).
How much can you claim?
Under EC261, the amount of compensation is determined in relation to the distance of your flight.
If your flight was shorter than 1500 km, you could recieve €250 in compensation

For flights between 1500 km and 3500 km the amount rises to  €400

For long-haul flights exceeding 3500 km, you may be eligible for as much as €600.
How far back can you claim?
Regulation EU 261/2004 does not specify a time frame for submitting your claim applicable to all European countries. The rules depend on the country of origin of your airline. For Belgium and Poland, for example, you have 1 year to file your claim. Meanwhile, the time limit in France and Spain is 5 years and in Luxemburg - 10 years.
Can you claim compensation for a missed connection?
Yes, you can. If a flight diversion or delay causes you to miss your connecting flight and the airline is responsible for the delay, you are eligible for compensation. Remember that the delay is calculated at the time of arrival. So if a flight disruption caused you to reach your destination more than 3 hours after the original schedule and there were no extraordinary circumstances, file your claim!
EC 261: the right to care and accommodation
If a flight delay causes you to spend a long time waiting at the airport, you are entitled to meals and refreshments. You also have the right to 2 free telephone calls, emails or faxes. Airlines typically provide their passengers with vouchers in this case. However, if you do not get one, feel free to buy what you need and simply keep the receipts.
In case you are forced to spend the night at the airport due to a long delay, you are also entitled to accommodation. The air carrier is obliged to cover both your hotel expenses and the transportation costs between the hotel and the airport.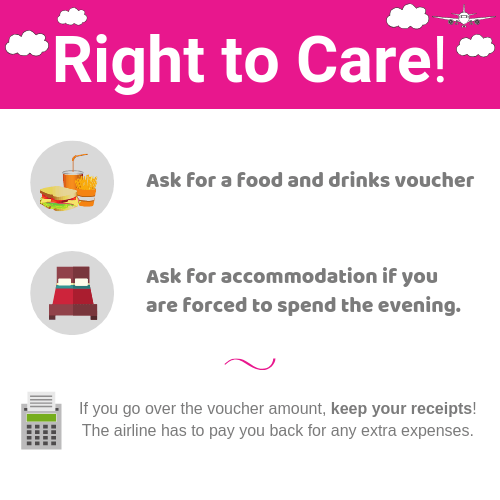 What happens when your flight gets diverted?
 A flight diversion typically follows an established procedure.
The pilot contacts the dispatchers to explain what the problem is.

Dispatchers check and offer possible alternative airports in the vicinity where the plane may land temporarily

Based on fuel readings, the pilot chooses an airport and confirms with the dispatchers

The dispatchers contact the airport so that the necessary preparations can be made for the landing of the diverted flight

The pilot prepares the plane and contacts the flight attendants

The flight attendants inform the passengers and prepare the cabin for arrival

Once at the new airport, the problem is solved, and the plane is refueled. Then dispatchers file new flight plans to give the pilot clearance to fly to the original destination
---
We help you get compensation for
delayed and cancelled flights

in the last

3 years.
Check your flight now. Get up to
€ 600

per passenger.
---
When can we experience a flight diversion?

 
Planes get diverted mainly due to several reasons and your eligibility for compensation depends on them.
Diversions caused by bad weather
Inclement weather conditions at or around your destination may cause the pilot to look for an alternative airport to land the plane. 
If there is ice, snow or hail on the runway, ATC may choose to limit the number of flights landing or departing from a certain airport. In this case, usually planes sit in a holding pattern and pilots have to wait for permission to land. Yet meanwhile, the plane is using up fuel. If the weather is prohibitive or the plane is about to run out of fuel, the pilot may be forced to reroute the plane to a convenient airport nearby.
Bad weather diversions and compensation
Not long ago, heavy rain around Mumbai cost the lives of 18 people. Airports were flooded, 52 flights were cancelled and 55 diverted.
Among the diverted planes was a Delhi to Mumbai flight redirected to Nagpur with a local celebrity on board. The reason for the diversion was that a plane had skidded and overshot the runway. Authorities announced it would be 48 hours till the runway got restored and this lead to the numerous cancellations and diversions.
As prohibitive weather and ATC restrictions fall within extraordinary circumstances, airlines owe no compensation in this case.
Advice
Note that heavy rain is not always unpredictable. Singapore, for example, gets 2-4 monsoon surges a year. Airlines know this and usually prepare in advance. However, what you can do is plan your journey with the weather in mind.
Flight diverted due to onboard medical emergency.
We've all seen it in movies. A passenger on a plane suddenly feels unwell and flight attendants start looking for a medically-trained passenger on board. A heart attack, a stroke or another life threatening health issue may occur anytime anywhere, even on a plane. In such unfortunate circumstances, the pilot may choose to divert the flight so that the person can be offered adequate care.
Sometimes, a diversion may be prudent even when the plane is close to its destination. If the arrival place is remote and it has little or no medical support capability, the pilot may have to divert the plane to a suitable location.
Hospitals and on-call services have contracts with airlines to provide medical advice 24/7. So the pilot and dispatchers consults them and decides on a diversion airport with adequate medical facilities.
In July 2019 an Air Canada flight made the news as a Vancouver-Sydney flight was diverted to Hawaii. The reason was that a severe turbulence left 35 passengers with minor injuries.
Medical personnel was waiting on standby to examine the passengers on arrival in Honolulu. Travellers were then taken to hospital. Safety comes first!
Flight diversions related to mechanical malfunctions.
Another film script favourite: travellers are enjoying their flight and suddenly the pilot makes an announcement. One of the engines has stopped working. With everyone's safety in mind, the pilot decides to redirect the plane to the nearest convenient airport.
Unlike emergency landing, flight diversions occur when there are flight safety concerns. For example, a drop in cabin pressure, strong engine vibration. These require the expertise of aircraft technicians or engineers. So after the diverted plane lands at the alternate airport, passengers are placed on a replacement aircraft and can resume their journey.
Technical issues diversions and compensation
Mind that technical issues are not usually considered extraordinary circumstances. Routine maintenance lies within the responsibility of the air carrier. Therefore, if your flight gets diverted due to mechanical malfunction, you could be eligible for compensation.
Flight diverted due to an unruly passenger.
In this stressful day and age, conflicts may happen anytime, anywhere. A flying plane makes a conflict scarier, as it gathers a huge number of diverse people together in a small closed space.
Does this remind you of Agatha Christie's locked room mysteries? A lover's quarrel, a drunk passenger or a panic attack may well be a reason for the pilot to choose to land the plane as quickly as possible. After all he is responsible for the safety of all passengers onboard.
Unruly passengers and fines
Data shows that there are about 400 reports of unruly passengers a year. A flight diversion costs between £10,000 and £80,000. So disruptive passengers who cause a flight diversion may be severely punished. Sanctions vary from refused boarding, to financial penalties and even a jail sentence.
Unruly passengers and compensation
Here's a curious news story. An EL AL flight from New York to Israel was recently forced to divert to Athens amid passenger unrest. The plane took off 5 hours behind schedule due to bad weather, in spite of passengers' protests.
Eventually, the pilot was forced to stop in Athens so that passengers could observe Shabbat. Part of the passengers disembarked and spent Saturday in a hotel close to the Athens airport.
Later, 53 passengers filed a lawsuit seeking almost $14,000 in damages for each of the passengers who had disembarked the plane. In the meantime, the airline compensated all 400 passengers. They all got a free round-trip ticket to an EU destination of their choice.
Flight diverted due to a security threat. 
Especially, after 9/11 safety and security are very sensitive topics on planes. We all get screened very carefully and in spite of (or perhaps because of) all the precautions, we are quite wary and jumpy. If there is a credible threat however, the pilots have to divert the plane to guarantee everyone's safety.
A JetBlue flight to the Dominican Republic recently made the news as it was diverted to JFK. The reason for the rerouting was an unusual odour and passengers feeling sick. Once at JFK, the plane was checked and the flight was allowed to continue to its destination on a different aircraft.
Safety and security threats happen rarely although they most certainly make the news.
Whatever the reason for the flight rerouting, remember that pilots, dispatchers, flight attendants and air-traffic controllers train regularly to handle all kinds of diversions. All the training and resources enable pilots to make diversions as smooth as possible. In spite of the inconvenience, try to keep in mind that all teams are doing their best to safely get you to your destination as quickly as possible.
---

Flight diversions and disruptions in general are never pleasant. Yet you can still minimise the chance of experiencing a diversion or handle it calmly. Here is some advice!
Consider flying earlier
You can plan ahead to allow for enough time to get to your destination even if a delay or diversion occurs. It is always good to check and compare ticket prices in advance but in some cases arriving on time should be your top priority. Even if you have to pay a bit extra. Especially if you are travelling for an important event: a business meeting or interview, a family celebration or a cruise ship departure.
Get a direct flight
If possible, try to avoid connecting flights. If the first leg of your journey is delayed, you may even miss your connecting flight. Apart from the inconvenience, this means you may have to face new issues. You will have to look for a suitable replacement flight and find out what happened with your luggage.
The best way to avoid such trouble is to book a direct flight if one is available.
Charge your phone. Get the app.
It is always a good idea to have the airline contact information so that you can contact Customer Service in case of a disruption. You may need your phone, so charge it and, if possible, take a portable cell phone power bank. A mobile is also useful to keep your family or the ones expecting you informed about the disruption.
If you download the airline app, you can get real-time updates and learn first-hand about the changes in the situation.
Pack necessities in your carry-on.
Although you cannot avert a flight disruption, you can be at least prepared for it. If you are on a long flight, it is always a good idea to be prepared for an unexpected overnight stay. All you need to do is pack some essentials in your carry-on luggage.
And don't forget that if you unexpectedly have to spend the night at the airport, the airline will have to cover the expenses.
Keep calm and know your rights.
No traveller is immune to flight disruptions. So although a diversion is perhaps not a good start to your holiday, try to keep calm. And don't forget that a team of well-trained professionals are doing their best to handle the situation.
Also, remember that you may even be compensated for your troubles under EC261.
Note that some flights are not covered by EU Regulation 261/2004 - for example US domestic flights or US-operated flights to Europe. In this case, you should read the airline's Contract of Carriage carefully and negotiate with the air carrier directly. This is why it is a good idea to keep your phone charged and the contact info of your air carrier's Customer Service handy.
---

If you have experienced a flight disruption and believe you are entitled to compensation, we are here to help you! Asserting your rights and receiving your compensation may be just a few clicks away!
All you have to do is enter your flight details in our free compensation calculator and submit the form. Our team of experts will take care of all of the administrative hassle and all the necessary legal steps. We are even ready to take your case to court to protect your air passenger's rights and help you receive your rightful compensation.
And since we work according to a No win, No fee principle, you don't have to pay anything in advance. We would only receive our fee after we have successfully claimed your flight compensation. 
---
---