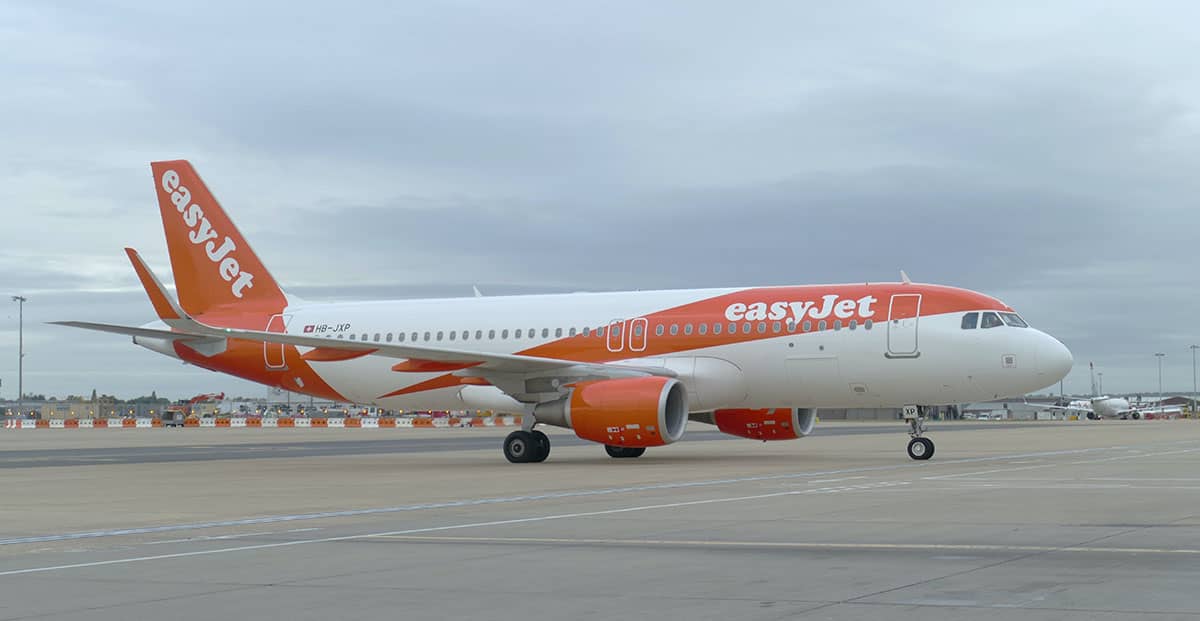 (Photo by Call Me Fred on Unsplash)
Have you booked with easyJet a holiday or business trip but now you have to cancel? Are you aware of your options and rights in this case?
In this article, you will learn all you need to know about easyJet cancellation policy. That way, you will be prepared for all kinds of situations in which your flight has to be cancelled by you or the air carrier.
We always aim to provide useful information to our clients. SkyRefund is a leader in protecting passenger rights.
Have you experienced any problems with your flights in the last 3 years, such as delay, cancellation, denied boarding, overbooking or downgrading? You could be eligible for compensation - check your flight now.
Now, we will answer all of your questions about cancelling EasyJet flights.
---
We help you get compensation for
delayed and cancelled flights

in the last

3 years.
Check your flight now. Get up to
€ 600

per passenger.
---
Can I cancel an easyJet flight and get a refund?
Can you get your money back if you cancel your flight with easyJet? That depends on several conditions. Here is what easyJet cancellation policy states:
If you cancel within 24 hours of booking, you will receive a full refund minus the Cancellation Fee. According to

Fees and Charges

, the cancellation fee is £49 if you cancel online, and £55 if you use the Customer Services Team.

If you decide to cancel more than 24 hours after booking, you lose the right to a refund.

In this case, you might want to change your flight instead. Flight changes more than 14 days before the scheduled departure time are free when done online (via the website or the mobile app), and £5 if you contact the Customer Services Team. The fee applies per passenger per flight.

If you make changes to your flight 14 days or less before departure, the fees are £49/£55 respectively.

Note that for changes online or by phone, you will be charged in the same currency as your original booking. If you make changes to it at the airport, you will be charged in the local currency.


If you need to cancel due to a serious illness or close family bereavement, you will need special assistance and should contact easyJet's Customer Services Team as soon as possible. After they review your case, they might offer you a fee waiver or flight voucher towards the value of a subsequent flight, which you can use within 6 months. Please note that you might be asked to provide proof of your special circumstances.

If you cancel, miss or do not take a flight, the other flights on your booking won't be affected. You can contact the Customer Services Team and claim a full refund of Government Tax for the flight(s) you did not take.
What happens when my easyJet flight gets cancelled?
EasyJet might sometimes need to change their scheduled flight times or cancel, divert or delay certain flights for safety, operational or other reasons.
If the air carrier cancels or changes your flight, it is obliged to contact you as soon as possible. However, if you booked through a third party (e.g. a travel agent), they might be responsible for contacting you.
If your flight is cancelled, according to easyJet cancellation policy, you can either:
transfer to another available easyJet flight to the same (or a nearby) destination for free, or

get a full refund.
Depending on the circumstances of the cancellation or delay, you may also be entitled to overnight accommodation when necessary and/or compensation under Regulation (EC) No 261/2004. Learn more about your flight cancellation compensation here.
If you would like to check the status of your flight, you can do so with easyJet's flight tracker, either on desktop or via their app.
---
EasyJet Cancellation Policy FAQ
Q: How much does it cost to cancel an easyJet flight?
A: Currently, it costs £49 to cancel online (which should be a smooth enough experience on easyjet.com), and £55 through the call centre.
---
Q: Are easyJet flights refundable?
A: If you cancel your flight within 24 hours of booking it, you will receive a full refund minus the Cancellation Fee. If you surpass this time period, you will not receive a refund.
---
Q: How do I cancel an easyJet flight?
A: If you want to cancel your booking, go to the "Manage bookings" section on the website and use your surname and booking reference to log in. You can find these details in your booking confirmation email.
Select the flight reservation you want to cancel and click on "Cancel". If you need to pay a cancellation fee, enter your card payment details.
Alternatively, you could choose to call their Customer Service desk but note that your cancellation fee will be higher that way.
You can also cancel flights when you arrive at the airport - at an easyJet Help Desk at most airports - but only under 2 hours before take-off.
---
Q: Will I get a refund if my easyJet flight is cancelled due to a Coronavirus travel ban?
A: Yes, you will be fully refunded in this case. However, if your flight isn't cancelled but you decide not to take it because of personal safety concerns, you won't receive your money back.
On the other hand, if you have travel insurance that includes "cancel for any reason" coverage, you will be able to cancel and get some reimbursement, regardless of the reason.
---
Now you know what the easyJet cancellation policy is. However, it is always recommended to carefully read on their site what you are agreeing to in the official Terms and Conditions.
Meanwhile, have you had any delayed or cancelled flights in the past 3 years? Please check your flight delay compensation. We will help you claim it.
Continue to use our site for more useful information about your flights and air passenger rights.
---
---