KLM Flight Delay Compensation

and Cancellation Compensation



In 2016, KLM was awarded FlightStats's Most Punctual Airline. However, flight delays and cancellations can occur even on KLM services. If you have recently experienced a delay or cancellation of a KLM flight, you may be entitled to compensation of up to €600 as per EU Regulation 261/04.
Here, you will learn how to claim a KLM flight compensation, what your passenger rights are, as well as some more information about the airline.
How to claim KLM flight delay compensation?
SkyRefund will help you receive your KLM flight delay compensation. To check your flight, you only need to enter your flight's details in our calculator. It will immediately determine if you are eligible for compensation. If so, SkyRefund's legal experts will take your case to KLM and even to court if necessary to help you receive what is legally yours.
We work on a "No Win-No Fee" basis so if you don't receive your compensation, you would not owe us anything. We will only receive our fee (35% of the value of the compensation amount) if we are successful in winning your KLM flight delay compensation for you.
You can always submit your claim directly with the airline. However, we don't recommend this because it could prolong the whole tedious process and you could even end up with no reimbursement.
The easiest, quickest and stress-free option is to leave everything to us - we will fight on your behalf.
---
There's only one

good thing

about a delay
You can get up to €600 in compensation



---
KLM EU Flight Delay Compensation: How much compensation can you claim?
Depending on the length of your journey and the duration of your flight delay, the size of your KLM flight delay compensation is determined as follows:
| | | |
| --- | --- | --- |
| € 250 | € 400 | € 600 |
| Less than 1500 km | Between 1500 & 3500 km | More than 3500 km |

When can you claim compensation?
According to your passenger rights, you can claim compensation for a KLM flight in any of the following circumstances:
Your

KLM flight was delayed

and arrived at its final destination more than 3h behind schedule.

Your

flight was cancelled

and you were notified of the

KLM flight cancellation

less than 14 days before the original flight date.
You missed your connecting flight because of a prior KLM flight delay or cancellation.
KLM Delay - Compensation Rules
To claim flight delay compensation, your flight needs to satisfy three important conditions:
You departed from an airport in the European Union or flew with an EU airline
You arrived more than 3 hours late
Your flight was not delayed due to bad weather, an airport strike or any other case of extraordinary circumstances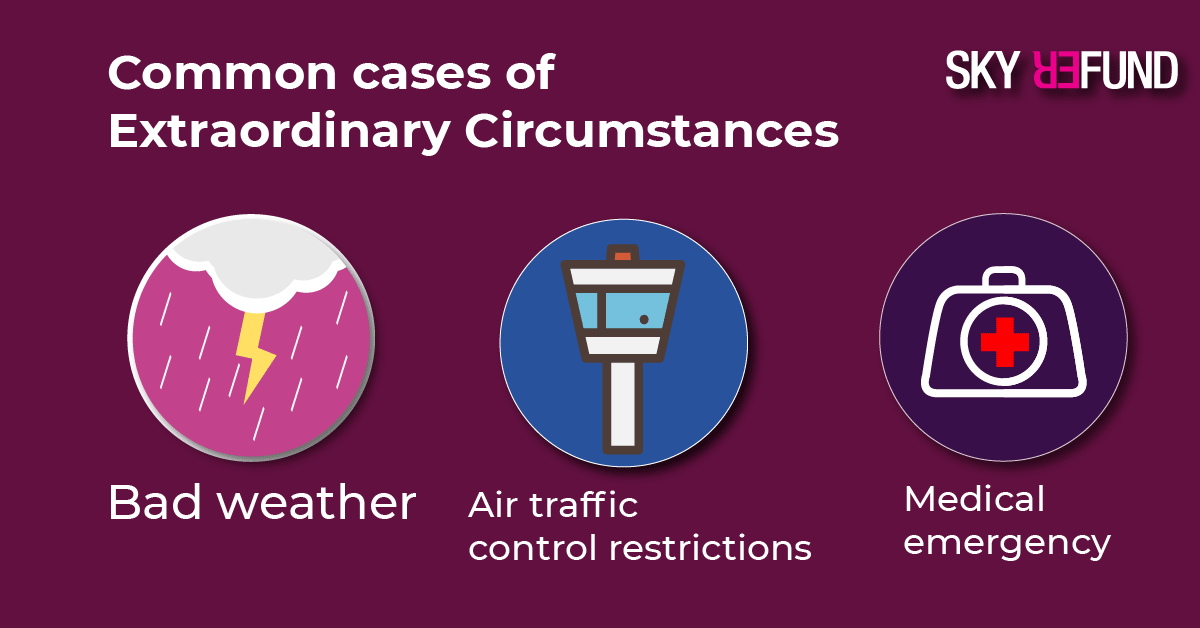 Extraordinary circumstances are said to have occurred when a delay is caused by events which the airline is unable to prevent. For example, KLM would not be able to prevent any delays that arise as a result of low visibility. This is also the case when air traffic control issues no-fly instructions.
In these cases, the responsibility for the delay would not lie with the airline. It would be unreasonable to expect the carrier to pay compensation if the delay was outside of their capabilities to prevent.
The most common causes of extraordinary circumstances include:
bad weather conditions
airport personnel strikes
union strikes
bird strikes
runway closures
control tower restrictions
Technical issues and wildcat strikes, however, do not qualify as exceptional circumstances. It would be KLM's responsibility to prevent and fix any mechanical problems to their aircraft. For this reason, whenever a technical issue causes a delay to a KLM flight, passengers have the right to compensation.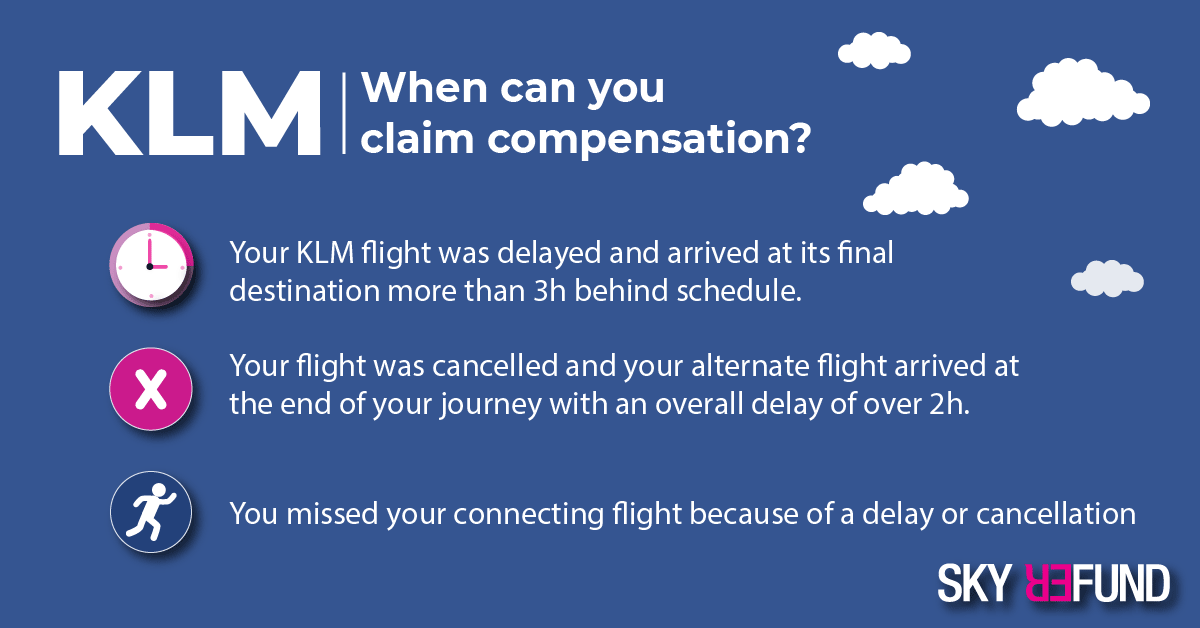 KLM Flight Cancellation Compensation
According to EU rules, you can claim compensation for a KLM cancelled flight if:
You were informed of your

KLM flight cancellation

less than 14 days prior to departure

.

Your alternate flight arrived at your final destination more than 4 hours behind schedule (when notice was given more than 7 days before the flight) or more than 2 hours late (when notice was given less than 7 days prior to the flight)
While this may sound a little complicated, most KLM flights would be cancelled shortly before departure. In this case, if your alternate flight arrives 2+ hours behind schedule, you can apply for KLM flight cancellation compensation.
Remember, if KLM cancels a flight, passengers would always be entitled either to:
an alternate flight (or one at a later date of your choosing, if seats are available), or

a flight cancellation refund of the ticket cost.
It does not make a difference if the KLM flight cancellation was due to extraordinary circumstances or not.
About Your Passenger Rights
KLM Missed Connection
According to EU Regulation 261, if you have missed a connecting flight due to a delay or cancellation, you could get a refund from KLM for the connecting flight. The conditions are almost identical to those for flight delays.
The only significant difference is that your flights need to be on the same booking. This makes KLM  responsible for your entire journey. With single flights, when the airline fails to take you to your destination of arrival with a delay of less than 3h, it has to pay compensation. The same applies when you are connecting flights and your tickets are on the same booking.
The easiest way to find out if your tickets are on the same reservation is to check if your booking confirmation number is the same for all of your flights.
Airlines, KLM included, often have very complex procedures for claiming compensation. This is why we recommend submitting your claim with SkyRefund. We will take care of all of the legal and technical work that is required so that you could receive your flight delay refund from KLM. With SkyRefund, the whole process is fast and smooth.
KLM Overbooked Flight Compensation
In addition to delays and cancellations, passengers can claim denied boarding compensation whenever they are involuntarily bumped off their KLM flights. Again, the size of the compensation is determined by the length of the flight.
If you were denied boarding to a flight shorter than 1500 km, you can claim €250 in overbooking compensation. This amount increases to €400 for flights between 1500 and 3500 km and to €600 if the flight is longer than 3500 km.
If you are denied boarding, voluntarily or not, KLM is required to offer you a full refund of your ticket cost or a replacement flight to your final destination. Your right to rerouting is unrelated to the compensation for the overbooked flight and you may claim both.
Right to Care
If a KLM flight was delayed or cancelled, according to your air passenger rights, the airline is responsible for covering all necessary expenses for the period of the passengers' wait for departure. In the case of KLM delay, this would encompass the period of the delay. If the flight was cancelled or delayed, passengers can receive care until their alternate flight departs. This includes food and beverages, as well as accommodation and transport when necessary - find out more about your rights.
Airlines often offer vouchers that you can use to purchase food and drinks at the airport. If you are not given one or you exceed its amount, you could get a refund for all additional expenses. Remember to keep your receipts - they are the only proof of purchase that KLM would accept before they reimburse you.
---

About KLM
KLM Royal Dutch Airlines was founded in 1919, which makes it the world's oldest air carrier in operation. By 1994, KLM was already serving more than ten million passengers each year. In 2003, the company underwent a successful merge with Air France to form the Air France-KLM group.
Today, KLM's main hub is located at Amsterdam Airport Schiphol (AMS). It served more than 32 million passengers in 2017, taking them to one of its 133 destinations in 70 countries.
---
KLM Rankings
Air carrier review website Skytrax has given KLM an average rating of 7/10. This rating reflects the company's commitment to providing a comfortable in-flight passenger experience. It also takes into account the value for money tradeoff and the quality of the KLM customer service.
KLM are known for their punctuality. Only 14% of KLM's flights experience a delay according to flight data website FlightStats. If you happen to experience such a problem, you might be entitled to KLM flight delay compensation. For cancelled flights, look for KLM flight cancellation compensation.