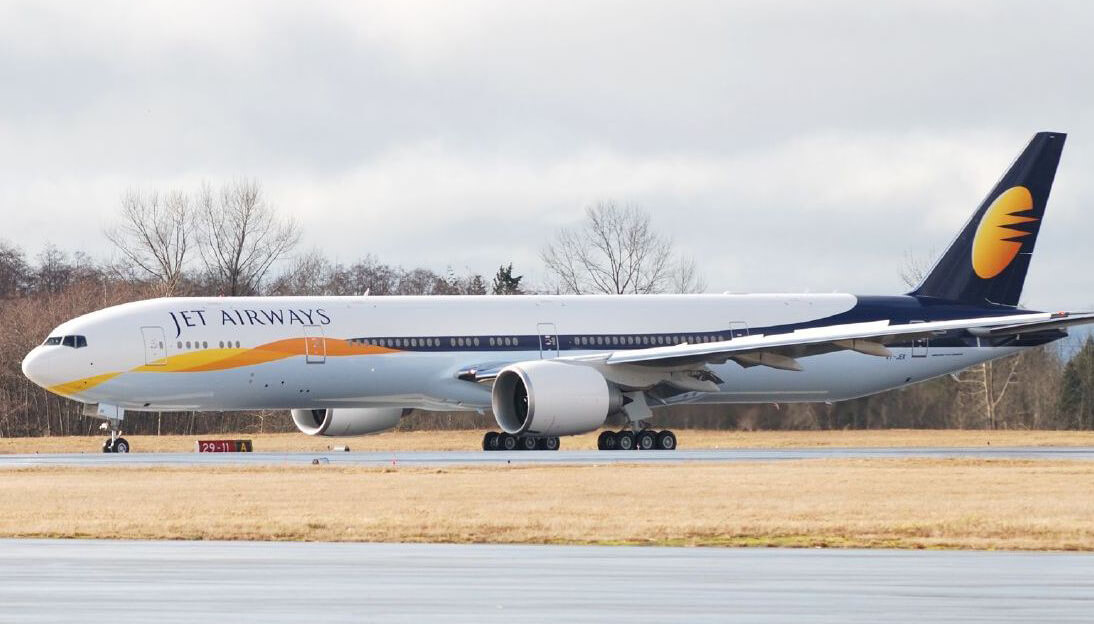 India's premium private-owned airline Jet Airways (India) Ltd. is undergoing insolvency proceedings. After 25 years on the now fastest growing domestic aviation market, the air carrier founded by Naresh Goyal stopped flying on April 17. On June 20, 2019 The National Company Law Tribunal (NCLT) admitted the insolvency petition filed by a consortium of lenders led by State Bank of India (SBI).
Recently, under the Corporate Insolvency Resolution process (CIRP), appointed Resolution Professional Ashish Chhawchharia has issued an invitation for Expression of Interest. Jet Airways is looking for last-minute prospective investors.
What happened? Why did a leading air carrier operating in a market projected to triple in the next 20 years go bust? Or how did the Joy of Flying turn into the agony of a dying airline?
---
Jet Airways' flight to glory
Rags to riches
It's 1967. Penniless young Naresh Goyal starts working in his uncle's travel agency. Seven years later he sets up his own travel bureau and calls it Jet Air.
In 1991 India starts a process of liberalisation, privatisation and globalisation. Daring entrepreneur Naresh Goyal is in a good position to start his own airline. After all, he has the necessary experience, connections and audacity.
In 2005, After an IPO of Jet Airways, Forbes declares him the 16th richest person in India. The magazine puts Naresh Goyal's net worth at $1.9 billion.
A success story
Jet Airways is set up in 1993. In 1995 it acquires the status of a scheduled airline. Very soon it has a market share of 20% and comes second only to state-owned flag-carrier Indian Airlines. In 2002-2004, thanks to its superior quality, the full-service airline reaches 44% of the domestic passenger market share.
In 2004 India introduces its 5/20 rule. Airlines with 5 years of experience and minimum 20 aircraft are allowed to operate international flights. In 2005 Jet Airways makes its first long-haul flight to London.
The beginning of the end
In 2007 Jet Airways profitability starts going down. A slow and painful process that leaves an air carrier once boasting a fleet of 120 aircraft with only 7 planes in April 2019.
Employees have not been paid for months. Operational creditors and lessors are looking to recover their dues. Lenders have decided to seek resolution under the Insolvency and Bankruptcy Code.
How did this happen?
---
Jet Airways' descent
In order to identify the reasons for Jet Airways' demise, first we need to understand how airlines work. We also need some background information about the Indian market between 2007 and today. And last but not least, we also have to look at the expansion plans of Jet Airways for the period in question.
How does an airline work and make a profit?
Airlines lease planes to cut costs. This lets them explore new routes at minimal additional costs too. It also allows them to return the aircraft once demand falls.

Fuel costs make up a considerable portion of overall airline costs. In India fuel accounts for 34% of the total costs of Indian carriers due to tax. A rise in fuel costs may prove fatal for a company that has not hedged prices. A fall in the national currency against the US dollar, naturally, has the same effect.

Air carriers operate at a fixed cost. This means that the cost of flying a plane on a certain route is the same, whether the plane is full or half-empty. This is the reason why airlines try to maximise capacity. However, nowadays capacity utilisation is much easier for low-cost carriers than to full-service airlines that have higher ticket prices.
How did the domestic aviation market in India change after 2000?
piceJet and IndiGo appear on the stage. The tow low-cost carriers (LCC) were established in 2005 and 2006. Today, Indigo is the largest airline in India. In June 2019 its share of the domestic market reached 48%.
Why are low cost airlines so successful?
To find out, let's look at the difference between a full-service and a low-cost airline.
A full-service air carrier, like Jet Airways, has a business class, provides in-flight meals and economy luggage allowance. Naturally, this comes with high ticket prices.
A low-cost, on the other hand, sticks to the bare minimum but offers lower ticket prices. The price difference for routes in India, serviced by Jet Airways and low-cost carriers, was in some cases considerable.
Here is some data to illustrate the success of low-cost carriers. The market share of LCCs in 2000 was 12%. In 2012 it grew to 59%. In 2019 it is about 76%.
So the full-service Jet Airways started losing market share. And it decided to make an attempt to establish its own low-cost brand.
Bad business decisions
In 2007 Jet Airways incurred debt to fund its expansion. It bought debt-ridden Air Sahara and rebranded it as its low-cost subsidiary JetLite. Unfortunately, the burden of the debt coincided with the 2008 Financial crisis. Demand fell and oil prices surged.
In 2013 Jet Airways started a fare war with low-cost carriers IndiGo and SpiceJet. The airline's market value dropped and the company started posting losses.  To make things worse, this was combined with high fuel prices and slow domestic growth.
In 2019 a consortium of 26 banks led by SBI approached NCLT to recover dues.
The state decided to help prepare a rescue plan to save over 22000 jobs. There were political reasons as well. Prime Minister Modi's pro-business image was threatened. He couldn't afford for a prominent company to go bust under his watch and leave so many people unemployed.
There were two options for Jet Airways:
An investment: Etihad Airways and Hinduja Group were announced as potential investors. They could buy a (larger) share in Jet Airways but would also have to take on its debt. However, the potential candidates wanted other investors to join in too. They also expected the banks to write off the loans. A very unlikely scenario.
Shutting down: In this scenario Jet Airways no longer operates as an air carrier. Its aircraft are to be sold. Its international landing slots are to be reassigned to other airlines. At least temporarily, until the company is miraculously revived in the eleventh hour.
Initially, Naresh Goyal refused to step down which dissuaded many potential investors to come to the rescue. In March 2019 the company founder (who held a 51% stake in the airline) and his wife finally withdrew from the board of directors. But it was too late.
In April Jet Airways made its final flight. Many passengers remained stranded at international airports. Public owned Air India offered rescue fares to help travellers with cancelled Jet Airways flights get home.
In June the insolvency procedure was started. Soon, the Economic Times reported that Jet Airways' shares had plunged 13%, hitting an all-time low.
---

Jet Airways bankruptcy proceedings and claims
It has been announced that the company has 3 (instead of the usual 6) months to complete the insolvency process as the matter is of national importance.
Jet Airways published Guidance to refund claimants on its website. The appointed Resolution Professional invited creditors to submit outstanding claims. Conditions of refund claims were defined as depending on:
The claimant's contract with their travel agent

The travel agent's contract with IATA

Whether the ticket was booked directly from the JA website via cash or credit card or through a JA ticket counter. 
Claimants were advised to consult their legal counsel when making an independent claim so as to avoid double filings for the same refund. In other words, the company wanted to avoid assessing/paying a refund twice - once per individual claims and a second time as per a claim submitted by a travel agency or a credit card company.
Claimants were subdivided into three categories: Employees, Ticket refund and Operational creditors.
In June, the Resolution Professional announced receiving claims totalling close to Rs 25000 crore. Claims were verified and some rejected, while others - approved. 
Currently, Jet Airways' debt is estimated to exceed 5 billion USD.
Can you claim cancelled Jet Airways flight compensation?
During the tough spring months between February and April, many companies offered assistance to travellers with cancelled JA flights. Under EC261 all flights to Europe entitle passengers to compensation reaching €600 in case of a disruption.
Unfortunately, you cannot claim any compensation for a cancelled flight today, as the airline cannot process claims. Unless it is revived. Which is rather unlikely at the moment.
---
Jet Airways Insolvency: The Aftermath
Jet Airways assets
Bidders wanted. What is left of Jet Airways at the moment is: 12 aircraft, landing slots at various international airports and the valuable Jet Privilege loyalty program.
In the aftermath of the crisis, the Indian Civil Aviation Minister announced Jet Airways had 209 slots vacated at 31 airports. These have been reallocated to other airlines temporarily. In case of a miraculous revival, the Jet Airways will have to provide a schedule for 2019/2020 flights by the end of September. Then the authorities would consider returning the slots to JA.
An especially valuable asset after the demise of Jet Airways is the Jet Privilege loyalty scheme which boasts 8.7 million members. It also includes 5 co-branded credit cards and 150 partners. This however is combined with a significant debt.
Possible suitors
There are hopes that the airline may still be saved if well-heeled suitors are found. The list of potential interested investors mentions Etihad Airways (UAE's second largest), the Indian conglomerate Hinduja Group and multinational conglomerate TATA Group, among others.
Competitors
Jet Airways' capacity on the domestic market seems to have already been replaced. IndiGo, SpiceJet and Vistara recently announced new international routes from Mumbari.
Most of these replace directly JA operated seats.
IndiGo is launching the most new routes. Yet these are of daily frequency which is probably a sign of slower demand. The low-cost carrier's profits soared in the June quarter and its share of the domestic market grew to a staggering 48%. Recently, IndiGo announced it wants to bid for some of JA's assets and its slots.
Vistara announced starting international operations in August. The company already has the required 20 aircraft fleet and has successfully gained international flying rights.
Public flag-carrier Air India and its budget unit Air India Express are also launching new international routes to Dubai, Singapore and the UK, among other destinations.
Officially, international routes are granted on a temporary basis. Jet Airways may win these back if saved.
Chances, however, are very slim as the previous search for investors proved unsuccessful.
---
---