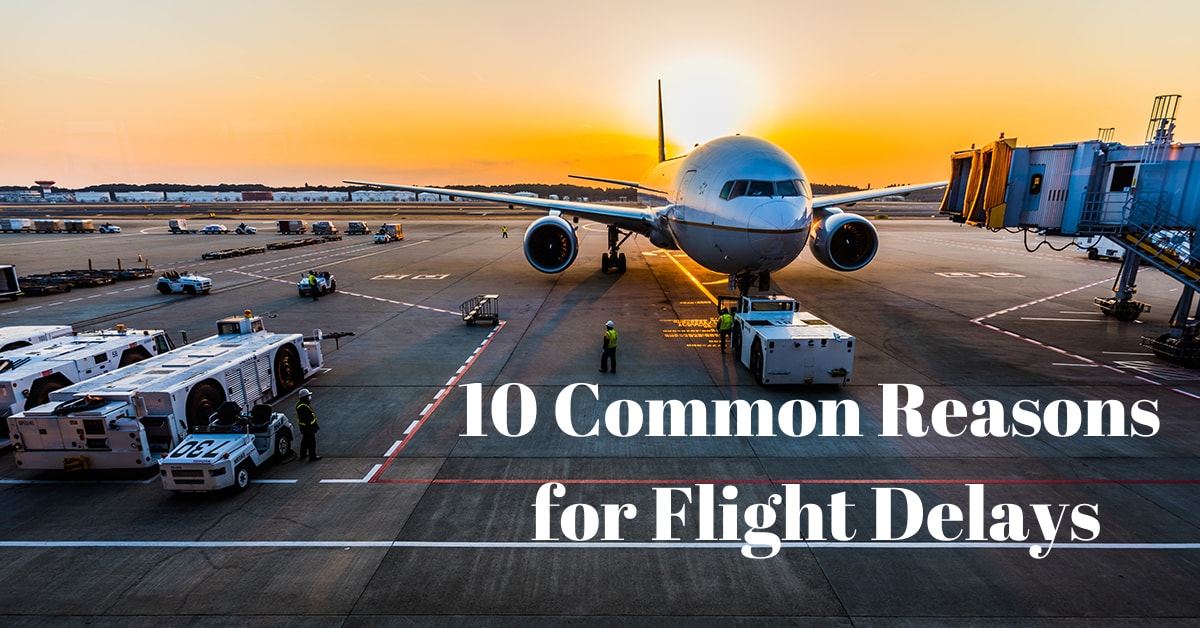 You have just seen the dreaded D-word next to your flight on the departures board: flight delayed.
The lounge is gradually swept by panic. Mr Necktie is pacing back and forth, gesturing frantically over the phone. Miss Yoga mat is weighing her options and Mr and Mrs Hawaiian-shirts are squeezing the Panama hats back into their luggage.
In the meantime, you are waiting, watching and wondering: Will I miss my connecting flight?
---
We help you get compensation for
delayed and cancelled flights

in the last

3 years.
Check your flight now. Get up to
€ 600

per passenger.
---
How common are flight delays?
We are used to airports running like clockwork - schedules, rules, screening, it's all numbers and tech, all measured and well-controlled. But if you stop for a minute to think about how complex flying really is, you'll be amazed that about 80% of flights actually depart on time.
Departing on time is such an impressive feat that Flightstats even have an annual award for On-Time Excellence. (The most punctual airline in Europe for 2018 is KLM with 85.04%).
Yet, many things can go wrong in the remaining 20%, which means that the reasons for flight delays are quite a few. The good news is that, depending on the cause, you may be entitled to compensation.
If you are ready for a short ride while you're waiting, let's review the basic causes for delays.
What are the main reasons for flight delays?
The US Bureau of Transportation Statistics classifies flight delays in several broad categories. According to its data:
about 40% of flight delays are caused by the late arrival of the aircraft (the familiar knock-on effect);

about 25% of disruptions are the result of a National Aviation System decision;

only 5% are caused by bad weather;

the final 30% of delays lie within the responsibility of the air carrier These should be your favourite as you may get flight compensation of up to 600 Euro under EC 261.
How can you claim compensation for a delayed flight?
EC 261 applies to all flights departing from the EU and flights arriving in Europe when they are operated by a European airline (say a British Airways flight NY-London). The amount of your compensation depends on the flight distance and the length of the delay.
SkyRefund lets you check your eligibility for flight delay compensation in less than a minute. Simply enter your flight details in our free compensation calculator.
SkyRefund's legal experts can help you claim your rightful compensation for your delayed flight No Win No Fee.
Note that passengers are entitled to compensation only if the cause for the long delay is within airline control. So let us start by reviewing these flight delay reasons.

Maintenance issues
Technical issues are unfortunately inevitable.
Pilots run final checks before departure and if they find anything wrong, they signal the ground crew. The airline is responsible to fix the issue and ensure your safety on the flight. Yet this takes time and may result in the dreaded flight delayed message.
I know it's frustrating but you have to admit that it is far better to have all problems solved while you are still on the ground.
Note: under EC261 you may be eligible for compensation for delay due to technical issues.
Crew problems
The crew is late
We all know that a flight cannot depart without pilots and flight attendants. So your flight may be delayed because the plane is waiting for the crew that usually comes from another flight. Mind that large hubs typically have crews on standby. So if someone has called in sick just before departure, a colleague is probably rushing to the airport to serve your flight.
Airport staff strikes
These happen all the time and naturally, thousands of passengers get affected as flights get delayed or cancelled. Staff have different demands - for example more vacation days, better working conditions, etc.
A recent example is the usual suspect: France. In the last transportation strike about 10% of flights from Paris Charles de Gaulle (CDG) were canceled, and about 13% delayed.
If you are wondering if you are eligible flight delay compensation due to strike, read our post.
Aircraft cleaning and preparation
Aircraft are so expensive that airlines try to keep them up in the air most of the time. Once a plane lands, it is cleaned, refueled and prepared for the next flight. So possible issues in the preparation process include:
fuel being late

catering can't find your plane. Plane food might not be your favourite but it is mandatory - the pilot can't take off until the food is delivered and ready to be served.

The crew needs more time to clean the plane and prepare it for the next flight.
Baggage loading
Part of this preparation of the plane for take-off is the loading of all luggage. And it takes time and special staff to do it, so if anyone calls in sick or is late for work for some reasons, passengers and pilots have to wait before departure.

Extreme Weather
Contrary to all expectations, this is the reason for delays in only about 5% of the cases. And as it qualifies as 'extraordinary circumstances', the airline is not typically liable for bad weather delays.
Note that the flights may depart even in bad weather as modern aircraft can withstand even thunderstorms. It takes extreme weather conditions - a hurricane, tornado, or a blizzard - to delay your plane from taking off.
Mind that flights are delayed due to weather both at departure, en route or at arrival. No plane would take off if the weather at the destination point is prohibitive and the pilot will have to circle around, burning fuel and waiting for the skies to clear up.
Non-extreme weather
Sometimes ATC may hold the flights on the ground due to low visibility. In this case the weather is not prohibitive yet everything needs to move at a slower pace and with extra caution.
These delays can usually be reduced if airports or the Federal Aviation Administration take action.
---
We help you get compensation for
delayed and cancelled flights

in the last

3 years.
Check your flight now. Get up to
€ 600

per passenger.
---
Airport operations
Airports are also prone to mishaps. Runways get flooded or snow needs to be cleared to allow planes to take off.
Meanwhile ground staff often works a hard job - they have to face angry passengers when their flight is cancelled or delayed. And, like pilots and flight attendants, they can also go on strike to voice demands for higher wages or better working conditions.
Air Traffic Control (ATC) restrictions
Reportedly, a plane enters European skies every 3 seconds. What is more, air traffic gets heavier and heavier with every year. According to statistics, 2019 is expected to set a new record in terms of the number of scheduled passengers with almost 4.6 billion - around 130 percent higher than in 2004.
Busy hubs like London Heathrow or Dubai International are most affected - there are flights departing and arriving every few seconds. So if you are flying from one of the busiest airports in the world, especially in the morning, chances are you may see the dreaded delayed flight message.
The reason is that it is often very hard for Air Traffic Control to follow heavy traffic. Its equipment is not quite up to date and staff need time to process data and get a clearer picture of what's happening.
So to avoid confusion and ensure your flight is safe, some flights get delayed.
Late-arriving aircraft
The most common reason for flight delays is the late arrival of the aircraft. The so called knock-on effect occurs when an aircraft that was supposed to operate your flight was delayed on its previous route.
Whether you are entitled to compensation under EC261 in this case will depend on the specific details. Remember that only 'extraordinary circumstances' free the airline from liability.
Security
Security and safety are top priorities in aviation - after all, flying is the safest mode of transport.
Passenger safety and security
Although nobody likes the long queues, the bins and the violation of their privacy, these procedures exist to ensure your safety. Yet they may take longer than expected and thus cause a flight delay.
Aircraft safety and security
Aircraft get checked before take-off too and they have to get clearance to depart. What is more, upon arrival at their final destination, they have to get prepared for their new flight and go through a special procedure to get clearance to depart again. If any issues occur during this process, they have to be resolved which takes time and, of course, may cause a delay.
Top 3 weird reasons for flight delays
A seal is blocked the runway in Alaska in 2017. Experts were called and they used a sleigh to remove it.

500 turtles blocked a runway at JFK airport in New York in 2016 - the Port Authority of New York reported that over 500 turtles had to be carried to their habitat to clear runways. Experts believe the turtles see the sand surrounding the airport as a safe place to lay eggs.

Unauthorised drones - right before Xmas 2018 the second busiest in airport in Britain Gatwick had to suspend flights as 2 drones were seen flying around a runway/ 10,000 passengers were affected. In June 2019 a drone sighting at Singapore Changi airport caused 37 flight delays. The police and the armed forces started investigating the accident.
Remember: flights are usually delayed to guarantee your safety, so simply sit back, relax and wait it out.
---
---